Source: money.cnn.com
In celebration of National Women's History Month (March), we want to honor two extraordinary agents, Claudia McClain and Lori Augustyniak, who have made a lasting contribution on this industry.
National Women's History Month
To appreciate the advancement of women in the workforce, let's go back a few years to understand when the momentum for women's rights started.
The first observance of National Women's Day in the United States was February 28, 1909, as a result of the garment workers' strike in New York, where women protested against poor working conditions. By 1975, women enjoyed the celebration of International Women's Year and were making great strides in gender equality and being accepted within the financial sectors. The United Nations even joined the movement when it celebrated March 8, 1975 as its first International Women's Day.
Real momentum for gender equality in the United States came in 1978 after a Sonoma, California school district decided to honor women's achievements by participating in a Women's History Week event. This prompted the beginning of other similar celebrations. In 1980, President Carter issued the first Presidential Proclamation declaring the Week of March 8, 1980, as National Women's History Week.
In 1987, March was officially declared National Women's History Month in perpetuity. (Source: nwhp.org)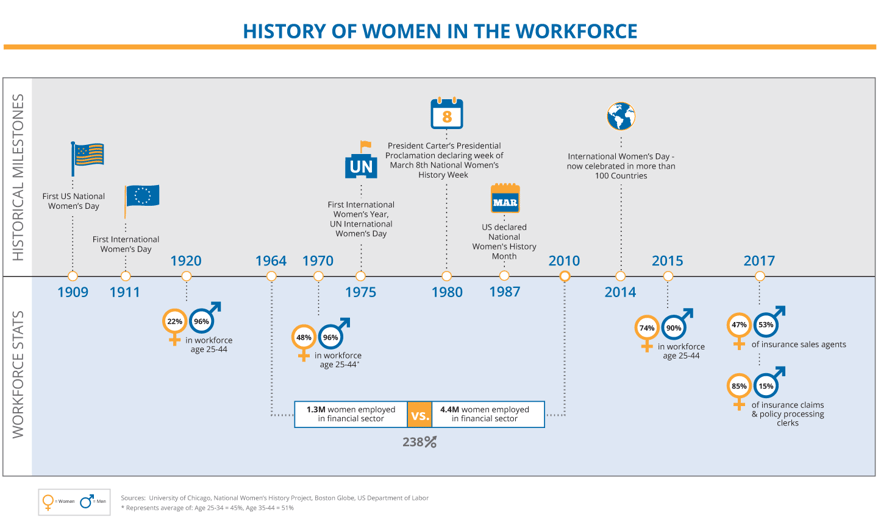 Looking back - two women rise to the top
Great strides have been made within the financial sector for women's rights and gender equality in what has typically been a male-dominated industry. At the 2016 Insurance Industry Charitable Foundation's (IICF) 2016 Women in Insurance Conference Series, 86% of the 400 women respondents felt "the industry is demonstrating significant progress when it comes to gender equality", up from 72% the previous year. (Insurancenewsnet.com)
But it hasn't always been like that.


Claudia McClain - McClain Insurance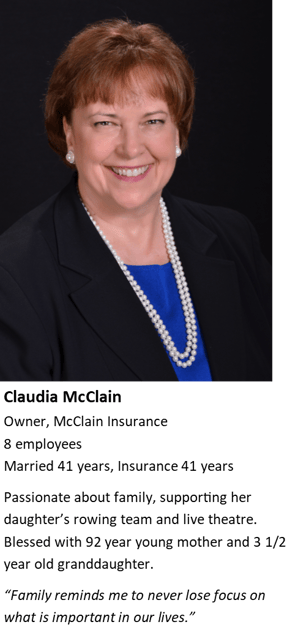 Claudia McCLain of McClain Insurance, one of our industry's premier agency owners, knows first-hand the challenges women faced 40 years ago when she entered the insurance world. From a young mother trying to launch a new agency, to becoming 2014 Rough Notes Agency of the Year, Claudia is a beacon for many women trying to make their mark in this industry. Be inspired from her most recent podcast with Agency Nation where she shares her step-by-step secrets on how she achieves a 95%+ retention ratio.
When Claudia started, she was one of three women among 36 other male agents working on a unique "farm team" at PEMCO Mutual. "I will be forever grateful to a courageous leader at PEMCO, Diane Beckley, who took a chance on a newly licensed, newly married, 23 year-old relocating to Washington from California." She worked four days a week servicing and selling the company's direct business and spent the other day(s) selling her own book of business.
Maternity and Mr. McClain
She worked through the challenge of a company not knowing how to deal with her maternity leave when she was the first agent to become pregnant. Beckley found a way to let Claudia work part-time that first year, of which Claudia says without that part-time opportunity she would have most likely left the industry for a more flexible career. She also overcame the buying public's perception that insurance agents were men, and women were just one of the "girls" doing secretarial work. "I can't tell you the number of times that men would call my agency and insist on speaking to Mr. McClain." She diffused that situation by patiently and confidently explaining that she was the owner and would be happy to help them. She began to win customers over. Claudia proudly shares that a few of those original clients are still "raving fans" of her agency today.
Not the front runners
Claudia also recalls the days of when she was a minority at conferences. Attendees were usually male agency owners and principals. Women did all the work to plan and organize the behind-the-scenes details, but were not the front runners who participated and presented. But today, at the recent IAOA owners event in Phoenix, she noted it was close to being an equal split of male and women owners present and participating, demonstrating how much progress has been made within the industry.
Lori Augustyniak - Horizon Insurance
Lori Augustyniak, one of 941CEO Magazine's 2017 Women of Influence, is committed to being a positive example for women, including her three daughters. She exemplifies how determination and hard work can allow you to balance work and family. Her list of accolades are impressive, including Nationwide President's Conference and Life Council, Readers Choice Award/Best Insurance Agent two years in a row, American Integrity Diamond Performers, 5 Star Professional Auto & Home Award since 2011, and she is one of 13 in the nation who was recently invited to participate in Hartford's Agent Advisory Council for AARP.
A change in careers
Lori began her journey in 1995. She laughs as she recalls her sister-in-law, also named Lori Augustyniak (and yes, ironically spelled the exact same way) mentioning to her that Nationwide, where her sister-in-law worked, was looking for women to hire in their agency management system sector. Her skills as a licensed CPA were just what Nationwide was looking for. "Kudos to Nationwide for believing in me and their willingness to take a chance on me, a 5-month pregnant woman who knew nothing about insurance," says Lori. She credits Nationwide's pioneering vision in the early 90s of the need to bring women into the industry.
Good Ol' Boys
Lori recalls the feeling of a "good ol' boys" organization and industry, with 50+ age men who were used to running things and slow to adopt change. But Nationwide was committed to diversifying their workforce. After 4 years in the AMS side, she joined an Agency Consultant Group and that's when she began to come into her own. Two of the three regional managers and a third of the consultants hired were women. This platform allowed her to gain the experience and confidence needed to spread her wings and buy her first agency in 2004.
The turning point
Even in 2004, the stigma of men wanting to do business with men was still prevalent. She recounts a large commercial account that went out to bid. Even though her firm offered better service at a better price, she lost the sale to the firm's incumbent male agent who they were used to doing business with. Lori was fortunate in that she did not have too many gender bias encounters like this but she recognizes the challenges so many women have faced over the years.
Lori's insurance survival skills were quickly tested that first year of ownership when four hurricanes hit within a six week period. She recalls thinking, "What did I get myself into?" But, Lori survived and by 2008 she transitioned from a captive agent to an independent agent. This was the turning point in her career, and through her hard work tripled her business by 2011.
Lori feels one of the key attributes that have contributed to women's success is determination. "Females have traditionally done all of the work. As principals became older and started retiring, it provided a natural transition for women to move into these leadership roles. They think, 'I know this. I can do this and probably do it even better than the person before me.' With determination, women can manage sales and executive roles."
The seismic shift to acceptance and success
Historically, women in the financial sector were overlooked for executive positions. Opportunities to climb up the corporate ladder and become an agency owner or principal were very limited. Today, this is no longer a pressing concern.
"While barriers still exist for women who seek to advance within their careers, we have seen a shift in thought among women in the industry – where lack of opportunities for upward mobility is no longer the primary obstacle. We see now more than ever the importance of women uplifting and supporting each other in order to collectively inspire progress. Beyond the impact this has for women who are already veterans of the industry, this is a vital trend to cultivate as the industry aligns itself to hire the next generation of insurance professionals."

Erin Calvey, Executive Vice President
Ironshore Insurance Co. and Conference Series speaker
Source: Insurancenewsnet.com

An evolution of factors
Claudia feels there has been an evolution of factors contributing to this seismic shift in women acceptance. Gratefully, this shift has only taken a generation to see fruition.
State licensing laws began to require agents to be licensed before they could advise a client about insurance. This opened the door for women, who had been doing much of the sales and service work all along, to gain a professional recognition and put them on the same level playing field as their male counterparts.
Expansion of educational programs like CIC (Certified Insurance Counselor), CISR (Certified Insurance Service Representative) , and CRM (Certified Risk Managers), encouraged agents to expand their insurance knowledge and receive additional professional accreditation. Earning CIC designations allowed women to prove their knowledge and commitment to their agency, their clients, and the industry.
Gender bias litigation paved the way for more opportunities from both captive and IA agency companies. One of the largest and longest (13 years of legal battle) civil rights case settlements in history forced State Farm to pay 814 women $157M for denying them jobs as sales agents because of their gender (latimes.com). After a few industry giant lawsuits, companies became more willing to consider women for sales agents and ownership positions.
Women becoming family insurance decision makers was another rising trend in the personal lines arena. Lori comments how women have the opportunity to not only be a female agent with stature, but can connect and sell to a woman that has decision-making power for her family.
Insurance Information Institute states three additional key trends in the rise of gender equality:
Active recruitment of gender-diverse workforce
Mentorship programs for women
Sponsorship of executive networking opportunities


Climbing the corporate ladder
While many women like Claudia and Lori have found their way to the top and are reaping the rewards of their hard work, many are still climbing, barely hanging on, or too intimidated to take the first step towards agency ownership.
Insurance Journal shares some advice from four senior insurance executives about improving gender diversity in executive ranks and how to climb the corporate ladder in How Women Can Rise to Executive Level in P/C Insurance Industry. It offers 7 recommendations of how women can succeed in climbing up to the insurance C-Suite, with "Work at Networking" being number one. "Networking is the single biggest thing women can do to facilitate their rise up the corporate ladder in the property/casualty insurance industry."(Source: Insurance Journal)
Work at Networking
Don't be Shy; Take a Risk
Get the Right Experience
Turn Minority Status into an Advantage
Partner Wisely
Work-Life Balance: Don't Sweat the Small Stuff
Get a Sponsor
You can hear the women's full podcasts here, IICF Women Executive Roundtable: Gender Diversity in the P/C Insurance Industry.
Recruiting is another area where women in positions of leadership must be willing to act as sponsors and mentors for the younger talent. Claudia comments, "Successful recruiting starts with talking positively about the value of our work to everyone we meet. You never know when that conversation might spark an interest in that individual". She also feels the next generation of talent is extremely altruistic, and its important to accommodate that need to service the community. "I often tell my agent-friends that our agencies are only as strong as our communities - if we don't step up to help our future clients maximize their educational potential or help feed a hungry student, we will not have the educated and successful future client base we all need."
Lori is dedicated to serving and volunteering in both the industry and her community. She is a member of Big "I" Project InVEST who visits high school teenagers to teach them about insurance career opportunities. She is also part of a Florida Mastermind group of seven female agency owners who get together to discuss factors affecting them as women within the industry. She helps raise money for local charities through a community group of 60+ women called "Sisterhood for Good". She has also started to recruit younger talent and recently hired a millennial marketing specialist through SAFECO's marketing development program.
What About Pay?
Equal wage is a hurdle women must still jump. According to the 2016 US Bureau of Labor Statistics, women insurance agents median wage is only 58% of men's median earnings. Whereas other occupations like food preparation and serving, teacher assistants and counselors, women make slightly more than men.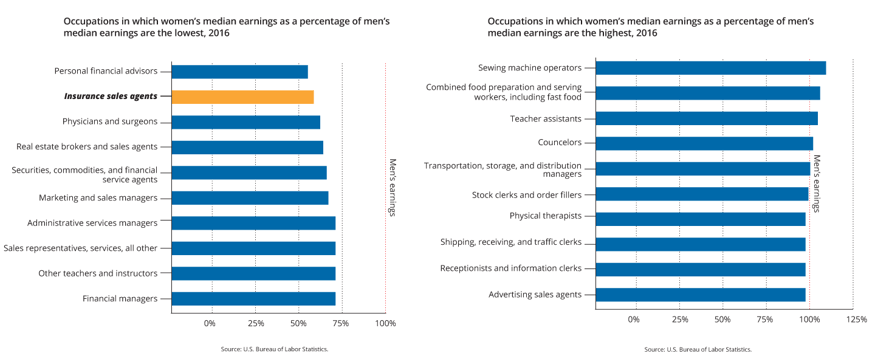 For those who desire more details on women in insurance, technology and attracting talent, employment trends and workplace diversity, read this comprehensive white paper, Women in Insurance - Leading to Action (STEMconnector/Million Women Mentors)


Parting Words…
We feel privileged to have been able to feature two of the industry's most respected business owners, who also happen to be loyal HawkSoft customers. We honor their example and the contributions they've made to help move women and men forward in the insurance agent channel.
Here are a few closing comments from Claudia and Lori as they reflect on their own history and accomplishments within this great industry.
What are you most proud of from your career?
Although both Claudia and Lori have received numerous industry recognition awards, both of them said their greatest accomplishments and satisfaction does not come from these awards. Claudia feels a great sense of accomplishment by the number of talented individuals who have chosen to take a leap of faith with her and her agency and joined the team. She feels such joy to support the development of their professional skills and income opportunities. Lori's greatest satisfaction is setting a positive example for her three daughters and showing them you can be successful, own your own business, and still have a family.
What are your words of advice to women looking for an industry in which to establish their career?
Claudia states "the insurance industry needs smart, passionate, and tech-savvy women who want to make a difference in the lives of their clients and communities while building a career that is flexible and has virtually unlimited earning opportunities. If you are an empathetic listener with a positive attitude on life, you can enjoy a career of your creation. W. Clement Stone's powerful quote, 'Big doors swing on small hinges,' provides encouragement to take small, but critical, steps forward every day. Sometimes, the huge goal can be overwhelming but when it is broken into smaller pieces, it is truly attainable."
Lori and her agency live by this motto, "Have you ever met someone who could save your life financially, protect your family before AND after a fire, flood or some other natural disaster and didn't charge you for it? That's what WE do for YOU!". She feels there is no better time than now for women to be in insurance and make a difference in the lives of others. Just "continue to be true to yourself."