Guest blog by Gaya Technologies
Guest blogs are written by contributors outside of HawkSoft. The author's views are entirely their own and may not reflect the views of HawkSoft.

With inflation rising and auto insurance rate hikes becoming more frequent, insurance agents are accustomed to facing clients' frustrations with their premiums increasing by 20-30%. In these instances, there is an opportunity for every PL agent to go on the offense and deliver unexpected value. How? By stepping back and looking at the bigger picture around their clients' overall rising car-related expenses.

While clients and prospects are obsessed with saving on their car insurance payments, most of them are not aware that they could significantly reduce their monthly car loan payments, which represent a much larger portion of their car-related expenses. As an agent, identifying areas where clients can save will help them recoup rising premium costs and increase your client satisfaction and retention.

This article gives an overview on the car loan industry, dealership financing and alternative financing methods, and how agencies can offer refinancing options to help their clients and prospects save on their monthly car payments.
In this article:
Why do most people overpay on car loans & financial products?
Cars are the second biggest consumer asset class in the US. These are expensive purchases of $48,681 on average for new cars and $26,700 for used cars. Next, consider that 86% of new cars and 55% of used car purchases are financed, leaving us with $1.43 Tn outstanding auto loan debt.

It's no surprise that loan payments are by far the largest car-related expense. On average, Americans are paying $660 per month on their car loans, which is 5 times the amount of their insurance payments. Let's look at how auto loans happen and why clients end up with overpriced loan rates.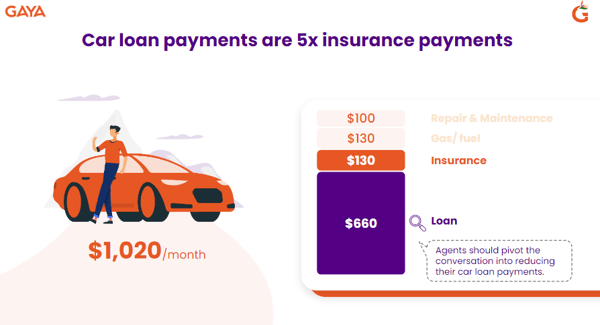 Image source: Gaya. Numbers from Experian, JDPower, AAA
Consumers shop for cars, not car loans
While consumers spend a great deal of time shopping for their cars online and then negotiating features and price at the dealership, they're far less likely to shop around for their car loans. Even if they wanted to, after spending 2 hours at the dealership, they are often pressured to take the dealership's financing offer with the threat of losing the car to another buyer.
Dealerships are motivated by profit margins on financial products
40-45% of a dealership's gross profit comes from finance-related revenue. They significantly mark up interest rates offered by their partnering lenders and make large commissions on each loan. They also benefit tremendously from back-end products (warranty and GAP insurance) bundled at the point of sale.

The car purchasing journey is confusing for buyers and big decisions are made within a 1-2 hour window while impatiently sitting at the F&I desk of a dealership, so buyers are often persuaded to finance their purchase—even if they have the needed cash. As a result, they end up overpaying on loans and financing for years to come.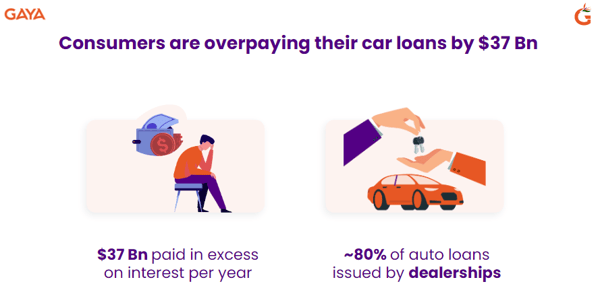 Image source: Gaya. Numbers from Withclutch.com
What are the alternatives to dealership financing?
When applying for a car loan, the borrower typically submits a loan application to a lender, such as a bank, credit union, or online lender. This can be done directly with the lender, rather than indirectly through a car dealership. The application will typically require information about the borrower's income, employment, credit history, and the car being purchased.

The lender will use this information to determine the borrower's creditworthiness and the terms of the loan, such as the interest rate and repayment period. These loans are typically secured by the car as a collateral. Borrowers opt in for 6 to 7 year loan terms with no prepayment penalty.

Borrowers can also re-shop their car loans after the purchase is completed to save on their interest rate payments and cancel unnecessary back-end products through refinancing. Many save more than $100/ month just by changing their lienholder. However, there is limited awareness around the savings potential this offers. People are aware they can refinance their mortgage, but usually don't consider it for their car loans.

This is an opportunity for insurance agents to rise up and act as a trusted advisor by finding savings for their clients and prospects through exploring financing and refinancing options with tools like Gaya.
How can an agent help clients solve this problem today?
Today, there are multiple ways for agents to help their clients and prospects save on their car expenses by spreading awareness ahead of the purchase, or refinancing post-purchase.
Pre-purchase awareness
We have surveyed agents and found that 30% of their clients would call them asking for a quote for 5-10 cars they are considering buying to make sure they don't end up buying a car with high insurance premiums.
This is a perfect time for agents to coach their clients and make sure they are aware they can get much lower loan rates than are offered at the dealership. You many want to recommend they do the following:
Engage with local banks and credit unions to get an idea of the best car loan rates they can qualify for
Negotiate with the dealer based on car price, rather than monthly payments
Negotiate back-end products and car loan rates at the end of the process
Post-purchase refinancing
If your clients or prospects have already purchased the car, agents can help them by making passive referrals to a nearby credit union or refinancing broker, or by proactively submitting a refinancing application on their behalf through Gaya.
Passive referral to a credit union or a refi broker
You can refer clients and prospects to refinance their car loan directly through a bank or credit union, or to go through car loan refinancing marketplaces such as Rategenius and Caribou. These marketplaces have more than 150 lenders in total and offer a white glove service that involves paying off the previous lender, canceling back-end products, managing refunds, and titling and matching with a new lender offering lower APRs (7% APR reduction on average). The marketplace brokers take a commission from the credit union or bank doing the refinancing, charge a processing fee per loan, and offer cheaper back-end products (GAP, VSC).
Proactive refi application submission through Gaya
For a more proactive solution that you can help your clients and prospects with on the spot, you can partner with Gaya. Gaya is a fintech startup that embeds within insurance agents' workflows to help them reduce their clients' car loan payments by refinancing their loans in less than 30 seconds. Here's how it works:


Gaya integrates within your quoting and policy management workflows, whether it is within your rater, agency management system, or even directly on most carrier sites.


When quoting a new policy or managing an existing policy, Gaya surfaces car loan savings opportunities that you can share with your clients or prospects.


Gaya will pull your client's existing car loan details (lienholder, term, interest rate, outstanding balance) and highlight exact saving opportunities through refinancing with our partnering banks and credit unions.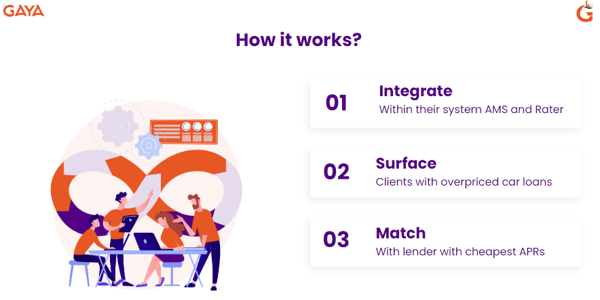 Gaya helps agencies increase their conversion rates by sharing a bundled insurance and refinancing deal with differentiated savings. The client saves on their car loan payments, and the agency gets a commission from Gaya for each refi. Gaya is being used today by more than 500 agents in the US, and is a forthcoming API partner with HawkSoft to help insurance agents differentiate their offering.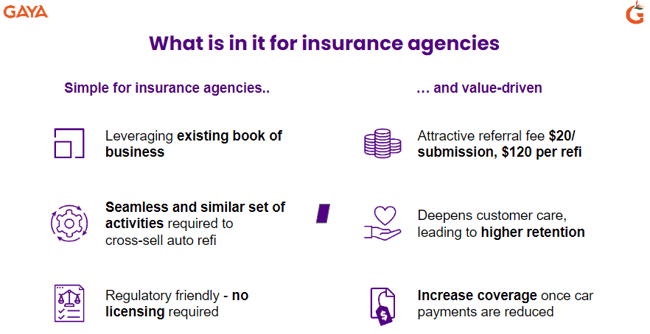 Attract and retain auto clients with refi savings
Refinancing car loans presents a great way for insurance agents to help clients find money to use toward increasing insurance premiums, reinvest into additional insurance lines or coverages, or simply put back into their wallets. Implement processes for auto refinancing at your agency to retain more clients and boost satisfaction by acting as a trusted partner for your insureds.
Help your clients save on their car loan payments in 30 seconds with Gaya
Bundle car loan refinancing and insurance and increase your agency's revenue and retention.