The HawkSoft User Group (HUG) just finished holding regional meetings in 6 cities across the country this fall. Over 340 agents attended a meeting, with about 20% of attendees travelling from out of state to come to the meeting nearest them! These day-long meetings featured sessions and workshops led by agents and HawkSoft employees, with many offering labs, solution circles, and Q&A sessions as well.

Some topics were the same across multiple cities, like HUG partner Stephen Harrington's session on workflow efficiencies and HawkSoft's presentation on the API Program, but each region had its own planning committee to select additional topics that were relevant to their area. With over 30 total session topics, these meetings were packed with valuable training on HawkSoft and important industry issues.

HUG's survey to attendees showed that agents overwhelmingly loved the regional meetings! 95% of those who responded said they were likely to attend a HUG meeting again, with 98% giving their meeting a rating of "good" to "excellent." Take a look at the highlights from each meeting below, and see what attendees had to say!


Meetings:
Register for the 2023 HUG National Conference
Join us in Austin, TX at the Kalahari Resort on April 26-28!
Orange County, CA (9/9)
Orange County was the largest meeting this year, with about 75 agent attendees and 12 exhibitors. HawkSoft co-founder and Chief Product Officer Sean Hawkins was able to attend this meeting, and led a discussion around the audience's needs and questions. Other sessions covered reporting, commercial lines, and time management. The meeting also had a "What's That?" session on HawkSoft tools agents might not be using, and included solution circles so agencies could discuss and share strategies.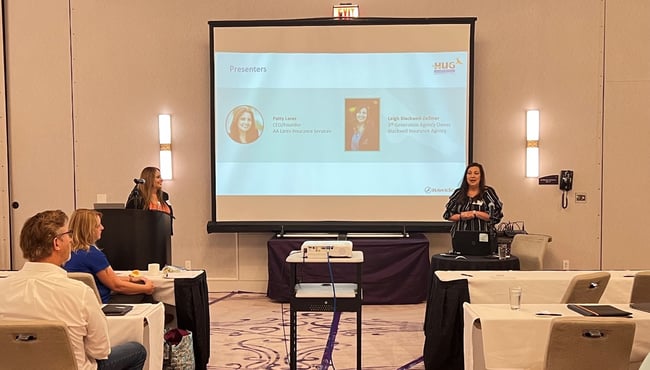 HUG members Patty Lares (left) and Leigh Blackwell-Zellmer (right) present a session to agents
---
"Updates from Sean Hawkins are great, and his willingness to listen and offer solutions for easy fixes in HawkSoft is very helpful."
Meeting attendee
---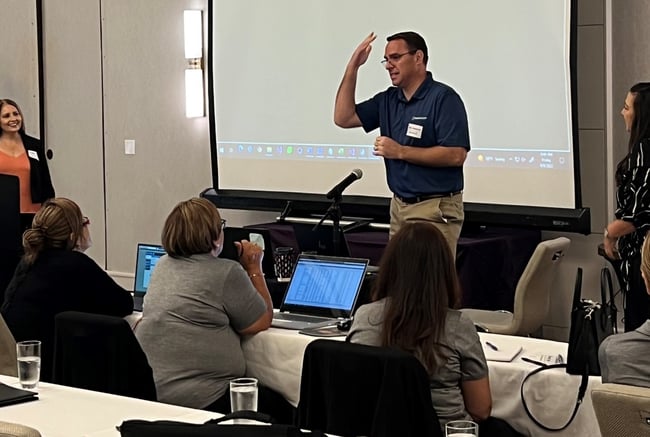 HawkSoft co-founder and Chief Product Officer Sean Hawkins speaks to agents
Columbus, OH (9/16)
Columbus was one of the largest meetings as well, with over 60 agents attending. Agents were excited to see HawkSoft Sr. Territory Manager Linda Anderson at the meeting, and Director of Partner Integrations Kenny Hendricks presented on API integrations with the help of HUG member Pat Lamb. Other sessions were on HawkLink and workflow efficiencies, and a panel Q&A gave agencies a chance to ask questions to HawkSoft experts.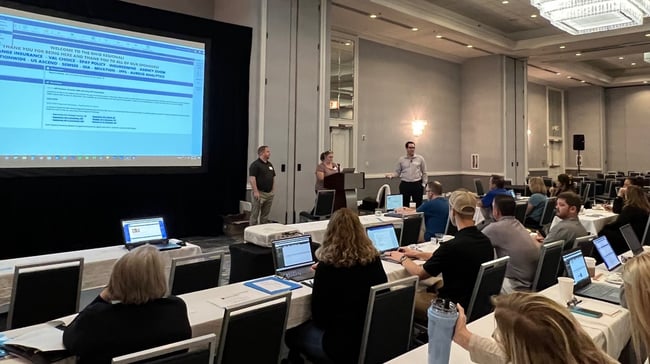 HawkSoft Director of Partner Integrations Kenny Hendricks (right) presents with HUG members Kelly Endicott and Michael Ley
---
"We didn't really know what to expect, and our expectations were that it would be boring, and we might learn a thing or two, but we are SO glad we came. It exceeded expectations!"
Meeting attendee
---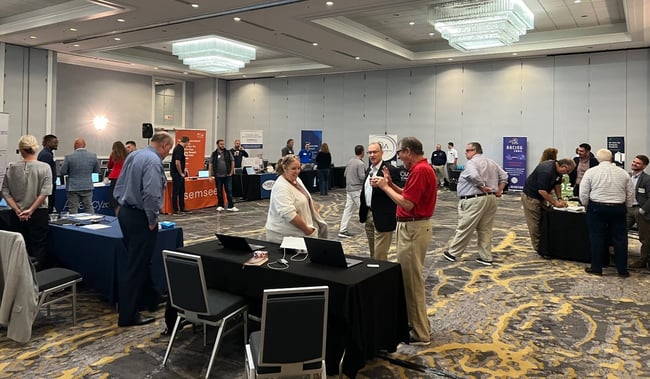 Agents network and talk to exhibitors about agency solutions
Lynnwood, WA (9/28)
Lynwood was the meeting with the most HawkSoft employees in attendance, with 10 employees driving up from the nearby HawkSoft home office in Oregon. That allowed for a great bootcamp for HawkSoft beginners and a HUG Lab where users of all levels could get hands-on help from HawkSoft and HUG members. Other topics included customer engagement, building agency culture, managing time with KPIs, and building workflows for HawkSoft.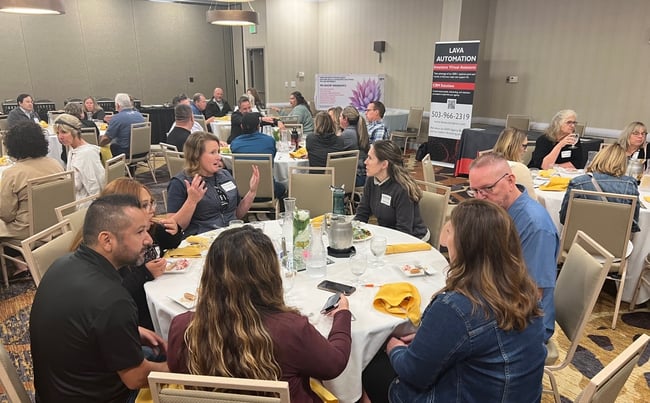 Agents share ideas in solution circles
---
"The presentations were incredibly informative. I went home with many ideas/tools to use in our office!"
Meeting attendee
---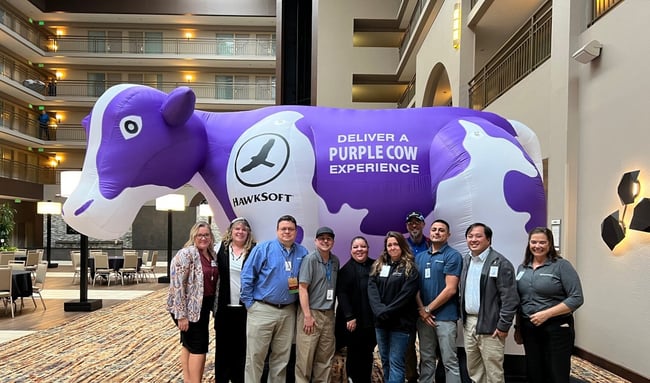 HUG Executive Director Amelia Jach (left) stands with HawkSoft employees in front of HawkSoft's very own purple cow, Big Bessie
Boise, ID (9/30)
Spirits were high in Boise, even in a hotel that had seen better days! Sessions focused on Commissions, data and reporting, increasing office efficiency, and HawkLink, with Kenny Hendricks presenting on HawkSoft's API program. Solution circles and a HUG lab were offered as well.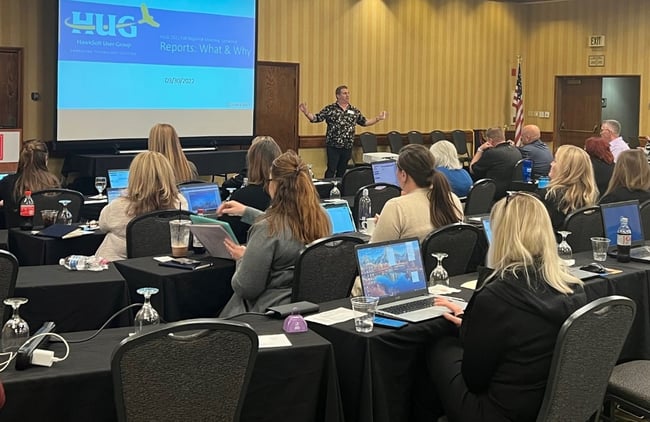 Stephen Harrington presents on reporting
---
"This was my first HUG experience, and it was better than I expected. I was so impressed with the quality of the speakers and with how helpful and accessible the sessions were. A big THANK YOU to everyone who collaborated to put on this event."
Meeting attendee
---
Syracuse, NY (10/14)
We were excited to have a large group in New York! In addition to a HUG Lab and solution circles, agent presenters covered HawkSoft tips and tricks, disaster planning and recovery, and the new business/quoting process. Matt Brauer from the HawkSoft Sales team presented on the power of HawkLink for Google Chrome.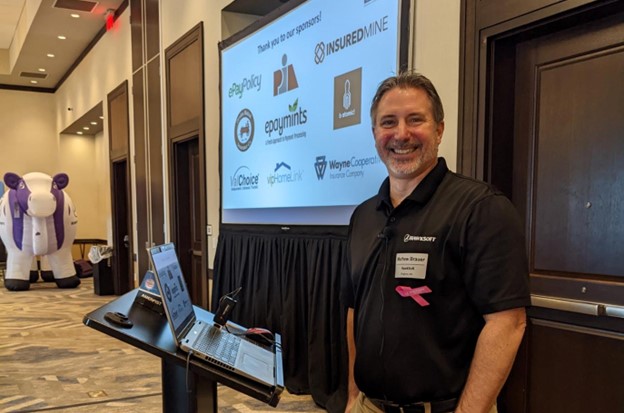 HawkSoft Director of Strategic Accounts, Matt Brauer
---
"Thank you for the opportunity to get together, hear what other are doing and how to do it better, and sit with Hawksoft pros."
Meeting attendee
---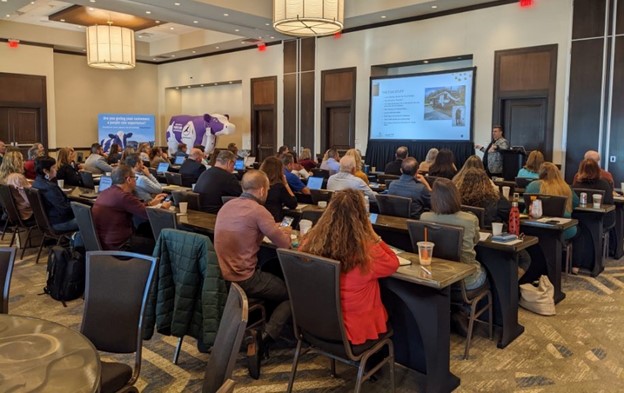 Agents learn in a session by Stephen Harrington
Charlotte, NC (10/21)
The Charlotte meeting featured some incredible afternoon sessions focused on marketing presented by HUG member Kara Morton, with HawkSoft's VP of Marketing Rushang Shah there to chime in as well. Attendees got to see real marketing case studies and work on the art of telling their agency stories.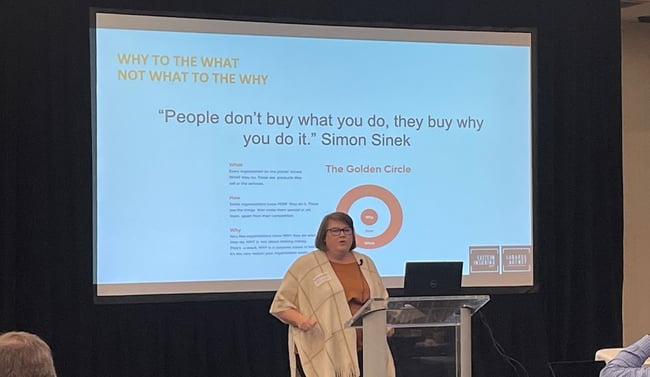 HUG member Kara Morton presents a workshop on marketing
---
"Glad I went. I learned a lot and have contacts that can help me improve the performance of my agency."
Meeting attendee
---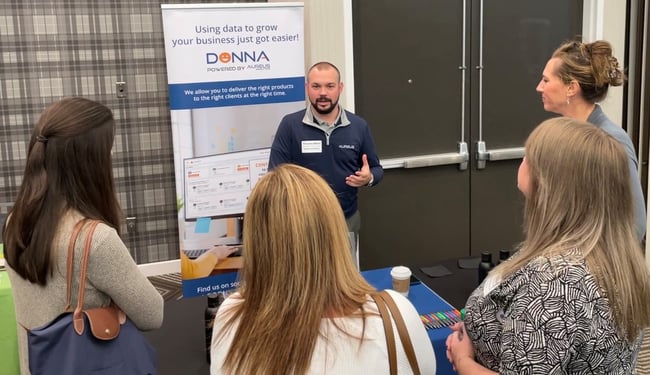 An exhibitor speaks with interested agents
Thank you for helping make HUG Regional meetings happen!
HawkSoft and HUG want to thank all of the many people who volunteered their time and effort to these meetings, including the planning committees who put together the local agendas and all the agents and HawkSoft employees who presented sessions. You make HUG a fantastic organization!

Ready for the next great HUG event? Registration is open for the 2023 HUG National Conference in Austin, TX on April 26-28! Don't miss out on the best education opportunity of the year for your agency - plus, this year's event is at the Kalahari Resort, so there's fun for the whole family at the water parks and other available activities! Register now to get early bird pricing, and book your room through HUG for a discounted nightly rate.
Register for the 2023 HUG National Conference
Join us in Austin, TX at the Kalahari Resort on April 26-28!