The data stored in an agency's management system is crucial for serving clients, and if anything happens to that data, the loss can be catastrophic for the agency. One of the best ways agencies can safeguard against this is by employing one of the best practices of data security (and risk management in general): creating routine backups of important data.

While creating backups of agency data may feel like a cumbersome additional step to take, any agency who has experienced a data loss incident—whether due to a cybersecurity breach, natural disaster, or other issue—can attest that it's a small price to pay to avoid large-scale loss of agency data.

This article gives an overview of the biggest risks to agency data, as well as the main types of data backup and best practices for backing up agency data.
In this article:
Threats to data security
There are many factors that can endanger agency data, but most fall under three main categories: cybersecurity threats, historical data loss, and hardware failure.
Cybersecurity threats
As agencies that sell cyber insurance know, cyber attacks are mounting on a global level. Cybercrime is projected to cost the world $10.5 trillion annually by 2025, and there has been a huge surge in ransomware attacks in the last year, with 2021 seeing a 105% average increase worldwide according to a 2022 SonicWall Cyber Threat Report. The Cybersecurity and Infrastructure Security Agency (CISA), along with the FBI and NSA, issued a joint Cybersecurity Advisory in February that outlines the growing international threat posed by ransomware.

While agency management systems employ many measures to keep data secure, there are many other entry points to agency systems that can become easy targets for cyber attacks. Creating data backups ensures that you always have an extra copy of your agency's data, even if it becomes targeted by a ransomware attack, virus, or other malicious software.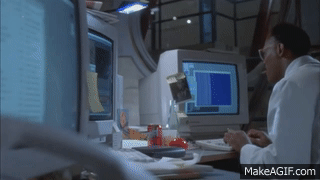 If only Jurassic Park had made data backups...
Historical data loss
Cybersecurity incidents aren't the only way data can be rendered unusable. Individual data points or files can become corrupted unintentionally through other means, such as software error. HawkSoft refers to this as historical data loss. Because such incidents are often localized and don't affect the entire agency database, they may go unnoticed for some time until that specific data is needed. Having backups of your data allows you to go back as far as needed to retrieve data or an attachment before the point of corruption.
Hardware failure
It's important to ensure your data is backed up so that if anything happens to the workstations and other equipment in your agency's office—be it theft, equipment failure, or a natural disaster—you don't lose the data stored on those devices. Many systems are now backed up to a location in the cloud, which mitigates this concern, but there may still be areas of risk your agency hasn't considered, such as a local server in the office.
Local or cloud backups?
Where should you start with creating backups? You can save backups of your agency data either locally (on your computer, server, or an external drive) or to a cloud location (accessible online). We've outlined the pros and cons of each method below.
L

ocal backups

C

loud backups

More protected from cybersecurity threats
Accessible even when offline
More vulnerable to hardware failure risks
Requires drive space or external storage equipment

More vulnerable to cybersecurity threats
Accessible from any online device
More protected from hardware failure risks
May incur additional costs for cloud storage
The 3-2-1 rule of multiple backups
It can be tempting to think there's no need to back up your data if your agency management system already saves your data (and creates automatic backups) in the cloud. While this protects your agency against hardware failure risks, it doesn't protect against the other two main threats to data: historical data loss and cybersecurity risks. Agency management systems typically employ a much higher level of data security than an agency could achieve on its own, but cybersecurity threats like ransomware attacks can strike any organization at any time, regardless of its size or level of security.


Because of this most experts (including the US Chamber of Commerce) recommend using the 3-2-1 backup rule: have three separate copies of all important data (one primary and two backups) saved on two different types of media, with at least one kept offsite.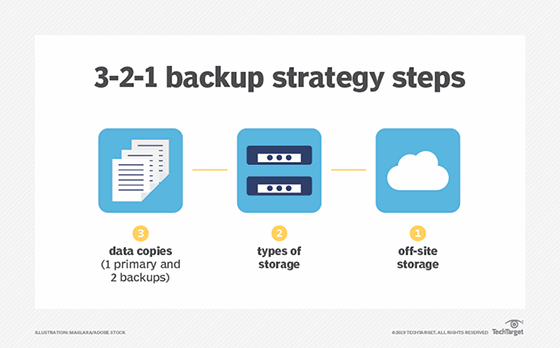 Image source: TechTarget
This is why HawkSoft strongly recommends that all customers, including those who have backups automatically saved to the cloud on HawkSoft Online, create additional backups as a necessary layer of data redundancy for your agency.

For example, your agency management system could be your primary copy of data. In addition, you could save regular backups of your data to a folder on your local computer or to cloud storage (whichever is opposite of where your management system stores backups), as well as on external discs that are kept in a secure location outside the office.
Backups in HawkSoft
For agencies that use HawkSoft Online, snapshots are taken of your agency database multiple times a day and backed up in the cloud for a rolling 30-day timeframe. As mentioned above, we recommend agencies create additional backups to protect against historical data loss and cybersecurity threats.

Agencies with a local installation of HawkSoft are solely responsible for storing their own data and creating backups. Because this doesn't include an automatic level of backup like on HawkSoft Online, it's even more important to put multiple layers of data backup in place.
A note on archival backups
The automatic backups created by HawkSoft Online are archival backups, meaning they are not quick to restore to a working environment on a large scale in the case of a catastrophic data loss incident. Unfortunately, performance-tier backups that can be restored and utilized instantly are not feasible on such a large scale due to the sheer size and number of total customer files (in the millions) requiring backup. It would also be extremely costly to do so, which would result in a significantly higher price point for customers. Consequently, performance-tier backups are not common practice in the data hosting industry.
How do I create additional backups in HawkSoft?
HawkSoft includes a Backup Utility that allows your agency to create unlimited backups at no cost. This lets you save historical snapshots of your database for archival purposes, allowing you to save more than only the most recent backup. HawkSoft backups include the following data:
Agency documents

Agency-specific information

CMS client information

Current Images folder (attachments created in the current semi-monthly period)

Working documents
In addition, you can create separate Attachment Backups, which include the prior image folders for your database (all client and policy attachments).
Backup recommendations
We recommend that agencies create the following backups of their HawkSoft data:
Create a HawkSoft backup at the end of each business day
Create an attachment backup at least twice a month, on the 1st and 16th of the month
Store all backups for at least 13 months for E&O purposes and to protect against historical data loss
You can use a HawkSoft backup to restore your entire database, partial data, or a specific client file. For example, if a client file becomes corrupted but it takes 8 months for you to realize it because you only open the file once a year, you can restore that file from a backup taken 8 months ago before the file was corrupted.

Here are some additional best practices for creating physical backups:
Save backups on permanent (immutable) media such as DVDR/CDR or Blue-Ray. Media such as basic hard drives or flash drives are not considered permanent because the data stored on them can be overwritten.
Save backup discs in a secure, offsite location.
Check with your State Department of Insurance to see if your state requires that you keep two copies of backups, one onsite and one offsite.
Search "backups" in the HawkSoft Help Portal for detailed instructions on creating a HawkSoft backup or attachment backup, and search "restore a backup" for details on restoring data from a HawkSoft backup.
Enable Agent Portal for emergency access to HawkSoft data
Another best practice to ensure your agency always has access to your HawkSoft data is to enable our Agent Portal tool, which allows you to view client and policy information from a web browser on any device. Data in Agent Portal is stored on HawkSoft's own cloud servers, which is a separate environment than HawkSoft Online, meaning it may not be impacted in the event of a connectivity or data loss incident. We strongly encourage all agencies to enable Agent Portal (which requires Data Sync) now so it's ready for use in case of a service disruption or emergency—not to mention the convenience of being able to check client and policy info from a mobile device at any time.
Please be aware that Agent Portal requires Data Sync, so if your agency doesn't have Data Sync enabled before a service disruption, you won't be able to enable Agent Portal during the disruption. Search "Agent Portal" in the HawkSoft Help Portal for instructions on setting up and using this helpful tool.
Put backup strategies in place now
Backing up your agency data shouldn't be an afterthought. Make sure your agency has processes and a set schedule in place for creating and storing backups, with a specific person assigned to oversee the process. You may want to invest in software or other technology to help you automate the backup process. Insurance agencies know better than anyone that risk mitigation requires an investment of time and resources. Make that investment now to ensure your agency's data remains safe and protected from any type of threat.
Learn more about data security
Learn what agency management systems do to protect agency data, and what additional measures agencies can take to ensure the security of their data.