We had a blast at this year's HawkSoft User Group (HUG) National Conference in San Diego! Hundreds of HawkSoft customers, HUG members, vendors, and employees participated in the conference, both in-person and virtually. Recordings of the general sessions and all breakout sessions will be available soon to attendees on the HUG Conference website (you'll receive an email once they're available), and will be accessible there for 6 months. And great news—even if you weren't an attendee, you can still purchase a ticket to get access to the recordings! Details about purchasing access to the conference recordings will be available once the recordings have been uploaded to the website.

Take a look at what happened at the conference, and see what attendees learned and loved!
General sessions
HawkSoft presented two general sessions at the conference. The session on day 1 focused on HawkSoft's vision for the upcoming HawkSoft 6 cloud platform, including why a hybrid approach was chosen for HawkSoft 6, what the platform looks like and how it's different than current local and online installations, the roadmap and sneak peeks of features, and the phased rollout plan for HawkSoft 6. You can learn more and dive into a detailed FAQ on our HawkSoft 6 page.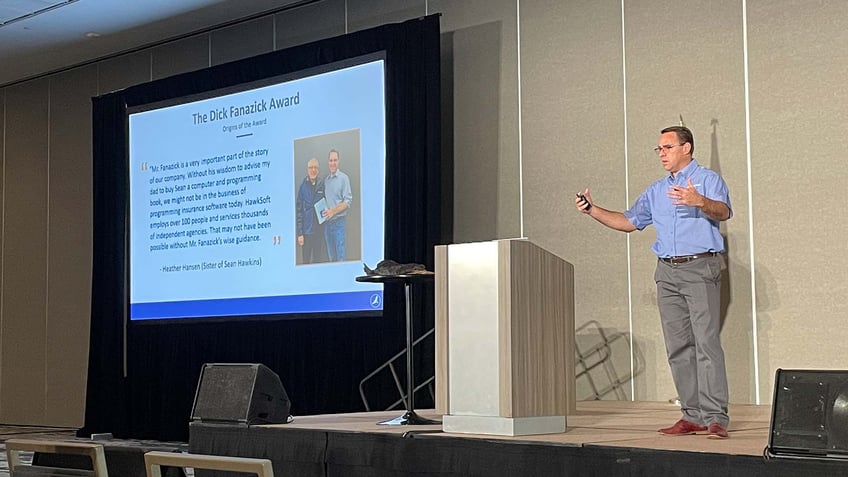 HawkSoft Chief Product Officer Sean Hawkins speaks during the second general session
The session on day 2, named "The State of Us," discussed HawkSoft's current initiatives around its 5 core pillars (Product, People, Customer Experience, Growth, and Operations), as well as what the company is doing to engage with carriers, API and other vendor partners, independent agencies, and the insurance industry as a whole. Session 2 also announced the winners of several awards:


$1,000 Grand Prize Winner (top referring agent of 2020): Ken Urbania, Urbania Insurance (earned $2,049 in credit for his agency)
$500 Gift Card Winner (drawing from top 3 referring agents each quarter): Kari Ball, Kari Ball Insurance Agency LLC
Top Quarterly Referral Winners:

view all here
Breakout sessions
The best part of the conference for many agents was the host of breakout sessions taught by HUG members, HawkSoft employees, and business partners. This year, over 45 breakout sessions were held on a variety of topics, from training on HawkSoft features to hot industry topics.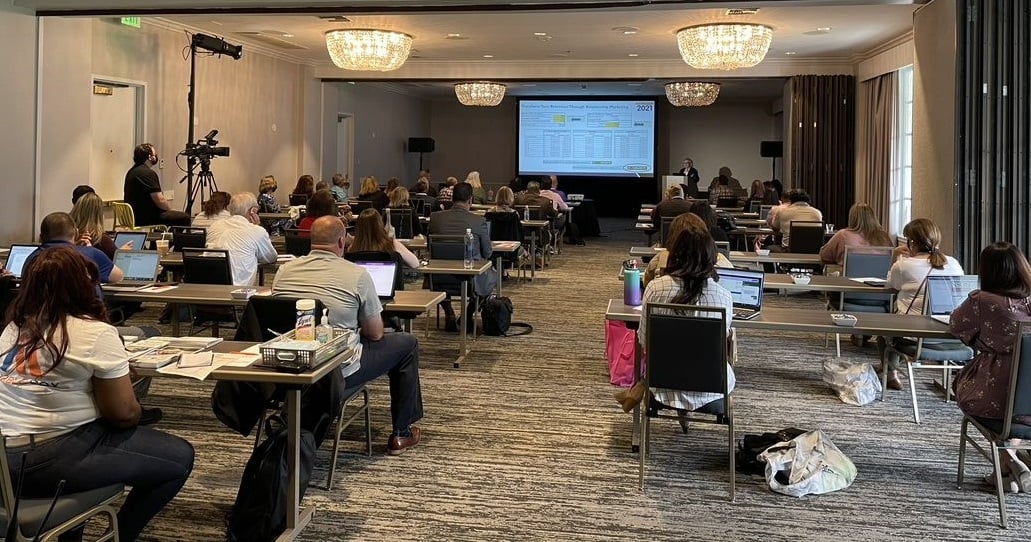 Attendees learn during a breakout session
Here's what some attendees said were their favorite sessions!
"Reporting sessions!"
- Michelle Hancock
Agency Intelligence Reporting, Accounting Reporting Tips & Tricks, Office Manager Best Practices

"Certificates and the advancements made there, and commercial lines courses."
- Kathy Champ
Certificates 101 & Best Practices, Commercial Pain Points

"The succession one. The MarshBerry guys gave a great presentation on things to look for and how to handle producers. I took notes as fast as I could write them."
- Michael Palomino
Perpetuation Frustration

"Favorite session for sure was social media with Chris Paradiso. It was mind blowing!"
- Courtney Schweitzer
Using Social Media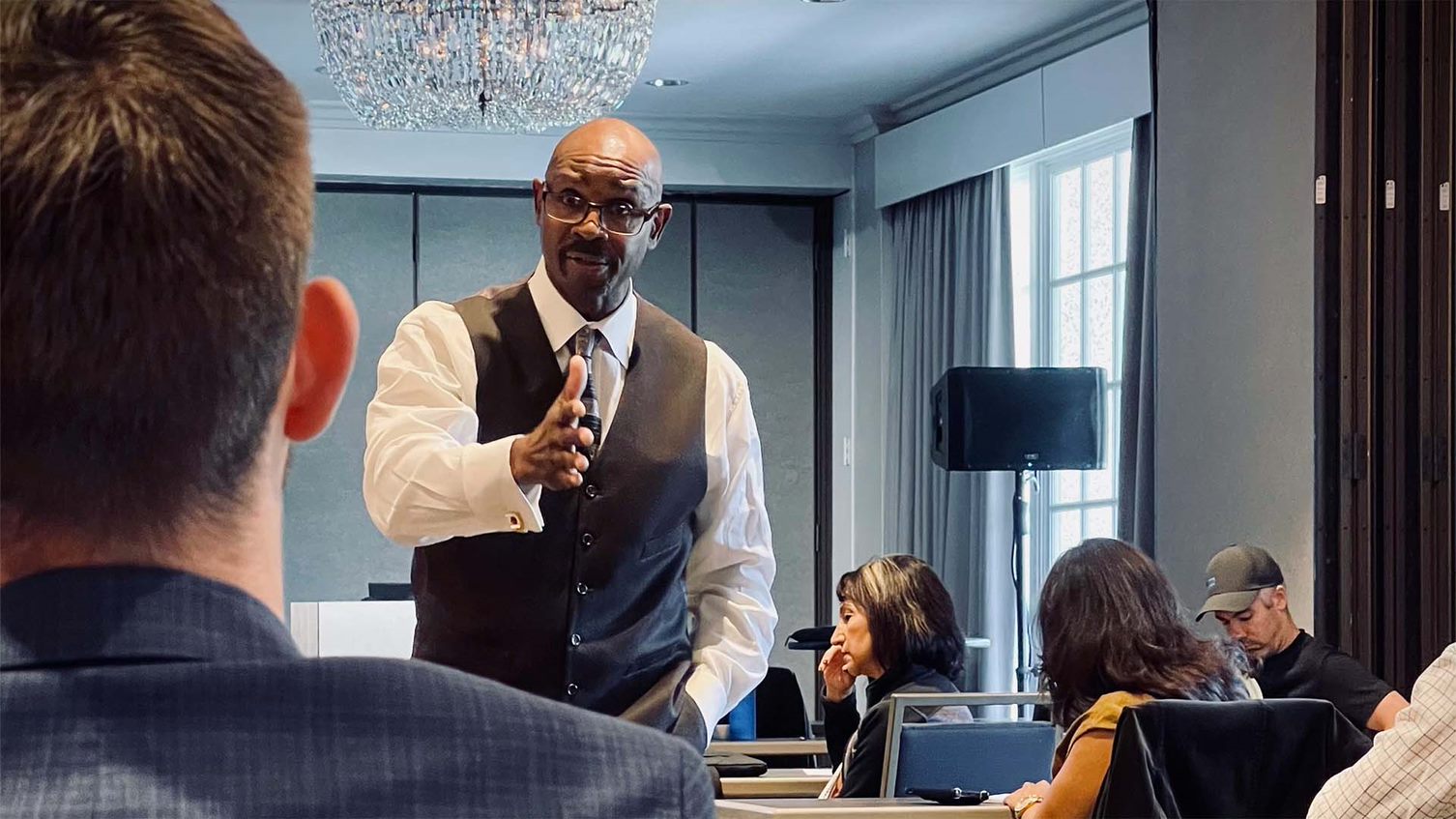 Dr. Billy Williams teaches at a breakout session
The HUG Lab
Another fan favorite each year is the HUG Lab, where attendees can come with questions about HawkSoft and have HawkSoft employees and HUG veterans show them how to complete tasks, configure settings, or use features in HawkSoft. A special thanks to this year's full-time lab techs (HawkSoft employees Britnee, Helen, and Rory), as well as all the other HawkSoft employees and HUG members who helped out!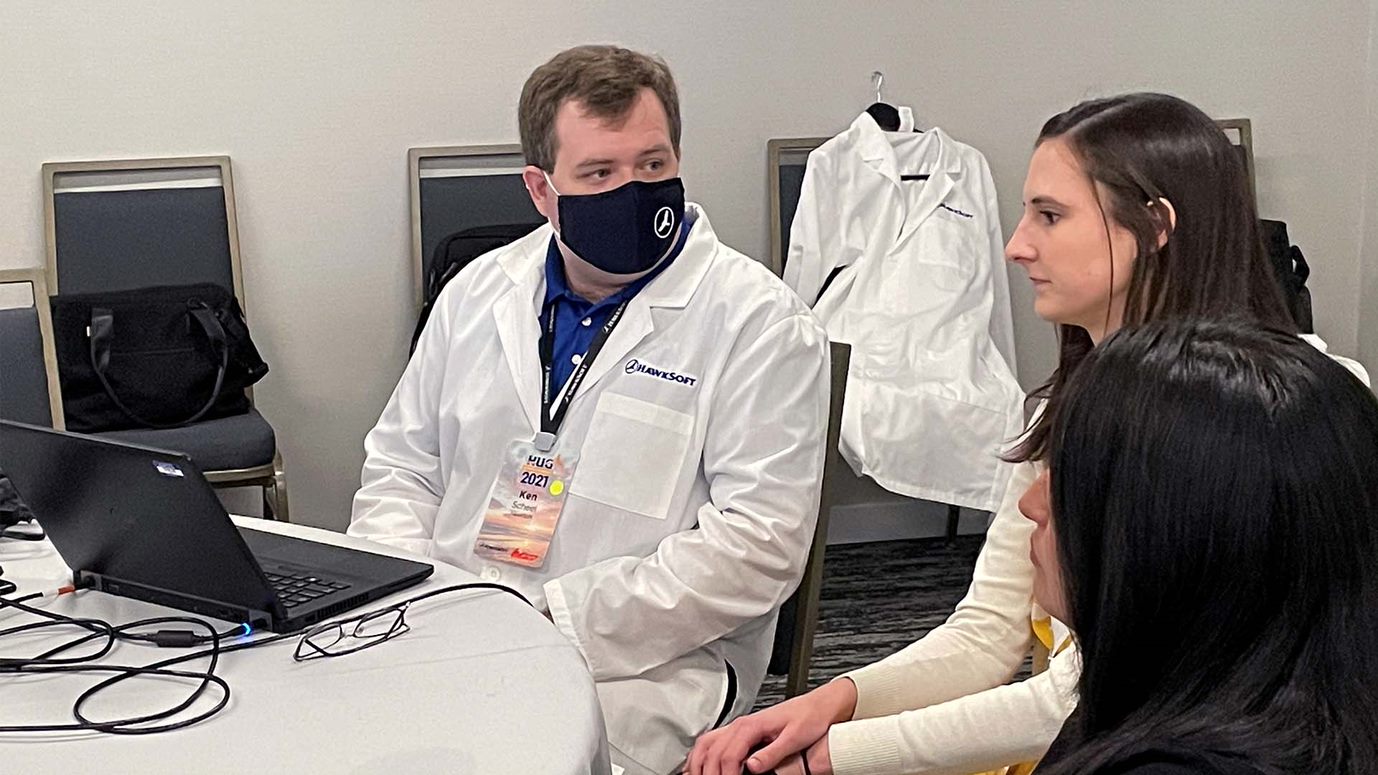 HawkSoft employee Ken helps agents at the HUG Lab

This year, agents also put on some short 15-minute "snippet" trainings at the HUG Lab to show groups how to set up and use these HawkSoft features:
Submission Tracking
Working Documents
External Tool Setup
Agency Announcements
Pencil Tool
Linking & Appending Logs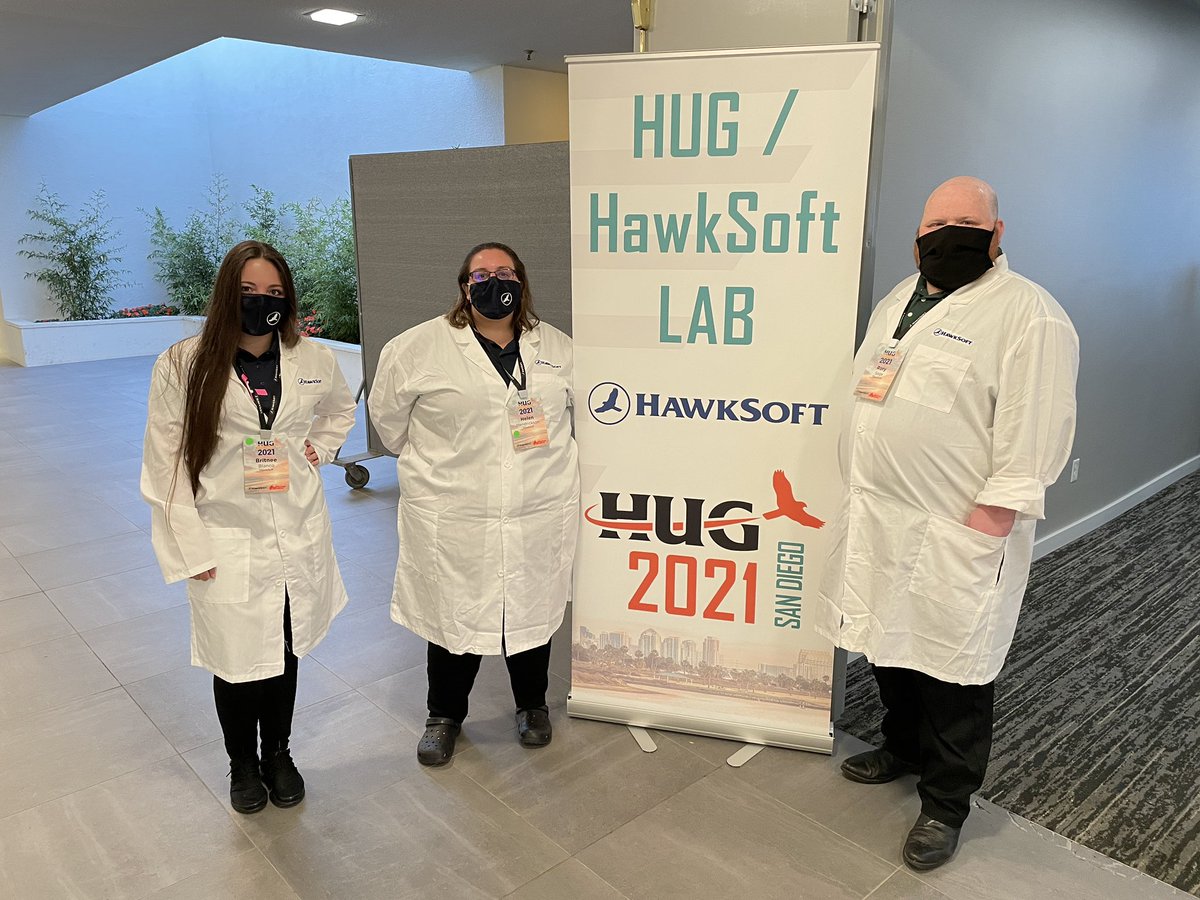 HawkSoft's HUG lab experts: Britnee, Helen, and Rory
Solution circles
On day 2, the conference ended with a variety of agent-led solution circles, where attendees could meet up with others based on their role at the agency or area of interest. This allowed attendees to discuss and get advice from other agencies on what's working for them. It also helped HawkSoft hear firsthand the different workflows agencies use, new ideas on how agencies accomplish tasks, and relevant feedback on how we can continually improve our platform.

Attendee Andrea Wallace gave this great feedback on the solution circles: "I enjoyed the roundtable event. As IAs, it's hard to know if we are doing something the right way or if there is another way to do something. You can learn what others are doing and it may be something you have not thought of!"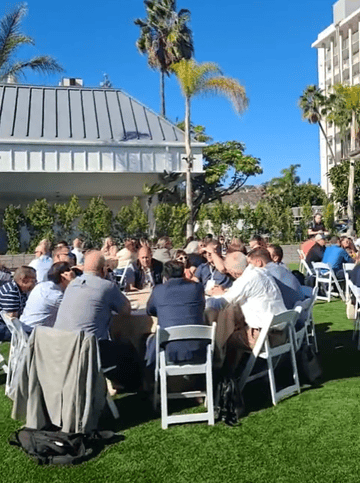 This year, solution circles were held on the following topics:
CSRs
Owners
Producers
Super Users
Marketing
Office Managers
Accounting
Remote Work
Onboarding Staff
Virtual Assistants
Perpetuation Planning
Big Ideas, Little Dollars
Vendor exhibit hall
In-person attendees had the chance to stop by the Exhibit Hall and chat with 53 vendors and HUG sponsors. HawkSoft and HUG are grateful to all the wonderful vendor partners and sponsors who attended and contributed this year. Agents loved the opportunity to speak with existing and potential integration partners, learn about the latest new tools for agencies, pick up some swag, participate in fun vendor-sponsored activities like ice cream breaks or pictures at the photo booth, and win awesome vendor prizes like Bose headphones, a Traeger Grill, and an electric bike!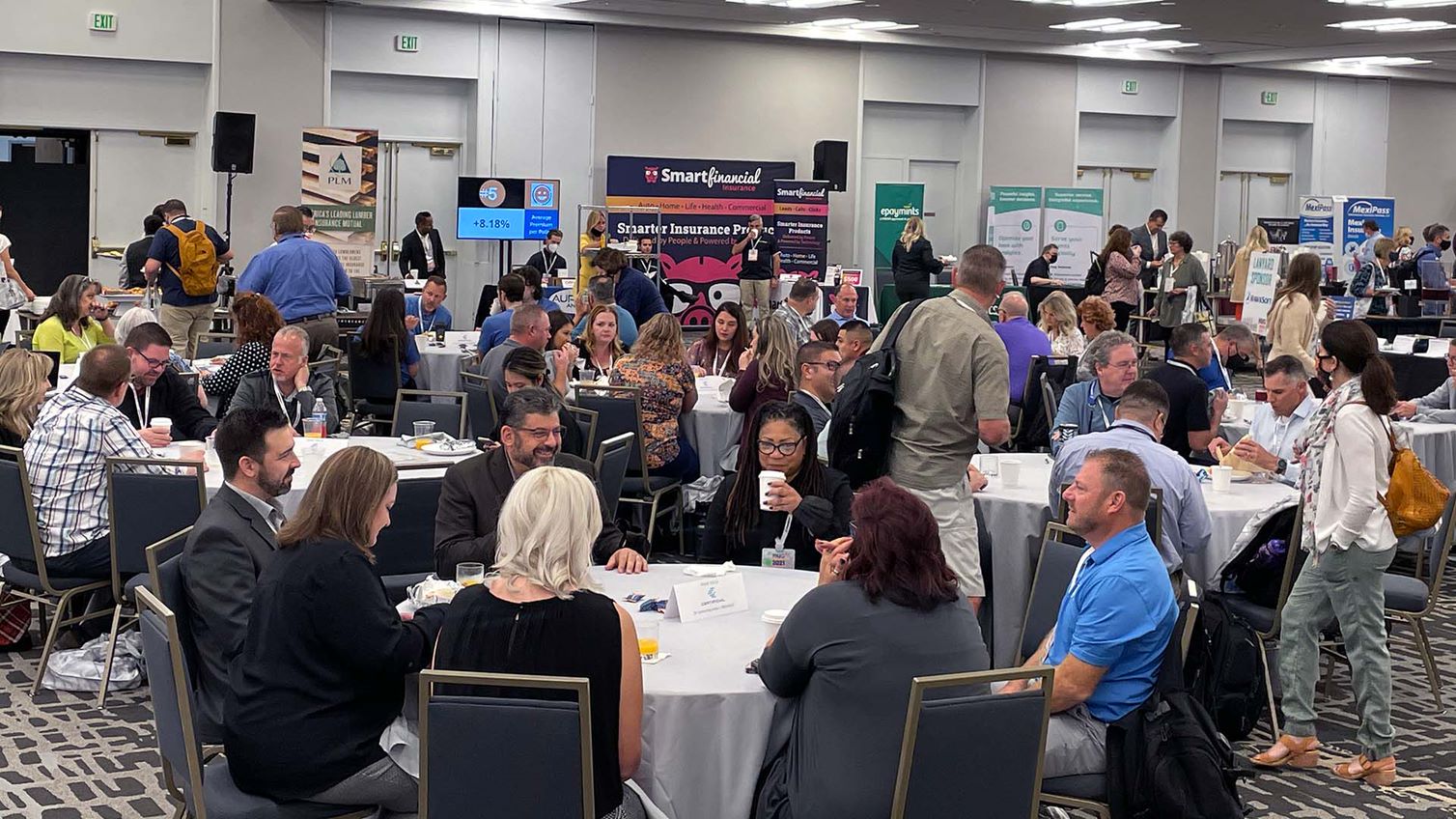 Attendees mingle at the vendor exhibit hall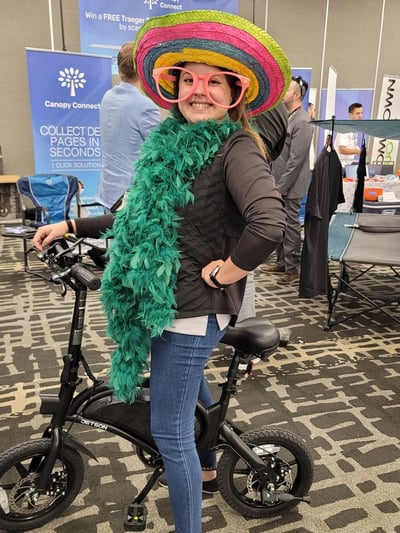 HUG attendee Amanda tries out the electric bike at Canopy Connect's booth

A huge thanks to all of our sponsors and vendors who helped make the conference happen by sponsoring meals and supplies!
Lightspeed Voice: Platinum sponsor
Agency Revolution: Charging station
AgencyZoom: Poolside drinks for agency owners (Monday night)
BlueJay Reviews: Ice cream break
Bold Penguin: Photo booth (exhibit hall lobby)
Certificial: Monday breakfast
GloveBox: Tuesday breakfast
HawkSoft: Lanyards
InsuredMine: Tuesday lunch
Marble Box: Coffee breaks (Mon & Tues)
Pathway: Monday lunch
Podium: Bags
Producer's XL: Water bottles
Rocket Referrals: Green smoothies
Xpress-pay: Hospitality Suite (Monday night)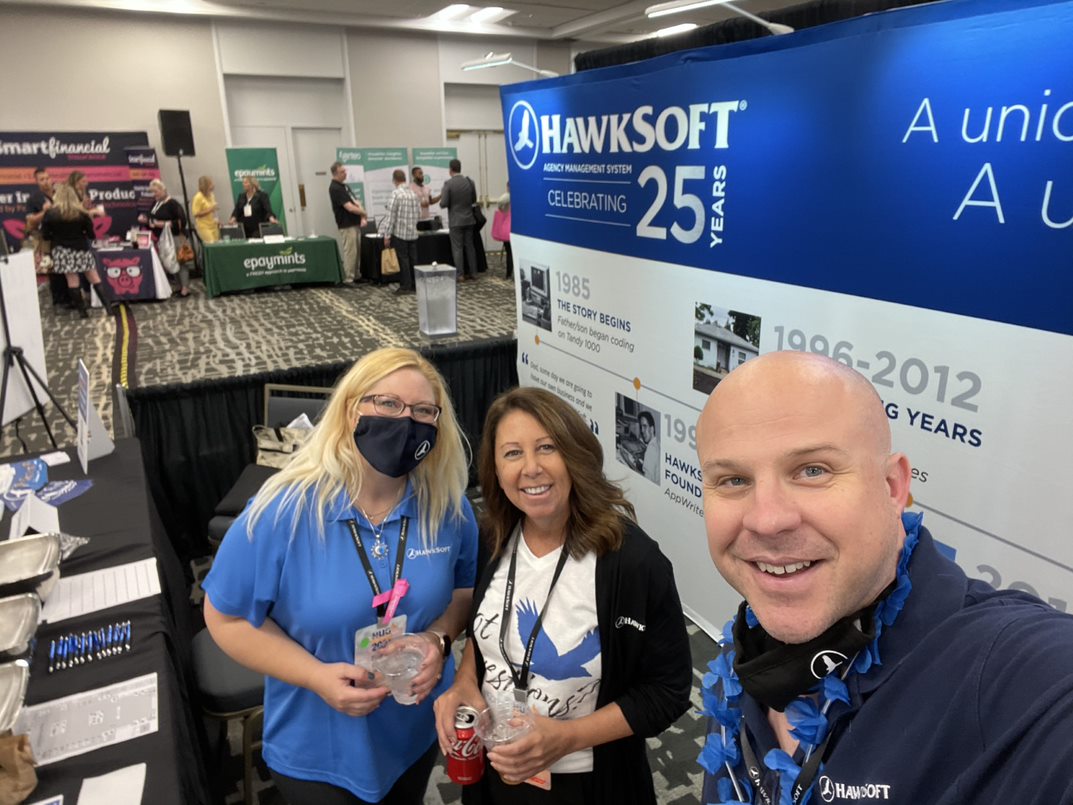 HawkSoft employees Sarah, Dion, and Brandon work the HawkSoft booth in the exhibit hall
Networking & fun
HUG National Conference isn't just about work—it also gives attendees a chance to get together, mix and mingle, network, and have fun! Attendees had opportunities to do this during a variety of receptions, drink hours, provided meals, and even impromptu activities like dancing and karaoke!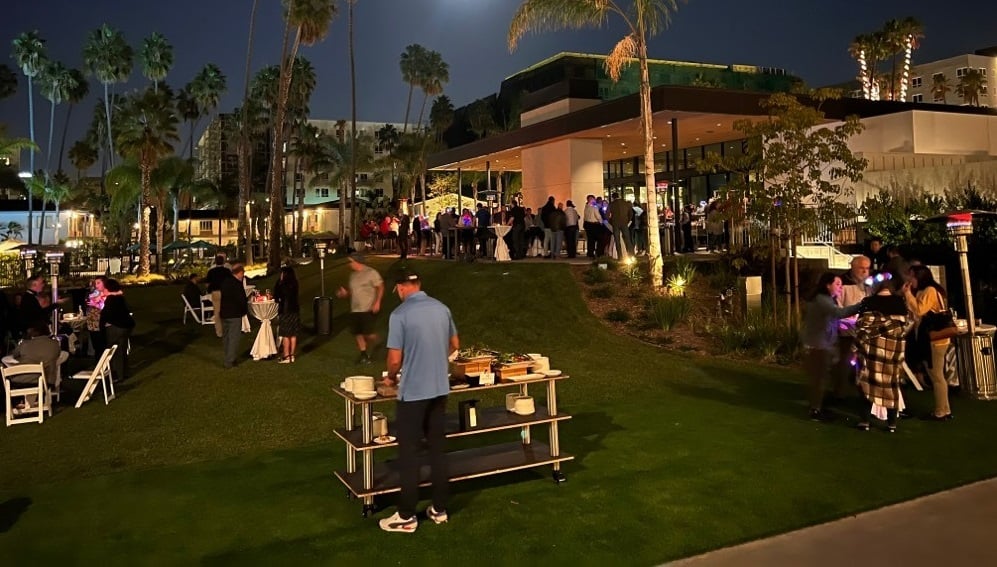 Attendees enjoy the opening reception on Sunday night
| | |
| --- | --- |
| | |
| HawkSoft employee Courtney with Chris and John Keats of Keats Agency (NY) | HawkSoft employees Darrin and Brandon (front) getting tacos with Malena Farrell of Cedar Risk Management (NJ) and Ryan Kuntz of Montana Farmers Union |
In the end, it's the sense of community and family between HawkSoft and its users that means the most to those that attend HUG events. Here's what attendees have to say about the great atmosphere at HUG National Conference:


"It's family. We can speak to everyone and if they don't have the answer, they direct us to who does."
- Kathy Champ


"I really love the sense of community and helping each other, and the comradery that it brings."
- Michelle Hancock


"I was on HawkSoft for a full two weeks when I attended the conference and I can tell you that all employees and owners are very personable and helpful. HawkSoft is truly for the IA's and I appreciate that."
- Andrea Wallace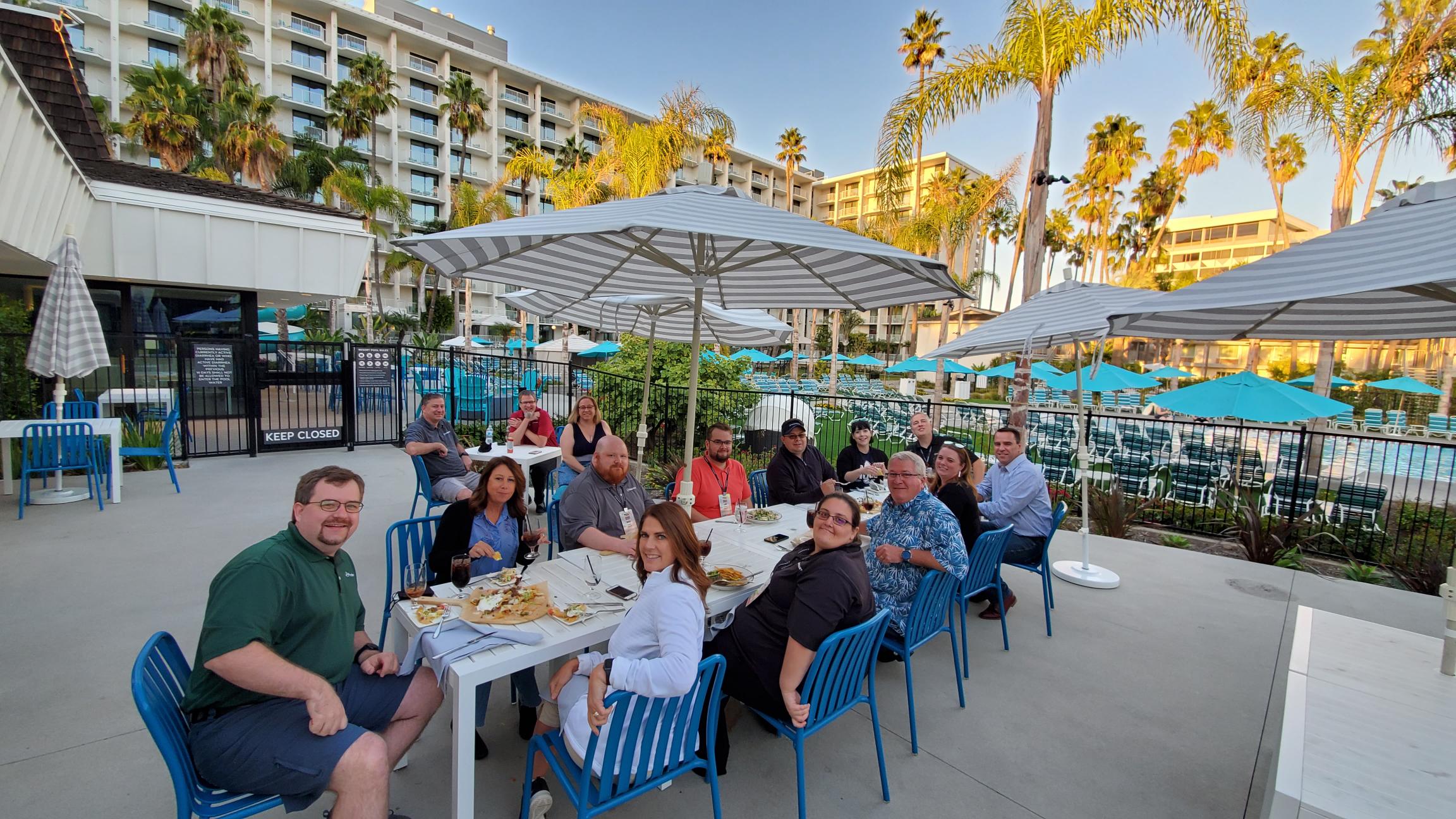 HawkSoft employees enjoy a meal together
Join us at future HUG events!
HawkSoft is honored to contribute to and participate in HUG events like this year's national conference. We want to extend a special thank you to HUG Marketing & Events Manager Amelia Jach, as well as the HUG board and HawkSoft employees, for making this year's conference unforgettable.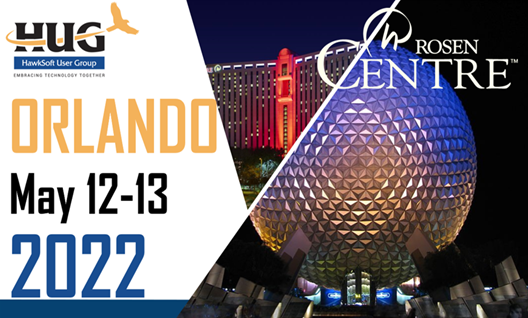 The 2022 HUG National Conference will be in Orlando, Florida, on May 12-13!
Save the date and watch for an email from HUG once registration is open. If you haven't attended a HUG event yet, please join us! Membership in the HawkSoft User Group is free (register here), and you'll get access to tons of great resources like a template library and monthly webinars about HawkSoft. Plus, keep an eye on HUG's event page for information about upcoming regional meetings or virtual training sessions. HUG is a great way to learn from and interact with other agents who use HawkSoft!
Register for HawkSoft User Group
Registration is free, and gives you access to helpful resources from HawkSoft users like the HawkSoft template library and monthly webinars about HawkSoft features.