If you're a sports fan, you know that stats can make or break an athlete. Every sport out there uses data to rank and measure the performance of teams and its members. The recruitment of athletes is also heavily reliant on metrics. Granted, there are some elements that cannot be measured by data, such as an athlete's character and integrity, natural athleticism, gut instincts, leadership, and compatibility with team culture. But when we're trying to measure an athlete's overall performance, a team's ranking, or the growth of a franchise, metrics are key.

Why should your agency be any different?

Tired of "boring" months, with little to no change in your agency's growth performance? You could be like the comic and wait to see what your staff can cook up to make the numbers look better, or, you can take a few minutes to read how you can use technology to harness vital business data so you can measure the right metrics to increase your growth.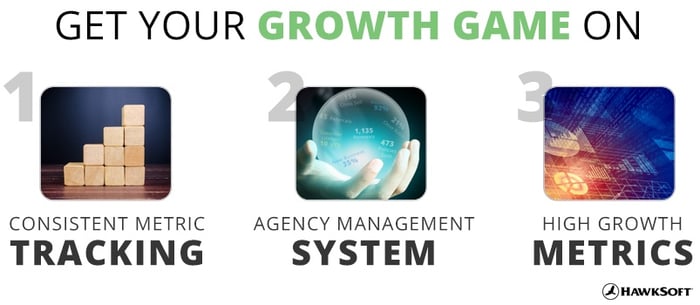 Read on to learn:
Why consistent metric tracking leads to growth
How your management system serves as your crystal ball to harnessing vital Key Performance Indicators (KPIs)
What metrics high growth agencies track
Why consistent metric tracking leads to growth

Why do some agencies thrive and grow quickly, while others' growth remains stagnant, despite their marketing or sales efforts?

Chuck Blondino, Director of Agency Capabilities and Programs at Safeco Insurance, conducted a study in 2011 on 25 high growth agencies to identify what set them apart from stagnant growth companies. His findings came down to one unique difference -- they tracked marketing efforts. Much of the information provided in this blog comes from his article as posted by Agents Council of America, "Grow Your Agency & Improve Your Marketing by Tracking Key Metrics".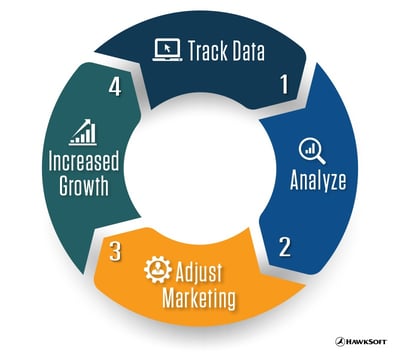 Unlike large insurance companies, whose marketing efforts are focused on building brand recognition, Blondino states that independent agencies must focus on being cost-effective, knowing where your new business comes from, and how much revenue you make from the new business, so you can focus on how to drive in more and keep more.

The right data, when tracked and measured, will drive business goals and sales efforts.
Your management system is your crystal ball to harnessing vital KPIs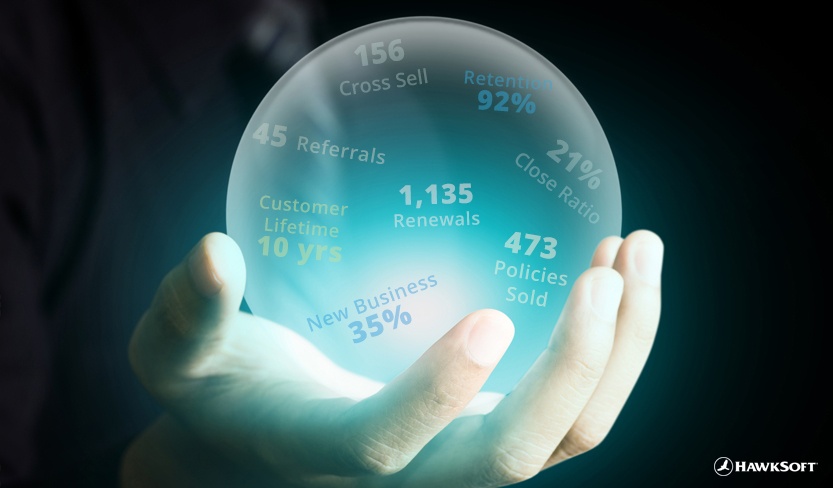 Despite your agency's niche, target market, or lines of business focus, there is one thing you have in common with every other agency: a desire for faster growth that results in increased revenue. But many agency owners struggle with optimizing the right resources to achieve this goal.


One key resource is technology. More specifically, your agency management system.

Modern technology in today's management systems enhances the efficiency of daily operations, helping to reduce processing costs. Some of the most significant technological advancements to agency management systems that have improved operations include:
Automating tasks
Carrier downloads
Raters
Pre-Fill ACORD Forms
Templates
Email marketing
Texting
Renewal notifications
Cloud

Your agency management system is more than just an automation tool, though -- it also acts as a crystal ball that can help you predict periods of growth and stagnation.

One of the most powerful and often underused capabilities of a management system is its ability to extract meaningful KPIs that can measure the growth of your company and impact business decisions.

Without them, you cannot accurately:
Identify trends
Compare results between time periods
Uncover sales and marketing efforts that have zero to minimal return on investment
Quickly identify leads and prospects
Uncover opportunities for cross-selling and follow-up tasks
High Growth Agencies Track These Metrics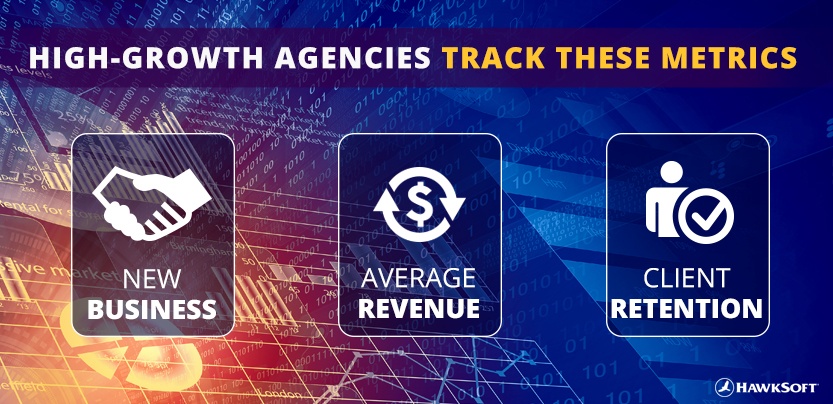 High growth agencies know how to use this crystal ball to harness key metrics and understand the value of consistently tracking and measuring marketing efforts. Blondino states that these successful, high growth agencies tracked 12 common areas, which fell into three main categories:
New Business - where is revenue coming from
Average revenue per client - policies sold
Retention - how long a customer stays with you

Let's discuss each of Blondino's metrics in more detail.

1. New business
Know where your new business is coming from. Focus on:
How many new policies were written over a specific period of time.
Is there a pattern to certain time frames? Adjust sales efforts based on this data.


Source of each new policy -- where did they come from?
One of the most important questions an agent can ask a new customer is, "How did you hear about us?" This drives the focus of your marketing efforts, advertising dollars, and business strategy. If most are coming from referrals, keep your customers happy and incentivize them with a referral program. If most are coming from a specific advertisement, possibly expand those advertising efforts.


Close ratio by category -- what line of business or niche do you do best in?'
Identify your area of expertise so you can market yourself as a specialist.


Monthly close ratio by producer -- who is closing the most deals?
This stat can serve as an excellent training tool. Focus internal sales training on learning strategies that your top producer is doing to close the sale.

Diving deeper into the source of each new policy means gathering and tracking data on these various items. You can even track these items by producer, specific mortgage company, or specific marketing medium. The more details you gather, the more you can analyze what is working versus what is not working.
# from cross sell efforts
# from client referrals
# from mortgage referrals
# from walk ins
# from print ads
# from website
# from Facebook
# from internet ads
# from specific direct mail campaigns

DILBERT © Scott Adams. Used By permission of ANDREWS MCMEEL SYNDICATION. All rights reserved.
Identify which sources reap the most new business
The bottom line is identifying what sources are producing the most new business and revenue. Which ones are a waste of time? Adjust your future marketing and sales efforts to align with these findings, asking yourself if you should spend more or less time on:
Relationship building with high quantity referral clients
Sales efforts and promotions on high revenue sources
Advertising dollars in mediums that generate qualified leads vs. dropping those that don't
Customized messaging that engages your target audience
And so on...


2. Average revenue per client


Blondino claims this is the "jewel" of tracking numbers for every agency. If you cannot get this number directly from your management system, learn how to calculate it here under Item 10.

This metric allows you to track the return on your investment. If you know how much you are spending each month on marketing, compared to your average revenue per client, you can calculate if you need to write more business. You can also track which methods of marketing and/or advertising have the best payoff.

Other common metrics to track:
Total premium
Total policies
Total number of clients – total households
Average number of policies per client

This is one of the most helpful statistics you have. It measures if your team is effective at cross selling.
Evaluate and strategize: If you are averaging 1.4 policies per client – you need to institute a big cross sell effort.

Average premium per policy – divide total premium by total number of policies
3.
Retention
If you have not been tracking this metric, you should start. You'll quickly discover that even a few points increase to your retention percentage can significantly impact your bottom line.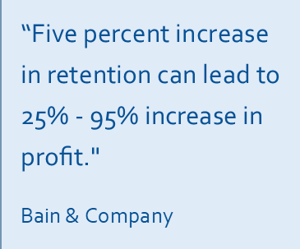 There are various ways to calculate retention. Blondino offers some great tips on how to calculate the following (Items 11-12):
Retention for your entire book each month.
The value of comparing your average retention percentage over a long period of time.
Average length of time clients stay with you.
Blondino shows the growth power behind increasing customer retention in this example below. A modest 3% increase in retention rate over a 10 year period brought in an additional $882,689 of revenue.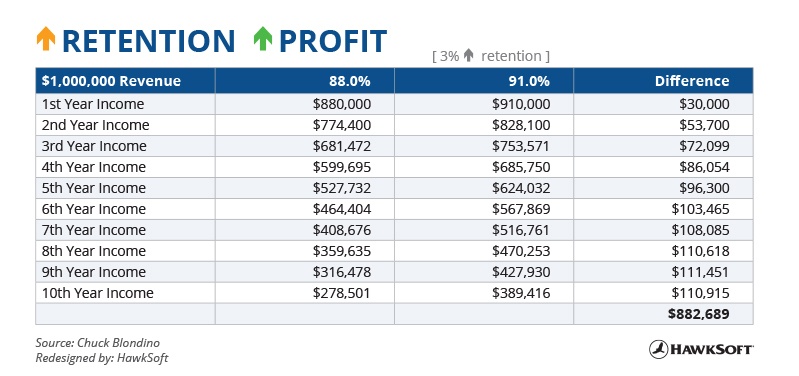 Take a spin on the Flywheel to achieve sticky retention

Keeping your customers happy is a primary influencer of high growth. It makes sense, then, that tracking and measuring customer retention and growth is key to increasing agency revenue.

Many agencies use the sales funnel model to analyze customer decisions, which provides helpful insights on increasing customer retention. But before you rely on that tired funnel model to predict agency growth, take a page out of HubSpot's book -- er, blog. HubSpot's recent article, How the Flywheel Killed HubSpot's Funnel, challenges the traditional concept of the sales funnel, replacing it with the "flywheel" -- an approach that could take your agency from strike three to homerun.

Instead of the funnel, the flywheel is based on -- you guessed it -- a wheel.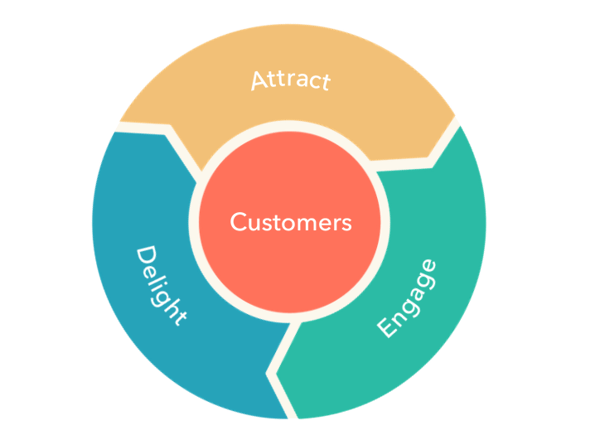 Source: HubSpot

The wheel model is "sticky", like flypaper. In HubSpot's own words, "More delighted customers means a "heavier" wheel, and one that produces more energy when spun. Said another way, your flywheel produces more growth as your customer count increases. If you can add "density" to those customers, by getting them to adopt more of your products or be more "sticky," even more momentum and growth can be achieved."

HubSpot's switch to the Flywheel strategy has led it to invest "more in customer marketing, more in customer advocacy, and more in creating delightful onboarding for new customers…" This is something all agencies -- regardless of their niche -- should emulate if they hope to grow.

It might be worth taking a spin on the flywheel to see if you can increase customer "stickiness" to impact overall growth. Again, metrics will help point to what elements of your customer flywheel are working and not working.


Don't Pay Extra For Vital Metrics
Technological advancements in agency management software hasn't just revolutionized the way agencies do business -- they've also made tracking metrics easier than ever, so you can predict growth and stagnation periods before they occur. But while agency management systems are certainly a worthwhile investment, they shouldn't break the bank -- especially if they don't track KPIs.
If your agency management system is not able to easily produce reports that provide you these vital KPIs, you are being short-changed. In addition, your agency should not be held hostage to additional fees to get your vital analytics. HawkSoft offers Agency Intelligence as part of its core package, at no extra cost. Instant access to meaningful data arms agency owners with a clear strategic picture of their business for sales, operations, and top performers. This should be a part of a software partnership, giving you the tools to measure the overall health of your agency.
---
Comments?
We invite you to comment and discuss our blog and the use of metrics in tracking agency growth in the Comment Section below. We can all benefit from hearing others' experiences on how they use technology and their management system to grow their agency. Feel free to borrow our materials and/or graphics to assist with your client education journey; all we ask in return is a link back to our article and HawkSoft listed as the source.