HawkSoft enabled 2-way capability for our Partner API earlier this year, and we're happy to report that several of HawkSoft's API Partners for marketing automation have already built functionality that utilizes it, with more to come. With 2-way integration, client data not only flows from HawkSoft to the partner platform, but that data can now be passed back into HawkSoft in the form of log notes, attachments, and suspenses (dated task reminders assigned to users).

It may sound simple, but having deeper integration between systems can save a huge amount of time and effort for agencies. "We're always working on new tools to help independent insurance agents automate as many communication processes as possible," says Torey Maerz, CEO of Rocket Referrals, which utilizes 2-way integration. "This is another step in helping HawkSoft users automate things, saving them time and making their daily operations more efficient." Rachel Newton, Associate Product Manager at Agency Revolution, adds, "With 2-way integration, agency staff no longer have to worry about the issues that arise with dual entry across two systems."
In this article:
What can your agency do with 2-way integration?

Check log notes from partner platforms
View attachments from partner platforms
Review suspenses created by partner platforms
Run an activity report to see all actions performed by partner platforms
Benefits of 2-way API integration
Here are some of the biggest benefits of 2-way API integration between HawkSoft and partner platforms:


Less manual entry
No need to manually update the client file in HawkSoft when the partner platform performs an action on a client.

Documentation for E&O
Log notes in HawkSoft with date and time stamps show when the partner platform performs action on an account.

One source of truth
HawkSoft contains the history of actions performed by the partner platform, so you don't have to spend time jumping between programs to look for attachments or communications.
What can your agency do with 2-way integration?
Currently, four of HawkSoft's integration partners offer 2-way functionality: Rocket Referrals, InsuredMine, Levitate, and Agency Revolution, with others coming soon. All current API Partners are free to build 2-way functionality now that the capability has been enabled on HawkSoft's end, so if you use another HawkSoft API Partner not listed here and would like to see 2-way integration, let them know!

You can enable 2-way functionality for partners who offer it by enabling data sharing on the secondary listing for that partner in the HawkSoft Marketplace, which is marked with a (W) for write. Once you've done that, here are a few ways you can save time and make our 2-way API integration work for you.
Check log notes from partner platforms
Next time you're wondering whether a client received that automated renewal email, you can check without leaving HawkSoft. For example Lucas Jans, Director of Product at Agency Revolution, points out that "whenever an email goes out from Fuse™, you can see that communication reflected in HawkSoft, so agents don't need to look back and forth between the two platforms."

Most partner platforms send a log instantaneously when an action is performed, and HawkSoft checks for log note updates from the Partner API every 5 minutes. Logs made by the Partner API will display "Vendor" as the user, with the platform's name shown inside the log.

An example of a log note from an API Partner platform in HawkSoft
View attachments from partner platforms
API Partner platforms can also create attachments (PDF, MP3, PNG, or JPG) and add them to the client file in HawkSoft. Not sure what automated email a customer is referencing? Check the client file and pull up the communication!

An attachment inserted to a client file in HawkSoft from an API Partner platform
Review suspenses created by partner platforms
Another important function an API partner can perform in HawkSoft is creating and assigning a suspense (or task) to a staff member. Maybe you want a staff member to make a follow-up call 3 days after sending them an automated email – the partner platform can automatically assign a suspense to the appropriate staff member. Or maybe you'd like Rocket Referrals to assign follow-ups for clients who indicate a low satisfaction score on an NPS (net promoter score) survey. The possibilities are endless!
A suspense in HawkSoft created by an API Partner platform
Run an activity report to see all actions performed by partner platforms
Want to see all the actions being performed by a partner platform across all clients? Run an Activity Report, select a date range, and type "<v>" as the user to see the logs created by all your partner platforms for all clients. From here you can summarize or filter to narrow down reports for each partner, client, or type of action. It's a great way to get further insight into what actions are being performed by your integrations.

An activity report in HawkSoft displaying actions taken by an API Partner platform
See our help article on 2-way API integration to learn more about enabling and using 2-way integration.
Case study: HawkSoft + InsuredMine
Want some specifics of what 2-way integration with a marketing automation platform really looks like for an agency? InsuredMine shares some details on what the integration looks like for their CRM. "Having the data update between both platforms simplifies tasks and eliminates double entry," says Raution Jaiswal, InsuredMine CEO. "In addition, we've provided an Open in HawkSoft link in InsuredMine accounts and contacts to help you easily pull up the HawkSoft client file with a single click."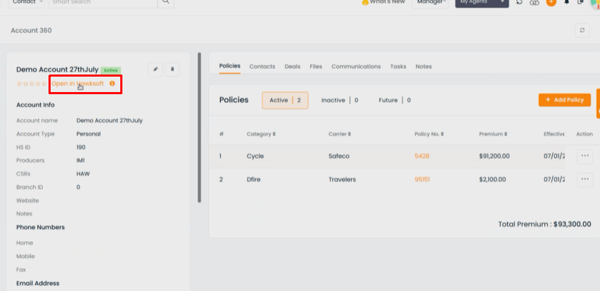 Link in InsuredMine to open a client in HawkSoft
What data syncs between InsuredMine and HawkSoft?
HawkSoft users can sync the following from HawkSoft to InsuredMine: accounts, contacts, policies, drivers, vehicles, houses, and coverages. This information is included in the contact's InsuredMine account, and when you add or update any of it in HawkSoft, it will be reflected in InsuredMine.

InsuredMine users can sync the following from InsuredMine to HawkSoft: files, notes, tasks, activities, SMS, email, and call logs. That means all communications sent, notes taken, and tasks performed in InsuredMine will be documented in HawkSoft.

Plus, here are some InsuredMine features that utilize the 2-way integration to help you get more done with less manual re-entry.
Pipeline Manager
Fed by data from HawkSoft, the InsuredMine Pipeline Manager displays your sales funnel, helping you easily manage your leads as well as keep track of deals that are processed.
Engagement Module
InsuredMine's Engagement module helps agency members with client communications. With automated workflows, you can set up triggers and schedule communications in advance to save time and effort on new business, cross-selling, and renewals. And now automated communications sent from InsuredMine will be logged in HawkSoft!
Reports
Users can easily track data coming in from HawkSoft and measure agency performance through InsuredMine Reports, Dashboards, and Deal Charts, which help you visualize and comprehend the complete overview of your agency's business.

The insurance business has two major components: contacts and policies. The InsuredMine Accounts and Contacts modules display all lead and client data from HawkSoft for client relationship management. The InsuredMine Policies module displays policy details for your clients and updates you on policies that are close to expiration or have already expired so you can efficiently service existing clients.
To see more details and instructions on using InsuredMine's 2-way integration with HawkSoft, see the HawkSoft Integration section of InsuredMine's comprehensive Knowledge Base.
Get started with 2-way integration
Our partners agree—2-way integration opens the door for enhanced productivity at agencies. "The ability to automatically write data back into HawkSoft's agency management system makes a great integration even more valuable to our joint customers," says Jesse Lipson, CEO of Levitate. Tucker Hood, Sr. Director of Sales at InsuredMine, adds that this is only the beginning: "Two-way API integration with HawkSoft is a game changer and will only continue to get better. Agencies can expect to save time, prevent E&O exposures, remove duplicate entry into multiple systems, and, point blank, increase their bottom line."