Word of mouth referrals are the lifeblood of independent insurance agencies, and referral programs are a great way to maintain and increase new business. In a nutshell, a referral program gives rewards to current customers for recommending someone they know as a potential customer. This not only helps the agency find new leads, but it gives back to the referring customer. Many agencies choose to offer charity donations as part of the reward, which benefits the entire community.

Not sure why referral programs are beneficial, or how to start one at your agency? We'll take a look at the reasons why referral programs are so successful for independent agencies, and outline the process for building one that's right for your agency.
In this article:
Benefits of a referral program
There are many reasons why a referral program is beneficial to both the agency and the referrers. We talked to HawkSoft customer Allison McCleary, the Marketing Director at Blue Marsh Insurance, who has helped her agency start their referral program. "It's a nice mix of rewarding current clients and helping the community," she says. "Word of mouth advertising is some of the best advertising you can get, so rewarding clients for spreading the word about your business is huge. Our clients have a high level of satisfaction with us, so we wanted to reward them for what they were already doing, and encourage them to keep referring people to us."
Allsion McCleary shares her experience running a referral program at her agency
We couldn't agree more – at HawkSoft, referrals are our best source of new customers, which is why we created our Referral Race program to give back to both agencies and individual agents who refer other agencies to us!

Here are some of the biggest reasons why having a referral program is beneficial for an agency.
It helps you get more (and better) leads
You've probably already seen at your agency that word-of-mouth referrals are the highest converting type of lead. People place more trust in organizations recommended by someone they personally know than most other means of marketing—in fact, 92% of global consumers trust earned media (like reviews or word of mouth) over ads. A referral program not only helps you get more leads—it helps you get leads that are more likely to buy. Plus, word of mouth referrals usually prove to be great prospects for cross-selling because they already have a foundation of trust with you and may be more willing to make a greater investment.
It lowers your customer acquisition cost
Having a referral program creates a constant flow of leads, which not only increases sales but also reduces the cost and effort it takes to find new prospects through other means, such as advertising, purchasing online leads, etc.
It gives you insights about your business
In order to reward customers for providing referrals, you'll need a way to track referrals – and this can provide valuable insights about where most of your leads are coming from and what areas you should concentrate on for new business.
It helps you reach more people in a similar demographic
People tend to know and interact with others who are in similar circumstances to them, so if you have an ideal type of customer, they're likely to give you referrals for other people who are in a similar position. This is especially beneficial for agencies who focus on certain niches – a customer within that niche can be a goldmine of referrals for other prospects in the same industry or area of focus.
It strengthens your relationships with current customers
A referral program rewards the customer who referred someone to you, so it not only helps your agency get new leads, but it also rewards the customer, making them even more satisfied with your business and likelier to stay with your agency longer.
Building a referral program
How do you go about building a successful referral program for your agency? With a little effort, you can create a program that's perfect for your agency and its customers.
Understand your customers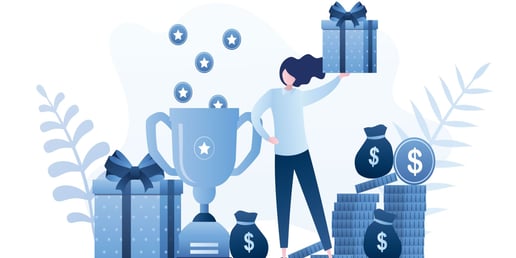 There are a few things you need to know in order to set up an effective referral program. It's important to start with a good understanding of how your customers are currently interacting with and referring others to your agency. This will help you set up your program in the way that's easiest and most beneficial to them. Here are some things to consider:
How do your customers get updates about your agency? What channels do they use to communicate with you? Which social media channels do they prefer?
What are your customers' demographics, and how does that affect their preferences and the way they interact with you? What kind of incentives or prizes are most motivating to them?
Who are your most loyal, satisfied customers? Who has referred customers to you already in the past? Who has posted positive reviews for your agency?
"Determine what is most important for your clients," Allison suggests. "What's going to be the thing that motivates clients to mention your name when talking to people? If you don't know, send out a survey to ask them! You need to know what's unique about your business and your clients."
"Determine what is most important for your clients. What's going to be the thing that motivates clients to mention your name when talking to people? You need to know what's unique about your business and your clients."

Allison McCleary, Blue Marsh Insurance
Make sure your agency can support the program
The only thing worse than having no referral program is having a poorly run referral program. Referral programs require work, especially to set up at the beginning, so make sure your agency has the bandwidth to support the program. If you're promising rewards for referrals, it's crucial to make sure those rewards happen (and happen in a timely manner), or you could end up decreasing your leads and retention instead of boosting them. Allison recommends setting goals for the program in advance and determining one or more staff members to be responsible for the program.

It's also important for your agency to have a good level of service and satisfaction at the outset, or it will be difficult to find customers willing to refer others to you. If your agency is short-staffed or has low customer satisfaction at the moment, focus on improving those areas before starting a referral program, since any program's success depends on having quality service at its foundation.
Choose a reward structure
The most important part of a referral program is the incentive you're offering to the referring customer. Many agencies offer gift cards, coupons, or discounts on their services for each referral in amounts as low as $5 or $10, or enter referrers into drawings for larger prizes each month, quarter, or year. Some agencies also offer a reward to the person being referred.

You may find some combination of these elements is right for your agency. For example, HawkSoft's referral program awards the referring agency a credit on their monthly subscription based on the size of the referred agency, and also awards $100 gift cards to the top referring agents each quarter, a $1,000 grand prize to the top referring agent for the year, and an annual drawing for a $500 gift card among the top quarterly referrers.

Before deciding on a reward, it's important to understand your agency's customer acquisition cost so you know how much your agency can safely spend per customer. Remember, the goal is to create more revenue for the agency, not diminish it! If you're not sure where to start, start small with something like a prize drawing and increase the rewards as time goes on - it's much harder to decrease the rewards once you've started the program. Here are some important things to think about:
Will there be an immediate reward for each referral? Is there any limit on the number of referrals or amount of rewards a client can receive?
How much will the reward be worth? Will there be a tiered structure that offers higher rewards the more people they refer?
Will there be additional rewards, such as prize drawings on a monthly, quarterly, or yearly basis?
Will referrers receive the reward for simply making the referral, or only for referrals who become customers?
Will the person being referred receive a reward or discount as well?
You should also consider whether the program will extend to others aside from customers. Some agencies allow their own staff to participate in the program if they refer others, as well as friends and family. Your may also want to extend the program to agency partners that are typically good sources of referrals for insurance agencies, like financial institutions, real estate agents, car dealerships, or accountants.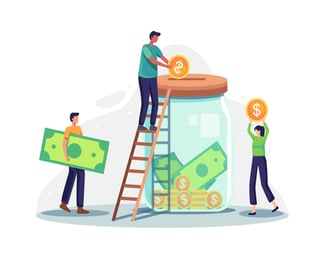 Charity donations as rewards
One of the most beneficial incentives you can use for a referral program is donating to a charity or cause that's important to your agency. This helps eliminate any discomfort with you or your clients feeling like you're "paying" customers for leads, and helps customers feel like they're giving back to the community. This is how Blue Marsh's program works, Allison shares. The agency makes a $10 donation to their charity of the quarter for each referral they receive (some of the organizations they've supported the most frequently are Hope Rescue Mission, Honey Brook Food Pantry, and Baseballtown Charities). Referrers are also entered into a monthly gift card drawing and a yearly grand prize drawing for a larger item like an iPad. The referral gets a reward as well, in the form of a coupon for a free lunch.
"We're only here because of our community, so we can show our appreciation not just by doing good business, but by being involved in the community to show a little more gratitude."

Adam Halm, Lansing Insurance Agency
If your agency wants to build charity donations into your referral program but you're not already working with a charity or community program, choose a cause that's personally meaningful to you, your staff, or your customers—especially something that will benefit members of your local community. HawkSoft customer Bogus Handzel of Handzel & Associates supports a foundation his parents started to help children in Polish communities in their area. Agency member Lukasz Handzel shares, "Most people are looking for an outlet for how to give to a charity. They love to give back, so if you have an organized way for them to do that, they're happy to help you out."
Agents Adam Halm and Michael Oskouian share their thoughts on supporting community involvement at the agency
Lansing Insurance Agency writes a lot of farm business, so they give back to their county fair and support youth 4H programs. "We're only here because of our community," says HawkSoft customer Adam Halm, "so we can show our appreciation not just by doing good business, but by being involved in the community to show a little more gratitude." Michael Oskouian of First Underwriters Insurance Brokers is a Rotary member, so he uses the Rotary program to give back to those who are in need of food, clothing, and shelter. "When you're involved in the community and you see how it affects individuals," he says, "it makes a huge impact on people. You can't replace that."

When you're building your program, make sure to research and follow any laws your state or region may have, since some areas don't allow incentives in certain formats. Agencies may be able to work with their state to make sure their programs are legally allowed, Randy Ahmann of All Lines Insurance in Washington points out. "Agents like Claudia McClain have done some amazing work with our state legislators to allow agencies like us to donate to charity organizations in return for referrals," he says.
Set up processes for implementation and tracking
It's important to have a good system for tracking referral submissions and sending the rewards out to your customers. Many agencies do this by having a referral form that customers can fill out on their site. This allows the agency to easily generate reports of the submissions. Then, you can send emails out to both the referral to introduce yourself and your services, and to the referrer with their reward. If you have a marketing automation system, you can automate these emails to be triggered when someone fills out the form. There are also systems that are made especially for referral automation, which you may want to look into if your agency doesn't have much bandwidth for a referral program.

Don't forget to implement processes on the new customer end as well. Make sure it's part of your process to ask every new customer how they knew about your agency and whether someone referred them—that way you can ensure you reward the referrer even if they didn't fill out the form.
Promote the program
Once you have the program set up, it's time to let people know! You may want to start with a small group of customers, such as those who have sent referrals to you in the past, to make sure your processes work as expected before rolling out the program to everyone. It's important to make it quick and easy for people to find where to submit referrals on your website—it might help to include links to your referral form on your social media pages and email signature so that people can find it no matter what channel they're using.

Aside from promoting the program at launch, the best way to make sure customers are aware of the program is to set up recurring emails for customers—for example you may want to send them information about the referral program once they've been a customer for a set amount of time, and then send them a reminder once a year after that. Don't forget to mention the program when speaking with clients, especially if they're expressing satisfaction with your service.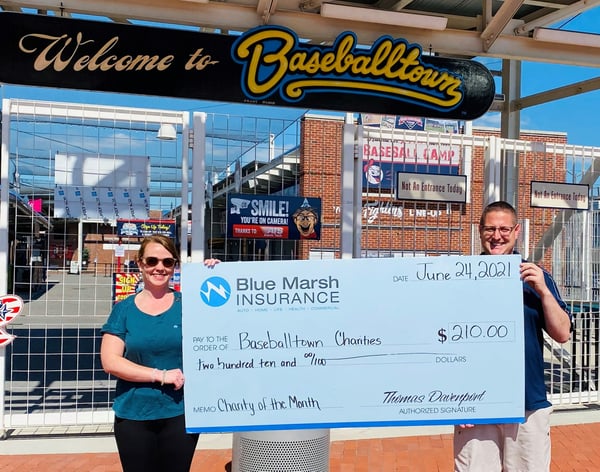 Members of Blue Marsh Insurance present a quarterly donation from their referral program to Baseballtown Charities

Another great way to promote the program is to celebrate those who earn rewards. You might want to showcase award winners on social media or in your regular email newsletters. If your rewards are charity donations, you can share how much was donated each month or quarter, and share pictures of how the donated funds were used in the community. This not only helps people see how your agency is involved in the community, but also encourages others to give back by participating in the referral program. "When people come to you because they know you're involved in the community doing good things, it builds a more lasting relationship than just running an ad," Randy observes.
Track and adjust the program as needed
Because you'll be tracking the referrals in order to send out the rewards, you should have access to analytics and reporting on how many people are submitting referrals, and how many of those referrals end up becoming customers. This can provide valuable information to help you improve the program. Are most of your referrals coming from one type of customer? Are most customers submitting a single referral, or is there a smaller concentration of people submitting multiple referrals? Is one type of reward generating more engagement than another? All these things can help you maintain and refine your program over time to make sure it provides the most benefit to both your customers and your agency.

For example, Allison shares that her agency's program initially started by donating to a different charity each month, but recently changed to quarterly charities. This helped them to develop deeper relationships with fewer charities and allowed them to give larger, more meaningful amounts to each charity.
Start your referral ecosystem
A solid referral program is an important ingredient in any successful agency. If your agency doesn't have a referral program yet, start considering what one could look like using the guidance outlined here. If you already have a referral program, see if there's anything you can tweak to improve the process. Creating and maintaining a successful referral program will help you grow your business, boost customer satisfaction, and even improve your community.
Participate in HawkSoft's Referral Race
Referrals are an important source of new customers for HawkSoft, just like they are for agencies. We reward both agencies and referring agents when an agency you refer goes live with HawkSoft!