HawkSoft continues to make progress blazing the trail on our Partner API, which allows HawkSoft to integrate with third party vendors that offer marketing automation, contact management, lead tracking, mobile app support, and other useful tools to help your agency succeed. It's been a while since our last update on the progress of our Partner API, and we would like to take a moment to outline all we've accomplished since then and what you can look forward to in the future.
The road so far
For those who recall our last update on the Partner API and how it relates to our progress toward HawkSoft Cloud, we used a multilane highway to illustrate how data is flowing through our new cloud infrastructure. Cars are now traveling smoothly on that highway. Our first fellow traveler was Insurance Agent App, a mobile app for insureds that integrates with HawkSoft to automatically and securely flood policy data into the smartphone app in your client's pocket. Integration with Insurance Agent App launched in August 2019. While there remains much work to do, this pioneering journey helped establish the route for each subsequent vendor to follow and aided in making the initial phase of our Partner API project a success.

HawkSoft has an obligation to protect our agency partners as they travel on our API highway. We have a responsibility to certify that vendors operating on our Partner API do so safely, somewhat like the DMV certifies that cars are registered to travel properly and safely. This is why HawkSoft decided to use a Partner API model over an Open API, after all.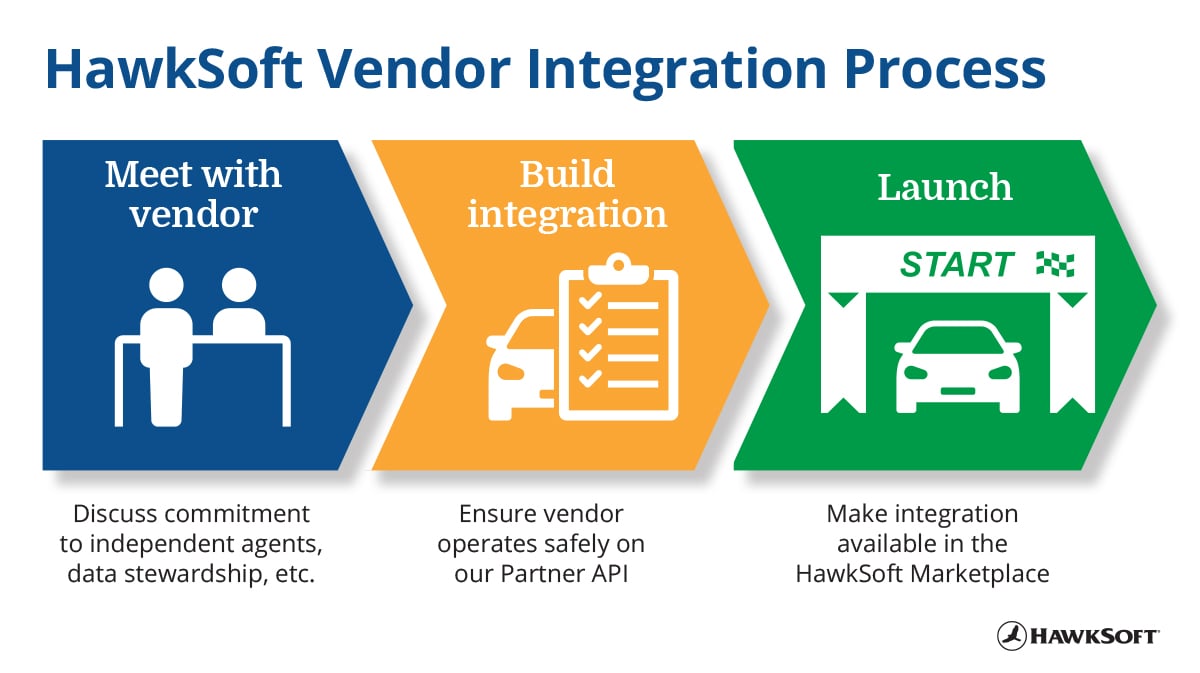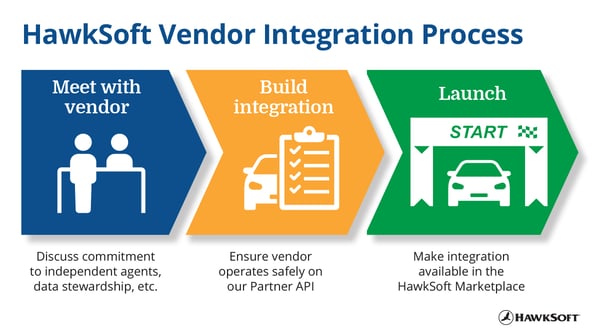 In the last 18 months, HawkSoft has been approached by nearly 70 different technology vendors to discuss integration with our agency management system. We meet with each vendor to gauge their commitment to independent agents, how well they fit our unique audience of agencies, and to ensure they respect the data that belongs to the agencies and will be good stewards of this data. It speaks to the quality of vendors in our space that HawkSoft rarely sees a need to walk away from a vendor.

Of the 70 vendors we've talked to about integration with HawkSoft, 20 vendors are in active development with our Partner API today. You can see all available HawkSoft API integration partners, as well as other partners, on our Partners page. HawkSoft customers can add integrations through HawkSoft Marketplace within their management system (located under the Setup Menu).


Know a potential vendor? Contact us!
HawkSoft has developed a streamlined process for onboarding new vendors with our Partner API. If you are a technology vendor helping independent agents succeed (or if you're an agency who knows of one), please reach out to opportunities@hawksoft.com to learn about our Partner API.
The road ahead
HawkSoft's Partner API initiative is a component of the larger HawkSoft Cloud. Our development, product, and leadership teams continue to have a laser focused commitment to executing on the plan to translate HawkSoft's 25 years of experience with insurance technology onto a modern Cloud- and web-based technology infrastructure.

The Partner API is maturing in all aspects: our understanding of its capabilities, how best to share this knowledge with vendors, how to properly vet new opportunities, and how to smoothly guide partners from the initial conversation through a release to our customers. Put another way, we understand the road well now. Each new technology vendor that seeks to integrate with HawkSoft travels down our API highway with increased efficiency. This is one of the promises of the whole HawkSoft Cloud project.

HawkSoft is working to streamline our technology and exponentially grow our capacity to add new features and partners. The goal of the Partner API is to allow agents to integrate with the best outside tools and systems the industry has to offer, making HawkSoft a complete solution not only for agency management, but for every element of your business. We are committed to providing your agency the freedom to choose which tools and solutions you need from an ever-growing number of integrated partners.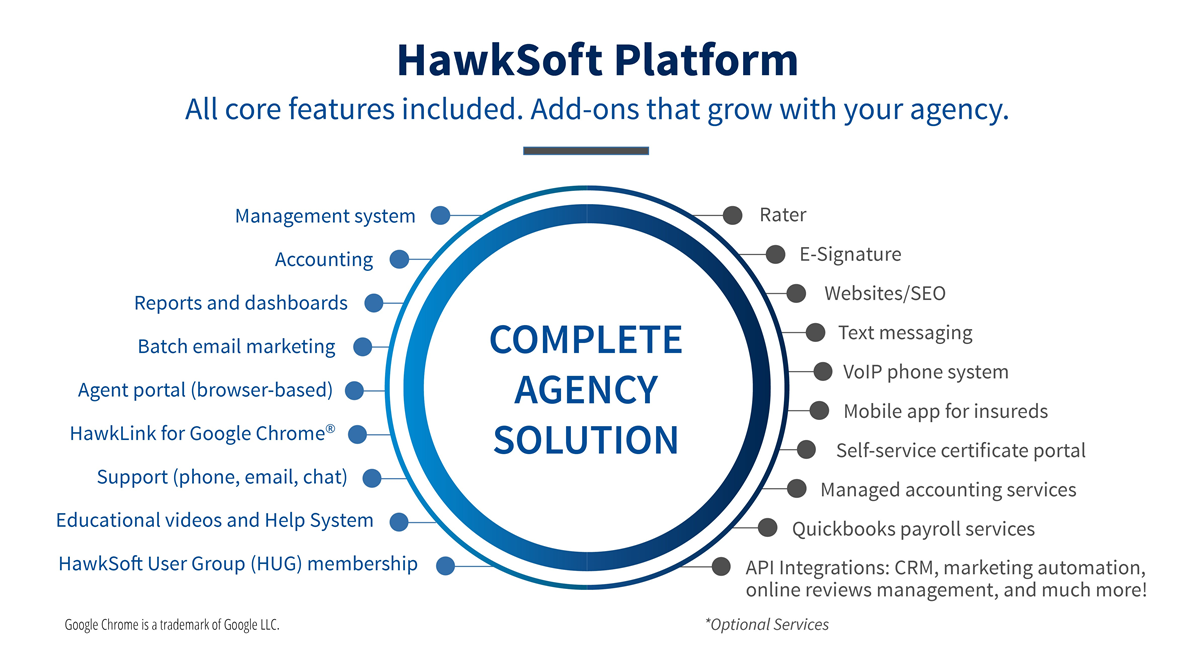 In the coming months HawkSoft customers will see familiar and new faces appear on the Marketplace. New vendors approach HawkSoft every week and our doors remain open to them. Keep an eye on the Announcements section of our News page for announcements when new vendor integrations are available in the future.

Ultimately, our mission is a better-connected ecosystem for insurance technology. We believe and affirm that agencies own the data they create in our management system. It is also a responsibility of HawkSoft to conduct the proper due diligence to protect agency data (and to provide agencies with the means to properly protect their data). The Partner API puts this into practice by giving agencies the ability to freely share their data with the other technology vendors that help their agency be successful.
See All HawkSoft API Integration Partners
See the full list of partner integrations currently available in the HawkSoft Marketplace.