Guest blog by Cam Bob III, Infinity Leads
Guest blogs are written by contributors outside of HawkSoft. The author's views are entirely their own and may not reflect the views of HawkSoft.
This article at a glance:
Cross-selling: the key to agency growth
If your agency is looking to grow your book of business, you might be tempted to focus on bringing in fresh new prospects. But is that really the most efficient way to get more business? The truth is that in the insurance industry, new customers come at a significant cost. The insurance industry has some of the largest customer acquisition costs (CAC) of any industry, and it's seven to nine times more costly for an agency to attract a new customer than to retain one (ITL). In fact, for every new customer your independent agency looks to acquire, you can anticipate shelling out $900 to get them—about the cost of a brand new iPhone.
Fortunately, there's a way to reduce the direct costs and write more premium, more profitably—without giving away the proverbial iPhone. Cross-selling is an often-overlooked goldmine for agencies. By adding new lines of business to current customers, you can eliminate the overhead by focusing on those who are likely to buy from you—because they already have.
Benefits of cross-selling
Builds customer loyalty & deepens client relationship
Increases total wallet share among your customer base (the amount they spend with you vs. competitors)
Instantly improves marketing ROI
Increases the customer lifetime value
Balances revenue growth amongst new and old customers
Drives efficiency for customers to consolidate their risk management to one agency
What holds many agencies back is the fear that executing cross-selling campaigns will consume valuable time and human capital, or simply not knowing how to start. The good news is the most strenuous part—acquiring the customers—is already completed. Today, the right digital strategy and tools can systematically take care of the heavy lifting of cross-selling campaigns.
A 3-step digital strategy to cross-sell insurance
Here's a simple strategy to get you started for a more profitable 2020:
1. Segment and score leads
Not everyone in your book is a cross-selling prospect. The first step to cross-selling insurance is to use technology to segment and score your leads. Lead segmentation is the process of objectively separating your contacts into categories so you can send them highly targeted campaigns. Segmenting your customer base will allow you to identify the customers that align the most with your marketing objective. For example, you can segment customers based on how long they've been customers of your agency, total $ lifetime value, or demographics most likely to convert. Either way, segmenting leads will filter your viable cross-selling prospects from the bad ones.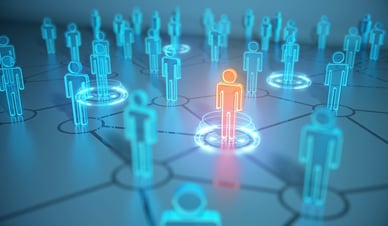 Even then, not every cross-sell prospect is ready to buy now. Within your pool of viable prospects, some have the propensity to buy soon and others don't. Lead scoring assigns a point value to every lead so your team can focus on the leads who are most ready to make a purchase (usually those with a higher lead score). For a cross-selling campaign, you'll be drawing from customers who have already made a purchase from you, so you can assign points based on the relevance of service line, timing, renewal dates, online behavior, email engagement, etc. Once you've tallied up the scores and identified the strongest cross-sell prospects, you're ready to start building your cross-selling campaign.
2. Automate outreach, engage, and nurture
The next step in executing your cross-selling campaign is the art of actually delivering your offer to customers. You can do this by developing your system to automate the tedious workflows of marketing outreach, engagement, and relationship nurturing while maintaining a personal touch.
Automate outreach
The ultimate goal is to build a self-sufficient marketing "engine" that can run with minimal manual effort from you. Automating a cross-selling campaign boils down to deploying the right message to the right customers, through the right channels, at the right time. The digital tools section of this article goes over the types of systems that can help you build your engine, and here are 50 marketing automations to help you create and deploy your messages.


Engage
Getting the awareness of today's customers requires omnipresence, or the ability to market across online channels and devices. According to HBR statistics, 73% of consumers use more than one channel during their shopping journey. Today, creative, engaging, and mobile-friendly content can be produced and published online at lightning speed.
Develop a holistic set of content dedicated to your cross-selling campaign. Cross-selling specific email scripts, voicemail recordings, social media content, and instructional content that resonates with your segmented customers are the foundation of engagement. Over time, you'll have a database of easy to deploy and evergreen marketing content. You probably have multiple forms of contact for your customers, and you might also follow them on social media. This gives you the opportunity to cross-sell to them directly through email and text messages, or indirectly via relevant content marketing. Mobile-friendly communications are a must!


Automating a cross-selling campaign boils down to deploying the right message to the right customers, through the right channels, at the right time.
Nurture
Nurturing customers in a cross-selling campaign is simpler than in nurturing new customers into an initial sale, as the relationship is already established. The most important thing is to send them relevant, personalized content when they're most likely to need it. With behavior based tactics like tracking pixels, remarketing ads, and social activity monitoring, you can track your customers' behaviors, activities, and interests. This allows your marketing automations to notify you of cross-selling opportunities like adding a new driver or hiring more employees, so you can send them relevant cross-selling suggestions at the right moment.
It takes many interactions to influence a purchase, so it's smart to run timely campaigns on multiple channels. Tactics like autoresponders, voicemail drops, and drip campaigns help by sending a series of direct follow-ups as opposed to a single message. Social media marketing and retargeting ads allow you to stay top of mind while your customers surf the web and browse social media. This ensures you customers will see your message, no matter which channels they prefer.
3. Leverage the data to verify your strategy
After your engine is built, the last step is to enhance and improve it by conducting performance audits and implementing optimizations. Your cross-selling campaign data is going to tell a story about your agency and its customers. Did you select the correct customer segments? Was your content engaging? Did you hit your marketing objectives? Your data is important, as it will uncover powerful insights to help you make more accurate forecasts and more informed marketing decisions.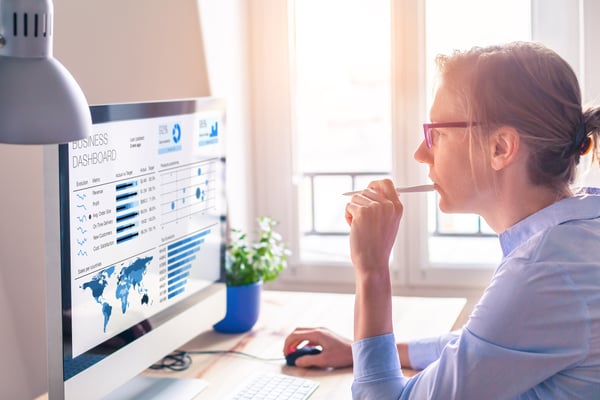 Historic analysis of customer data can highlight certain key product combinations that are successful, or trends and similarities in customer behavior. Attributing buyers to the campaign or content that influenced their purchase is the number one way to scale your campaigns—if something was particularly successful, that's where you should focus your resources for future campaigns. Paying attention to email open rates and social media insights can also help you understand how engaging your content was. Finally, by auditing your overall campaign performance and paying attention to engagement, quoting, and closing percentages, you can establish benchmarks to improve upon.
Once you have made an assessment of your overall campaign performance, you can optimize your campaigns by improving lead scoring and segmenting processes, automating your outreach engine, and using the data to clearly define your objectives.


Your campaign data tells a story about your agency and its customers. Use these powerful insights to make more informed forecasts and marketing decisions.
Digital tools for cross-selling
You'll need the help of tools to do the segmentation, engagement, and analysis described in the strategy above. There are 5 essential types of digital tools agencies can use in their cross-selling campaigns:
Agency management systems
The first tool to look at is one you likely already have—your agency management system. Your system may help with many of the tasks discussed above, but likely not all. Take a look at what your agency management system offers to see what types of tools can supplement it for cross-selling campaigns. For example, the HawkSoft agency management system has features to help you:
Integrate lead captures from your website so leads go straight into your system
Configure your Sales Pipeline according to your agency's workflow
Target cross-selling prospects using account rounding and other reports
Create correspondence templates and schedule and send batch emails to clients from within reports
Send text messages to clients from within the management system
Marketing automation systems
Marketing automation systems are the marketing hubs that allow agencies to house and segment customer information and deploy marketing communications. Popular tools today are Hubspot, Marketo, Act-on, SharpSpring, Agency Revolution, and many others. While Agency Revolution is insurance specific, most systems integrate with insurance management systems. Each program lets you house customer data and marketing content and deploy marketing campaigns in one place. Marketing automation systems are great tools to automate the tracking of leads at a granular level, help with sales strategizing, and provide valuable insight into your segmented groups.
Social media automation
Automating your social media is more than just scheduling content to be sent. The best social automation will help you not only schedule content, but plan content strategy, create and curate content, track your follower engagement, and follow your prospects across channels with relevant messaging and offers (remarketing/retargeting). Some of the most popular tools for social media automation are Hootsuite and Buffer. For remarketing, retargeting your customer lists on channels like Facebook, Google, and YouTube work wonders for agents. If your agency is strapped for time and resources for content creation, you can use tools like Canva and Crowdfireapp to quickly create cross-selling specific content. Many of the marketing automation systems integrate with social media tools, streamlining your campaign efforts.
Analytics & reporting tools
Analytics tools help agencies better understand and quantify the results of their marketing campaigns. Analytics tools help agencies to report on the past, analyze the current, and better predict future results.
Many tools will include some form of reporting and analytics either for free, like HawkSoft's Agency Intelligence reporting suite, or for an additional cost. However, when evaluating data, it is important to consider all of your marketing efforts across all channels over the course of time. With tools like Google Analytics and Tableau Insurance Analytics, you can create robust reports to help you better understand your customer and campaign profitability. These reports can help drive marketing and sales objectives.
Digital marketing consultants
Sometimes your agency just needs an outside perspective on applying the latest in digital tools. Digital marketing consultants bring the best practices and expertise to allow you to correctly diagnose your cross-selling objectives, make recommendations, and lead the change management in executing the campaign from start to finish. Infinity Leads partners with agencies to execute successful cross-selling campaigns. We work with our agencies to develop a strategy based on their long-term objectives and leverage our digital expertise to help them reach their goals.
Scale your business, not your work
Agencies looking to grow should embrace technology and automation tools, which can help put your cross-selling efforts on autopilot. Executing a proper campaign leads to higher retention rates across the board, while at the same time increasing new business growth and profitability. Harness the power of technology and let your agency management system and other digital tools handle the heavy lifting!
Want to learn how automating a cross-sales campaign can help your agency increase sales from existing customers by 25%?
Infinity Leads will help you develop a custom digital marketing plan so you can put your cross-selling on autopilot.