Image source: Podium
Guest blog by Jared McKinney, Podium
Guest blogs are written by contributors outside of HawkSoft. The author's views are entirely their own and may not reflect the views of HawkSoft.
This article at a glace:
Customer experience in a convenience economy
Here's a riddle: I am free yet priceless; you can't own me but you can use me; you can't keep me but you can spend me; once you've lost me you can never have me back. What am I?
The answer is time.
More precious than money, time is the one thing everybody, including your customers, needs more of. According to Think With Google's 2019 Research Review, "Satisfying immediacy is often more important than loyalty." In fact, more than 75% of smartphone users expect immediate information while using their smartphone.
What customers don't expect is to be put on hold, asked for a fax number, or required to exchange unnecessary emails when a conversation could have happened over text. Customers are looking for instant answers, and they're using the tools that will be most likely to get them. Twilio found that nine out of 10 consumers would prefer to use messaging tools like SMS, Facebook Messenger, or WhatsApp to communicate with brands.
For business owners trying to keep up with their customers' communication preferences, finding a balance between meeting the need for immediacy and sacrificing customer experience is easier said than done. Just look at how much communication channels have changed over the last few decades.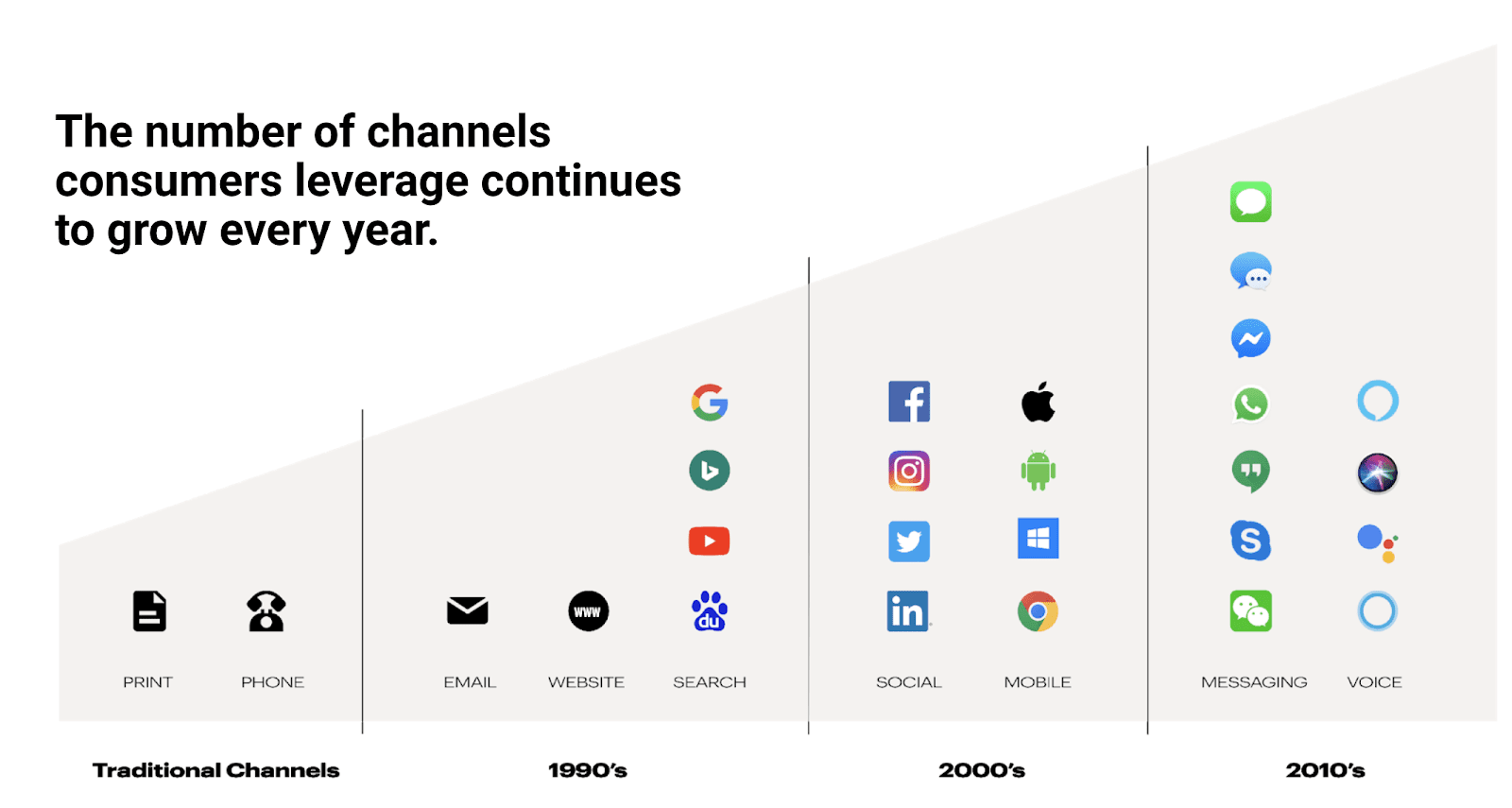 Image source: Podium
As an insurance agent, it's hard to compete on price and product when you don't totally control either. What that means for most agencies is that customer experience is more important than ever—it's one of the only controllable means you have to differentiate your services.
Walker Consulting, a global consulting firm with five decades of experience, predicted, "Customer experience will overtake price and product as key brand differentiators by 2020."
For better or worse, people may never get excited about buying insurance, but it's a necessary part of life. So the smoother you can make their customer experience, the more you'll stand out, and the more likely they are to come back and refer friends.
This article will cover three ways you can beat the competition by creating a standout customer experience that satisfies customer communication preferences.
1. Show up in search
At the end of the day, we're all consumers in one form or another. Statistics about the customer experience only highlight what most of us already know—we rely on our phones to help us shop, chat, share, and check our porch for packages.
So when you have a question, where do you go? 89% of customers turn to a search engine like Google, with the majority of those searches happening on a smartphone. If you want new customers to consider your business, you have to master showing up where they are—Google Search.
Optimize your Google My Business listing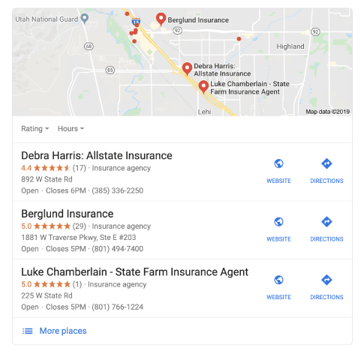 Luckily for local businesses, like insurance agencies, Google gives you priority when someone searches for a business like yours nearby.
Local searches like these are unique in that they take into account the searcher's proximity to their desired result. For example, searching best insurance agent near me will produce a list of highly rated insurance agents within a few miles of your approximate location.
Google prioritizes these local businesses in a search engine results page (SERP) feature called Map Pack (shown left). A reliable way to get new customers is to show up in the Map Pack, and in order to show up in the Map Pack, you have to optimize your Google My Business (GMB) listing.
Taking a closer look at the local insurance agents in the Map Pack above, you'll see that they not only have GMB listings, but they've filled them out completely. Each search result in the Map Pack includes:
Name
Address
Phone Number
Reviews
Hours
Did you know that more than 30% of local businesses haven't even claimed their GMB listing? If you haven't yet, create a GMB listing for your agency. If you've already created your listing, double-check that it's been completely filled out with all of the information listed above. This will increase your business's chances of ranking higher in Google search engine results.
Leverage the power of ratings and reviews
Since Google My Business isn't new, it's assumed that most local business owners have an active listing and have filled it out completely. You may be wondering what else you can do to drive more clicks and customers to your business.
According to Google, local search rankings are determined by three factors: relevance, distance, and prominence.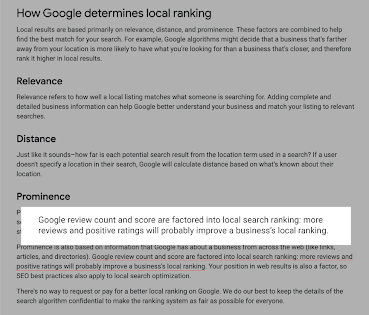 Relevance: How well a local listing matches what someone is searching for.
Distance: How far each potential search result is from the location term used in the search.
Prominence: How well known a business is.
While the first two factors are fairly straightforward and, for the most part, outside of your control, prominence is less clear. In Google's explanation of prominence for a local business, they clarify that reviews and ratings have an impact on prominence and "will probably improve a business's local search ranking."
Even though Google didn't outright confirm the impact of reviews and ratings on a local business, Podium's internal data recently confirmed exactly that. An aggregate of Podium customers using Google My Business revealed that more reviews, on average, improved every other Google My Business listing metric.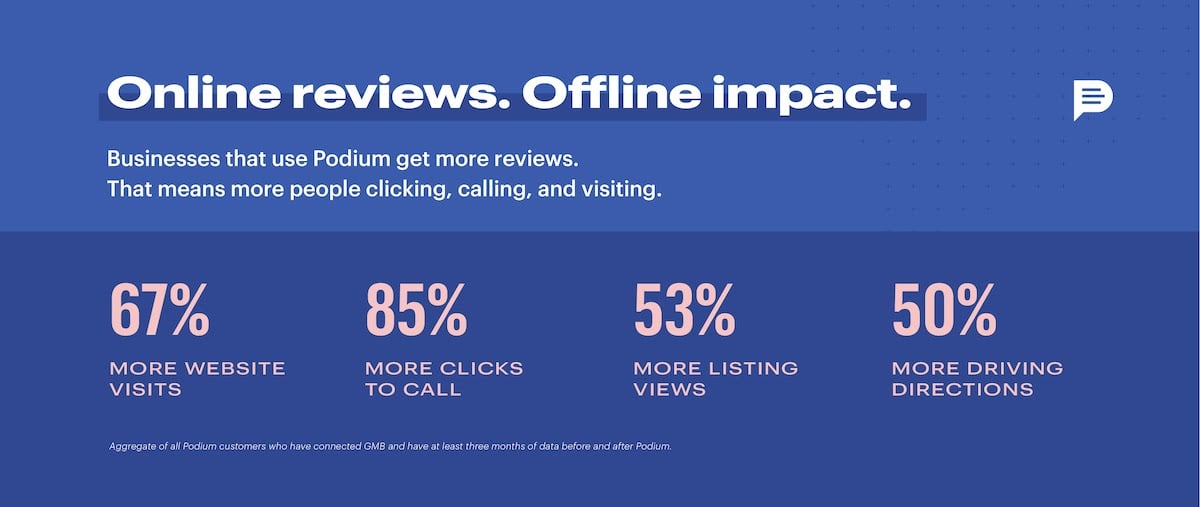 Image source: Podium


Local businesses with few reviews often have one or two detractors that kill the average rating. Alternatively, local businesses that regularly solicit reviews, either through Podium or another tool, see improved quantity and quality of reviews. More reviews typically means better reviews because you're getting a more accurate representation of your customer base. The end result is more impressions in search, increased website traffic and ultimately more customers.
If you want to attract today's customer, you have to show up where they are—on Google. Regardless of how impressive your business is, if you don't show up in this critical consideration phase of the customer journey then you'll never have the opportunity to stand out.
2. Stand out through customer experience
Thanks to two-day shipping and one-click buying, customer expectations have never been higher. Luckily, you don't need to operate at the speed of Amazon to deliver immediate, personalized customer interactions that help your business stand out.
Consider what happens when a customer lands on your website, or calls your business. Do they get a response, or are they left listening to hold music? Research shows that 25% of customers won't wait for more than five minutes.
You can't be expected to always respond to every customer inquiry immediately—or can you?
Modern Interaction Management platforms help you manage the multiple channels that customers use to interact with your brand. They can start a conversation on your website, move on with their day, and pick it back up when it's convenient for them.

Source: Podium
No email, no voicemails, no back and forth, just real-time messaging that's as simple as a text.
If you want to be your customer's obvious choice for insurance, then you need to be stored in their contacts, not buried in an inbox. Around 20% of emails get opened, but text messages are seen 98% of the time. And the majority of texts get a response within just 90 seconds.
A standout customer experience starts online, but for insurance agents, it usually ends in-person. Using modern messaging tools not only helps you collect more leads from your website, but it makes the entire customer journey quick, convenient, and personal.
3. Repeat using a customer feedback loop
Repeat customers are a sure sign of a healthy business. This is easy to track if you own a barbershop, but a little harder in insurance. Whether it's Google Reviews or net promoter scores, every business needs a reliable customer feedback loop.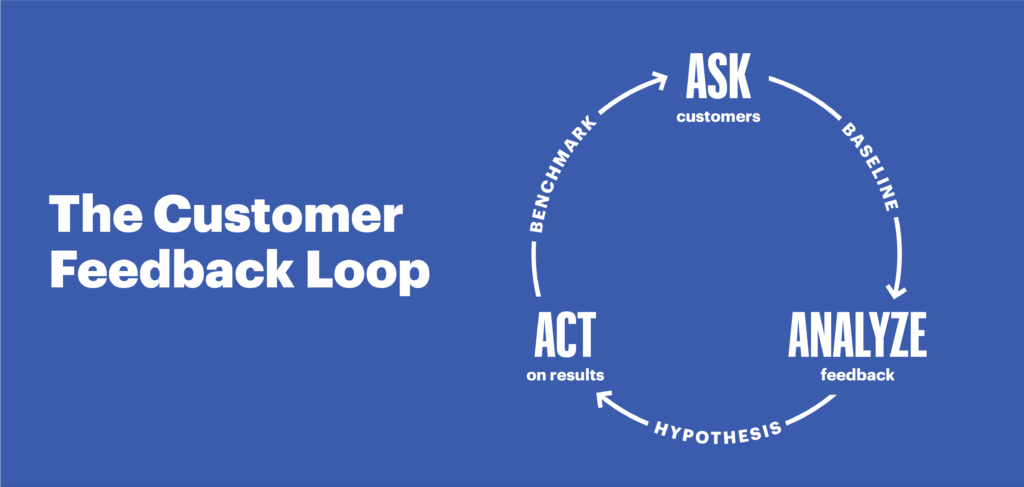 Image source: Podium
Customer feedback loops help you spot problems at each and every touchpoint, so you can fix them before they impact your business. As a result, you'll end up with a lot more satisfied customers and many more positive online reviews. In turn, online reviews will help you show up, stand out, and ultimately drive more and more repeat customers.
Beating your competition starts with a better customer experience. But you can't fake a good customer experience. New technology has made it easier than ever to meet customer expectations, but it's not a solution for a poor performing business. By listening to your customers, you can learn exactly what you need to do, or not do, in order to drive repeat business.
Focus on customer experience
Insurance companies spend billions of dollars on advertising to try and differentiate themselves from the competition. But talking geckos and and gimmicky "name-your-price" tools don't make the difference—it's the experience. And that experience starts long before a customer walks into your independent insurance agency.
If you want superior customer retention you need a better customer experience. Take the time to evaluate each touchpoint in the customer journey to see if there's room for improvement. You can upgrade tools and technology to improve the process, but ultimately it's up to you as the business owner to maintain it.
Want to learn more about improving your customer experience,
both online and off?
Check out Podium's ebook, Competing in a Convenience Economy