Guest blog by Kiki Johnson, Insurance Agent Mobile App
Guest blogs are written by contributors outside of HawkSoft. The author's views are entirely their own and may not reflect the views of HawkSoft.
This article at a glance
Want to maximize service, automation, interactions, and engagement?
Want to be digitally competitive?
Then it's time to offer your policyholders a mobile app.
Mobile is where we live. It's how we operate. To stay competitive and relevant you must embrace technology and the mobile platform or risk losing customers.
Mobile is part of every journey from prospect to customer. And the expectation for an exceptional customer experience only increases after the sale. Loyalty builds when customers know you're there for them and can deliver instant and excellent service.
According to figures recently shared by Salesforce and Safeco/Liberty Mutual, 50% of consumers are willing to switch brands if you don't provide a user-friendly mobile experience. 52% will leave if it's not personalized. These are huge numbers!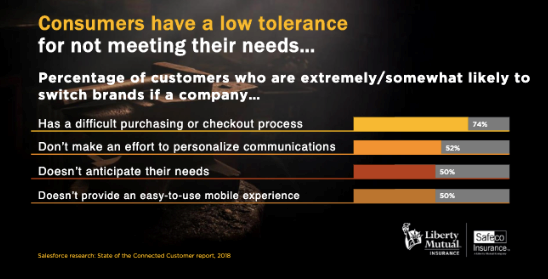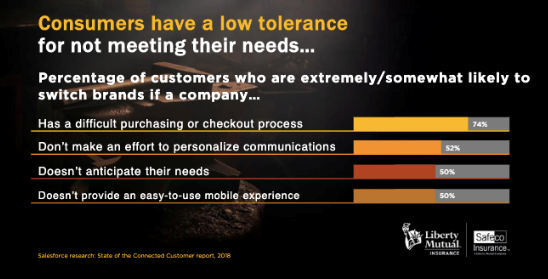 Why provide a mobile app?
The best and the brightest companies deliver exceptional service and engagement through their mobile app. Why?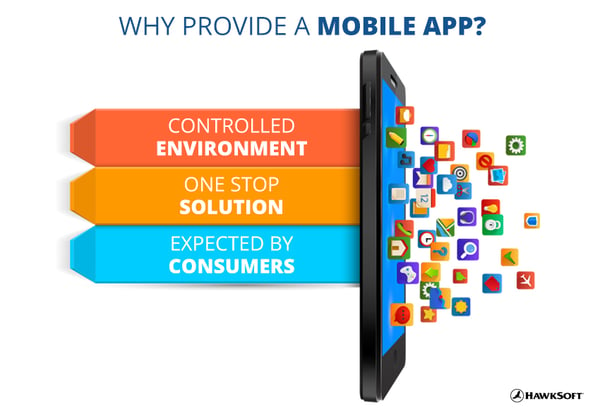 It creates a controlled environment
An app provides a controlled environment where clients are safe from competitors, competitor ads, and competitor influence. Companies drive consumers to their app to securely show them exactly what they want them to see.
It provides a one-stop solution
Consumers are overwhelmed with emails, documents, and texts scattered in different storage places. We're desperate for something to keep us organized. We crave easy but complete solutions.
Consumers love apps because everything is right there for them to see, do, access, pay, contact, check on, text, email, etc.—all in one place.
It's expected by consumers
Everyone's convenience and service experience meters are set high. They were set by Amazon, Uber and Lyft, banks, airlines, stores, and restaurants. And yes, the gecko, Flo, and Aaron Rodgers.
Many companies only offer their service through an app. Others tell you to use their apps to ensure the best experience possible. Often when you go to a website you'll see wording like: For a better, more personalized experience download our app.
Your competitors with big ad budgets are conditioning your clients to expect an app.



Have you seen this Aaron Rodgers commercial for State Farm? It's all about the app and having his agent with him everywhere he goes. In another ad, the gecko doesn't even talk about the app. The value is so obvious that the ad focuses on conference call awkwardness.
Most of the modern world is using mobile devices to be more productive. Convenience is a baseline expectation.
How do independent agents win with mobile apps?
For independent agents, a mobile app is the go-to container where insureds can access, see, find, share, report, request, and more—all while maintaining the personal touch of you being at the center-point to help them anytime, anywhere.
Your app makes your customers feel you're anticipating their needs and helping them in the moment. Your app makes customers and staff more efficient. And with technology moving so fast, the possibilities for new capabilities are endless.
Two of the biggest areas where a mobile app can help independent agents win are:
Providing a client-facing service platform
The one thing independent agencies previously haven't been able to deliver to clients is a client-facing service platform. You may be using a lot of tools—email, texting, carrier portals—but they're disjointed and create confusion for clients, leaving them with questions.
Who do I call?
Where do I find the information?
How can I pay my bill that's due today?
This lack of a unified information center results in inefficiencies, more phone calls, more emails, and less business getting done.
A mobile app delivers a customer-facing service platform with high value services, engagement, policy information, and resources to enhance internal automation and increase efficiency. It decreases the number of non-premium bearing inquiries the agency handles with a service that clients appreciate because it saves them time too.
The Insurance Agent App does all this. As the premier mobile app partner for HawkSoft, the Insurance Agent App platform integrates with the agency management system to put you ahead of your competitors. Policy data flows seamlessly into the app and auto ID cards are always present.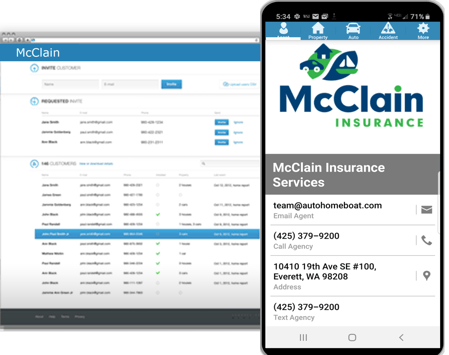 "Our agency app allows clients to maintain all of their insurance information in one place, regardless of their choice of company."

Claudia McClain
McClain Insurance Services

The Insurance Agent App allows customers to take care of common inquiries themselves, including:
Paying a bill
Reporting a claim

Policy change requests
Your agency should be providing a service platform that you control. A mobile app is that platform. It's the secure, one-stop service center for your clients.
Improving client relationships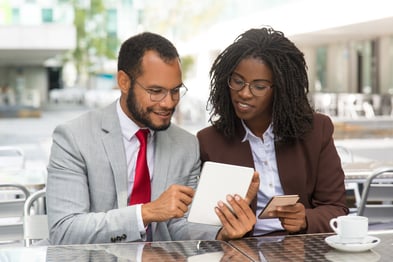 One of the most important aspects of the independent channel's success is the customer relationship.
You have it. Not the carriers. Not the insurtechs. And not the directs. You.
To maintain and improve client relationships you must embrace technology that drives automation, engagement, and servicing. You must be able to provide customized high-quality personal touches to current and future (AKA millennial) clients.
Customers in many instances prefer easy digital access over paper or emails to get simple administrative tasks done. This helps you and them.
One of the most important aspects of the independent channel's success is the customer relationship. You have it. Not the carriers. Not the insurtechs. And not the directs. You.
When you make it easy for clients to take action through a mobile interface it shows them you're anticipating their needs; you've got solutions for them to move forward anytime and anywhere.
That translates into a higher sense of human connection to you and your agency. It also means live interactions can start at a higher engagement point. When clients call it will be for your advisory skills, knowledge, and ability to ensure they're properly protected—not to ask for basic information about their policy.
A digital tool for a digital world
Growing your agency and meeting current service expectations requires better, faster, automated admin efficiencies. To scale in a digital world you need better tools.
A mobile app, like the Insurance Agent App, helps automate workflows to deliver a better experience, one that is both human and high tech.
The greatest asset you have as an independent agent is the relationship with your clients. An integrated mobile app helps you protect it.