Image source: shutterstock
When was the last time you asked your clients how they want to be communicated with? Do they prefer email, text, chat, phone call, video call, or an in-person discussion?
Communication methods are constantly evolving, thanks to technology and a new generation of clients. Agencies must adapt their practices if they want to reach their clients on the platforms they use most. Text messaging (also known as SMS messaging) is no longer merely a rising trend, but increasingly an expectation for consumers interacting with businesses.
Complex regulations, multiple platform options, and E&O risks might make getting your agency started with texting feel daunting. This article aims to explain the intricacies of business communication through text messaging. With a good text messaging strategy in place, you can turn your clients' mobile devices into your greatest relationship-building ally.


In this article
Want to get regulation savvy quickly and keep your agency in compliance?
Download our TCPA Compliance Checklist for a detailed list of regulations and recommendations for opt-in, messaging, and opt-out practices. It's a great place to start if your agency is new to text messaging.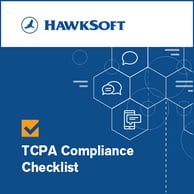 Why text your clients?
One of the basic rules in marketing is to think like your audience, which means supporting the methods your clients use to communicate, get information, and shop. Text messaging is one of the fastest ways of reaching your clients with the right message at the right time. Not convinced? Take a look at the infographic below for a comparison of how consumers interact with texting as opposed to email.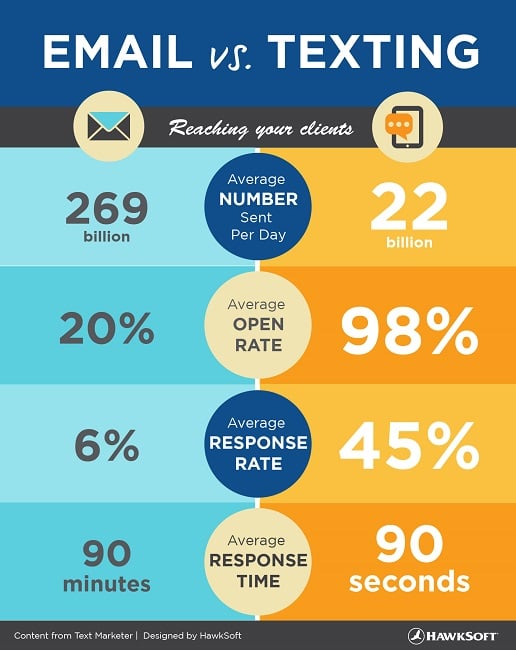 Statistics from Text Marketer

Here are a few of the many reasons business text messaging is gaining momentum:
Availability
The potential texting audience is enormous: 81% of U.S. adults owned a smartphone as of February 2019, and 80% of smartphone users check their phones within 15 minutes of waking up. Nearly every phone today has text messaging capability.
Urgency
People view—and respond to—text messages quickly. The average text response time is 90 seconds versus an average of 90 minutes with email, meaning clients will see your message almost instantly.
Intimacy

Texts are a personal, preferred form of communication (it's the most common cell phone activity). People send texts daily to communicate with friends, family, and colleagues. Communicating with clients via texting is a great way to build personalized relationships with timely messages compared to larger, more traditional media campaigns.
Response and open rate

Text messages have an average open rate of 98% as opposed to email's 20%. Response rates are a staggering 45% compared to only 6% for email—your clients will not only see your message, but also be more likely to respond.
Permission based
Text messaging is wholly permission based. Your clients must opt in to receive messages. There are federal laws that mandate opt-ins for business communication. This fosters trust between your agency and your clients and ensures they truly want to receive your messages.
Superior customer service

Consumers are looking for the quickest and easiest way to communicate with businesses, and texting tops the list. Offering texting is a great way to show your clients that your agency is adept with modern technology and committed to providing them the best possible customer service experience.
Competitive advantage

Adding text messaging can open up a whole new communication channel for your clients. It can help your agency cut through the clutter, costs, and time associated with other media and give you the edge above your competitors.


"As technology evolves, the methods of communication change. Phone, email and texting are the predominant methods of communication in life today. As a result, agencies need to adopt systems that allow them to communicate and document this communication in our systems of record."

-Keith Savino, Warwick Resource Group, LLC (PropertyCasualty360)
Laws and regulations for texting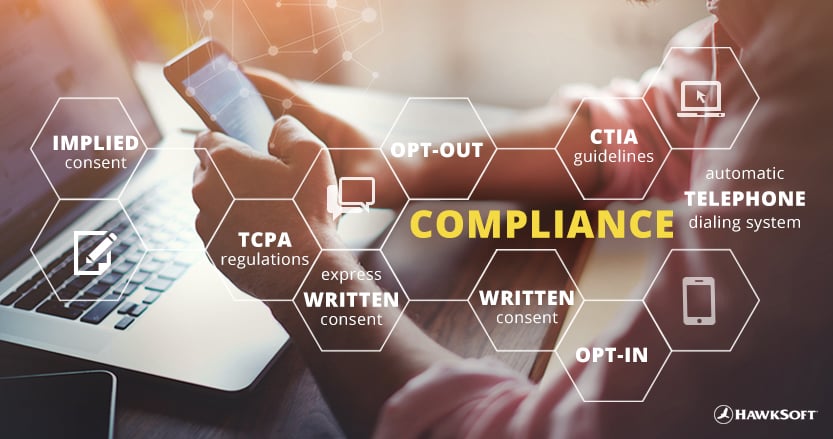 There are two acronyms to be aware of as far as regulations on text messaging: TCPA and CTIA. The TCPA is a set of federal laws passed by the US government, while the CTIA is a trade association of phone service providers that gives guidelines for businesses using their services to follow.
TCPA
The Telephone Consumer Protection Act (TCPA) was originally passed by the US Congress in 1991. Its purpose was to regulate the use of automatic telephone dialing systems (ATDS), artificial or prerecorded voice messages, and fax machines for marketing purposes. This law, and its subsequent updates, aims to protect consumers by preventing intrusive business practices and unwanted marketing messages. It regulates how businesses can use customers' phone numbers, and it requires businesses to obtain necessary consent.
Text messaging wasn't a common form of communication when the law was originally passed. Since then, the TCPA has determined that text messages fall under the same regulations, and that any device that can dial a telephone number automatically (including computers and most smartphones) can be considered an ATDS. That means it's vital to understand TCPA regulations before texting your customers, or you could face costly consequences.
Violations
Tatango's TCPA Survival Guide lists some of the consequences of TCPA violations:
A client could file a lawsuit against your agency, resulting in a fine of $500 per text, or $1500 if it was proven to be done in willful violation of the TCPA.
A state can initiate action in defense of its citizens, resulting in the same $500–1500 penalty fees per text.
A complaint filed with the Federal Communications Commission (FCC) could cause an enforcement action. The FCC must issue a warning citation first, but if the violations continue, they may impose a large forfeiture penalty.
The Federal Trade Commission (FTC) has the power to impose civil penalties, seek injunctive relief to stop the offenses, or shut down the offending company. The maximum fine for violating the Telemarketing Sales Rule is $40,000, depending on the degree of culpability, history of prior conduct, and other factors.
Because text messages to clients fall under the regulations of the TCPA, it's vital to understand and abide by the law—or your agency could face costly consequences.

CTIA
The Cellular Telecommunications Industry Association (CTIA) is not a governing body, but rather a trade association comprised by phone service providers. They collectively decide on and provide best practices for text messaging. The CTIA's guide on messaging principles and best practices gives good information on practices to implement to ensure you comply with both TCPA regulations and CTIA recommendations.
Violations
While violating CTIA guidelines doesn't break any laws, you may face consequences from your phone service provider:
Messages you send may be filtered or blocked by the provider if they don't meet CTIA standards.
If you are using a short code (a shortened 5 or 6 digit phone number for sending large volumes of text messages), it may be shut down by the provider.
Best practices for compliance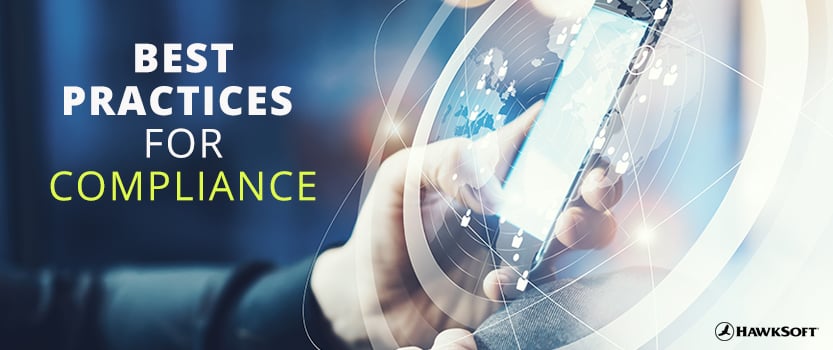 So how can you make sure you're functioning within the proper business standards for text messaging? We've boiled down the lengthy TCPA regulations and CTIA guidelines into a few main action items for your agency, but we recommend that you refer to their full guidelines before implementing texting in your agency.
1. Obtain and document consent to message your clients
The TCPA rules that even if you already have an established business relationship with your client, that does not constitute permission to send them messages via text. Furthermore, you need different levels of consent depending on the type of message you're sending.
You need express consent from the client to send informational messages (such as crucial policy information or updates), but to send marketing or promotional messages (such as suggesting another policy or service) you need express written consent. See the chart below for information on the different categories of messages and the consent needed for each.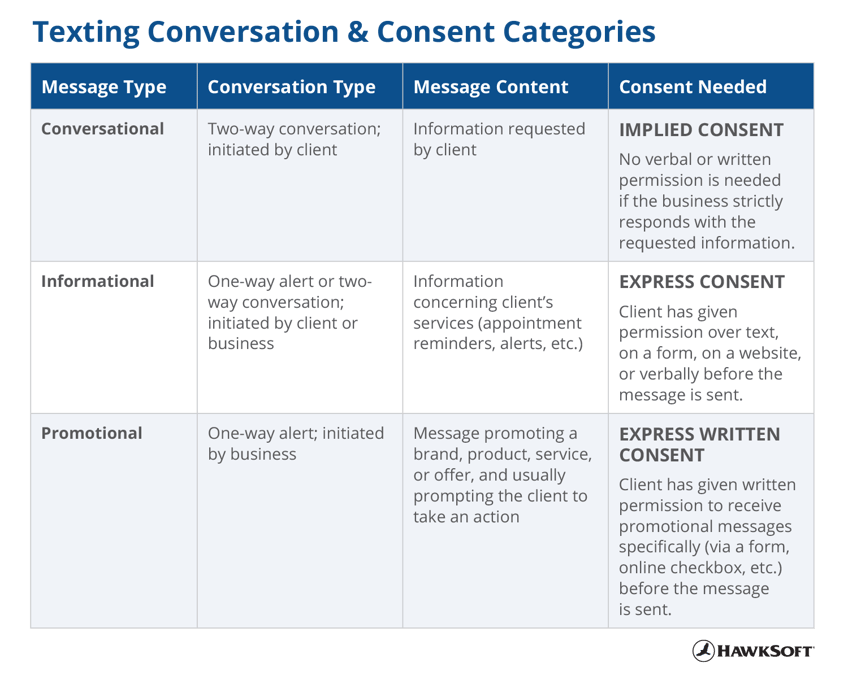 Content from CTIA guide section 5.1

Many businesses choose to gather express written consent from clients at the outset, ensuring that they can send any type of message to them in the future. The Agents Council for Technology (ACT) recommends providing an opt-in form with terms and conditions to clients upon their initial onboarding or policy renewal. You can use ACT's sample opt-in form and terms & conditions document, or work from it to customize your own. Make sure proof of written consent is permanently archived within the client's file.
The TCPA rules that even if you already have an established business relationship with your client, you still need to obtain consent to send them text messages.
2. Provide useful information and opt-out instructions
Clearly identify your business in the text (the sending number may be unfamiliar to clients) and give access to your terms and conditions and privacy policy.
Be clear about what kind of messages your clients are opting into (crucial policy information, reminders, educational content, etc.), as well as the frequency of the messaging they will receive. Clients should opt in to each type of message separately.
Disclose that message and data rates may apply.
Offer the ability to revoke consent and opt out at any time, through as many methods as possible (a STOP keyword, phone call, email, etc). The TCPA stipulates that clients must be able to revoke consent at any time and "by any reasonable means."
Process opt-out requests in a timely manner to ensure clients don't receive any texts after revoking their consent, which is a TCPA violation.
Make sure to update client phone numbers promptly when they change—if their old number is recycled, you don't have consent to message the new owner. ACT recommends confirming clients' consent annually to verify that you still have the correct phone number for them and that they still wish to receive messages.
Let your agency management system do the work
HawkSoft Text Messaging has built-in functionality to meet key compliance requirements, right inside the agency management system. HawkSoft sends one-click opt-in texts to insureds, automatically opts out clients who use the STOP keyword, and displays the opt-in status for each mobile number on a policy.
3. Message thoughtfully and carefully
Consider timing
Message people between the hours of 9:00 AM and 9:00 PM, local time. One of the biggest benefits of texting is its immediacy, so make sure you're sending messages when your clients are awake and likely to see them.
Be specific
Always have a clear call to action in your messages, whether it's a prompt to update information or a suggestion to read an article. Make sure the action is easily accessible by providing either a link or a keyword response (e.g. "text YES to confirm your policy renewal").
Don't over-message
Texting is a highly valuable medium because it has such a low spam rate. If that stops being the case, consumers will stop interacting with it and it will cease to be a viable channel.
Have more compliance questions?
Download our TCPA Compliance Checklist for a more detailed list of regulations and recommendations for opt-in, messaging, and opt-out practices.
3 steps for getting started with texting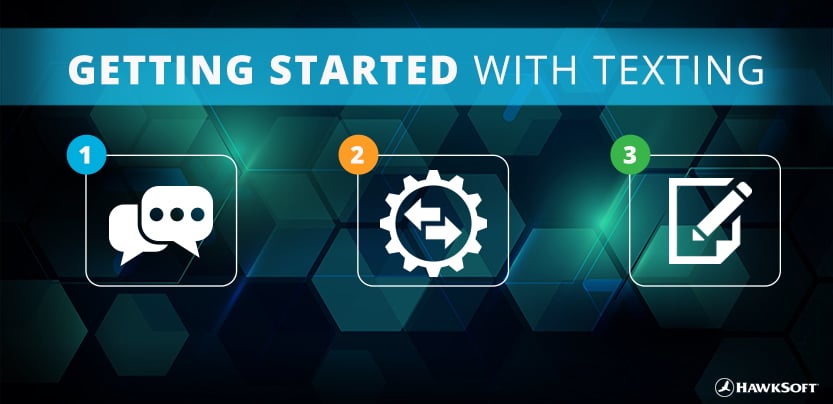 Understanding the regulations for texting is just part of the puzzle. How do you set up texting capabilities for your agency? You'll need to:
Step 1: Choose a text messaging platform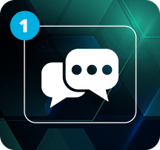 Text messaging your clients individually from your personal phone is time consuming, difficult to document, and could present E&O risk. If your agency is planning to fully utilize text messaging, the best way to do so is by using a platform or service that integrates with your computer. Choose the method that makes the most sense for the size and needs of your agency.


Agency management system integration
The most convenient, efficient, and secure way to incorporate texting into your normal workflow is through your agency management system. Here are a few of the biggest benefits of using your management system to text clients:
Workflow efficiency
Texting a client from within the system you're already using makes your staff's lives easier. They can even create message templates for recurring texts to save time.
Documentation
Having a permanent record of all communication with a client mitigates your agency's E&O liability.
Agency-level visibility
Using one texting system for all producers (rather than having producers texting clients from their own individual numbers) means you can review all communications to a client, no matter who messaged them.
Redundancy
If one CSR or producer is out of the office, another can easily pick up the conversation with the client.


ACTION ITEM
Check to see if your current management system includes texting capabilities. HawkSoft's agency management system includes built-in text messaging, allowing you to send, receive, document, and organize full text conversations from within client files.
Additional options
If your management system doesn't offer text messaging, there are still several ways you can set up texting for your agency.
Third-party provider
There are many third-party providers that offer bulk texting and will integrate with your agency management system or email platform. These providers often use short codes, so be aware of the CTIA's compliance principles for short codes.
Email provider
You can send text messages through Microsoft Outlook, or set up a Google Voice number through your Gmail account. This allows you to send text messages for free from your email. Just be sure to attach the documentation of any text conversation to the client's file in your management system.
VoIP system
Your agency may already have a Voice over Internet Protocol (VoIP) platform set up to make and receive calls over the internet rather than a traditional phone line. Text messaging is usually either included with your VoIP service or available for an additional fee.
Step 2: Implement standard processes at the agency level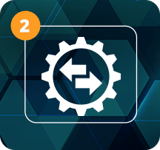 Text conversations, like all other forms of communication with your client, should be documented to minimize your agency's E&O exposure. If you don't use a management system like HawkSoft that automatically saves all messages to a permanent record, make sure your agency has standardized processes in place to document, archive, and protect information sent through text messages.


Document text messages
Just like face-to-face conversations, phone calls, and emails, all text conversations with clients should be documented and attached to the client's file in your agency management system. The easiest way to do this is to use a text messaging platform that comes built into or integrates with your management system. Get workflow tips for documenting and logging text conversations with HawkSoft Text Messaging here.
Use a dedicated number for texting
It's easiest to document conversations if everyone in your agency uses a dedicated business number for texting, rather than their own personal numbers. If that's not possible, or if clients initiate a conversation through a personal number, your producers can set up text forwarding to send the conversation to email and even reply via email.
Train staff
Determine your process for sending, receiving, responding to, and archiving text messages at the agency level and educate your staff and clients. Make sure everyone understands and is committed to using one standardized process for all clients.
Take privacy and security measures
Texting may not be as secure as email or other forms of communication, so decide what kind of sensitive information or policy actions your agency is willing to allow over text, and communicate this to your clients. For example, you may want to include that coverage cannot be bound or altered via text. The CTIA also recommends that businesses "implement reasonable physical, administrative, and technical security concerns to protect consumer information," as well as conduct regular security audits.
"A text message is as legally binding as any other form of communication. As long as the agent documents it properly, what is said in texts can be used in errors & omissions defense or other legal actions."

-Jason Ernest, Insurance Agents and Brokers (IA Magazine)
Step 3: Decide on the type and content of your messages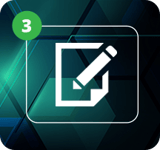 The final step is to decide what kind of messages to send to your clients via text. Remember, every text should deliver something valuable or exclusive to the client. Below are a few examples of text messages you might want to send clients.
Appointment reminders
Sending a text message 24 hours before an appointment can greatly reduce your no-shows, and you won't be stuck hoping they check their email the day before. This can be used for both in-person and phone appointments.
Renewal reminders
Is your client's policy up for renewal? Use a text message to bring it promptly to their attention.
Payment reminders
Not everyone sets up automatic payments. Clients may forget or have distractions that keep them from paying on time. They'll appreciate the reminder so they don't lose their protection. You'll appreciate not losing your recurring commissions.
Policy updates
There are countless details within a client's policy that might be changed by the carrier or underwriter at any time. Texting them a summary of the updates is an easy way to keep your clients in the loop or initiate a discussion on adequate risk protection.
IMPORTANT
Don't use links made by public URL shorteners (Google, Bitly, etc.) within your texts, as the CTIA considers this concealing the link's identity.
It's go time
We've provided as many resources as possible to help your agency get started with texting by choosing a system, defining your texting strategy, and implementing TCPA compliance and other best practices. With a good text messaging strategy in place, you can turn your clients' mobile devices into your greatest relationship-building ally.
Don't forget to download our TCPA Compliance Checklist for more resources and a detailed walkthrough of TCPA and CTIA regulations