Guest blog by Josh Hindman, Renew King
Guest blogs are written by contributors outside of HawkSoft. The author's views are entirely their own and may not reflect the views of HawkSoft.


Whether you run an established insurance agency or you're brand new to the business, a huge part of your growth comes by way of referral. Your personal network is the start and from there it's a matter of happy clients sending friends, family, and colleagues your way.

This has always been important for small businesses. But what has changed dramatically is how people refer businesses. Word of mouth has moved online and in a post-COVID world, it will probably stay there.

So let's take a look at the actual ROI of Google reviews and how to collect them.
In this article:
Direct benefits
Indirect benefits
Why are reviews important?
According to Inc.com over 84% of people trust online reviews as much as friends. That's a pretty big deal and that number jumps to 91% for 18–34 year-olds.

We've been conditioned to check reviews for nearly every purchase we make online. And because of Google My Business and Yelp, we're doing the same thing when it comes to the local businesses we choose to eat at, shop at, and work with.

Data shows that this is most relevant with millennials and younger generations. So if you want to continue to grow and reach future generations, you have to earn their trust. This is done online.
How many reviews do you need?
Consumers read an average of 10 reviews before they feel like they can trust a business, according to Bright Local.

And 85% of consumers don't find reviews relevant if they're older than 3 months. This means you need to generate a high number of reviews AND do it consistently. This isn't only to connect with the people that are considering your insurance agency. It's also important to Google. Google's algorithm is built to show local businesses that put effort into getting reviews.

So if you've invested thousands of dollars in a nice website with fancy forms and pretty pictures but haven't put any effort into driving online reviews, you've only done half the work.

Before we jump into the tactical side of generating Google reviews, let's look at their ROI.
The ROI of Google reviews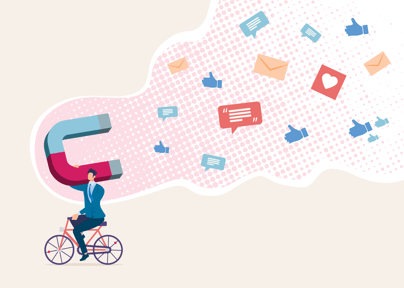 Alright, this is why you're reading. Yes, the actual dollar value of a Google review is pretty hard to nail down. But if you want to diversify your lead sources, build a strong online presence, do more business with millennials and younger generations, get great feedback from your clients, turn clients into virtual advocates, and keep your clients engaged….well, then this is a great starting point.

The true ROI of putting consistent effort into generating 5 star reviews is clear to see when you look at the direct and indirect benefits of Google reviews.
Direct benefits of Google reviews
There are several direct benefits of driving Google reviews for your insurance agency.
Google reviews build trust
Your insurance agency may be the best one this side of the Mississippi, but if your customers aren't telling the world about you it doesn't matter. More online reviews with a better rating give people an instant sense of trust. That trust means they'll click through to your website or call you. Google is literally a free marketing tool that generates leads.
Google reviews improve SEO
If I move to your town, bust open my laptop and search "insurance agencies near me," Google is going to consider your Search Engine Optimization and decide whether or not to show me your agency. It's going to show me websites and it's going to show me the map. The number of reviews and recency of reviews make up 15–20% of the algorithm Google uses in making that decision.

My next step is to scroll through the map and look at reviews. If you don't show up, I won't choose you.
Google reviews generate leads
Improving your SEO and building trust amongst prospective clients means you're setting yourself up for more organic leads. Free leads—who doesn't want more of those?
Indirect benefits of Google reviews
There are a ton of indirect benefits to explore here but we'll focus on a few that stand out.
Google reviews represent engagement
The only way to get positive Google reviews is to ask for them. This means you care enough about your client experience to say, "Hey, how are we doing?" When your client says you're doing great and they take that experience to Google, it's like a big neon sign above your business that says, "WE CARE." That impacts both new business AND retention.
Google reviews build for the future
Putting effort into Google isn't an instant return play. It's a long play. It's thinking about the future of your insurance agency and how people will find and interact with you. This can be a hard pill to swallow when you're asked to spend thousands of dollars with an SEO company, but using Google My Business is free. You'll just have to prioritize it to start to see results.
Google reviews level up your team
There's nothing like a little accountability to keep your team delivering excellent service at every turn. When everybody knows you'll be asking for feedback, they're going to do their best to deliver amazing service throughout the sales process and beyond.
Get started with reviews on Google My Business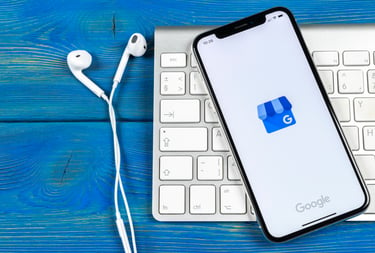 Now that you understand the value Google reviews represent for your business, how do you collect them? In order to get Google reviews for your agency, you'll need to have it set up as a business on Google My Business. Once you've done this and verified your business, you can get a review link to share with customers so they can leave their review on Google.
Add or claim your business on Google My Business
There are several ways you can claim or add your business, but the easiest is to go into Google Maps and search your agency's name or address. If your agency shows up, select it and click Claim this Business > Manage Now. If you don't see your agency, click the menu in the top left and select Add Your Business. From here you can review, edit, or add the information Google displays for your business.
Review your information and verify your business
Once you've selected to add or claim your agency, you can review, edit, or add the necessary information for Google to display about your business. To complete this process, Google will need you to verify your business through one of several methods, including phone or email. You'll need to verify your business before you can get a link for reviews.
Create a link for reviews
After you've verified your business, you can create a "short name" for it inside your Google My Business profile (get instructions here). The short name is what Google will use for your review link, and must be 32 characters or less. Make sure to keep it as short and clear as possible so it's easy to give the URL to people verbally if you need to. Once you have a short name, Google will use it to generate a review link for you in this format: g.page/[your short name]. Once that's done you can share your review link with customers to get reviews!
When and how to ask for reviews
I can't leave you hanging without some practical steps you can take to make driving Google reviews a core part of your sales and service process. It's crucial to ask for reviews at the right time, and through the right methods. Renew King's article on when and how to get Google reviews for your insurance agency covers everything you need to get started, plus a handy trick on how to make it easy for you and your clients. We recommend you use a survey to direct satisfied customers to leave a review and dissatisfied customers to share their feedback with you so you can resolve their concerns.
Get started with reviews
Feeling a little daunted by managing the entire review process on your own? An automation platform like Renew King can manage your surveys and reviews for you, driving more and better customer reviews, which in turn improves the SEO for your agency and brings in more business. No matter how you do it, prioritizing Google reviews is a business decision that will add value to your agency.
5 Ways to Boost Your Google Reviews
Download Renew King's free guide to learn more about how to boost your Google reviews and improve your agency's SEO.