Malena Farrell (right) with CedarBrew agents Rachel Grieder (center) and Robin Campbell (left)
Malena Farrell, HawkSoft customer and co-president of Cedar Risk Management, sees the independent agency channel as a world of opportunities where anyone can find a niche they're passionate about and build a specialized insurance program around it. We sat down with Malena to learn more about how she started CedarBrew, a brewery program that now services around 500 breweries across the country, and get her advice on how agencies can build a successful niche program.
In this article:
The CedarBrew story
While Malena has been with Cedar Risk for over 22 years, its brewery-specific niche, CedarBrew, began around 2007 when she and her husband started taking interest in the craft beer craze beginning to take hold of the country. They enjoyed going to different breweries and trying different beers as they traveled the country, but they hadn't thought about how that passion could intersect with insurance until a territory rep from one of their carriers approached them for help with a new craft brewery program they were starting.

After doing some research about the brewing process and the insurance needs it entailed, Malena agreed to become part of the program. She worked with the program director and underwriters for over six months to create policies, forms, and packages specific to breweries--the carrier even agreed to make some of the forms she'd helped rewrite exclusive to CedarBrew.

Then they began approaching breweries. "There were very few insurance agents who were really focusing on that market at the time, since craft beer was just starting to take off," Malena says. "So it was huge that we could tell brewery owners, we understand your processes and your needs, and we understand the insurance part of it, and we can really help you."


"It was huge that we could tell brewery owners, we understand your processes and your needs, and we understand the insurance part of it, and we can really help you."

One of the things Malena credits to CedarBrew's success was bringing aboard her childhood friend Rachel, who had worked for Sam Adams for almost 10 years. Rachel had been promoted to a management position where she was no longer as close to where her passion lay in sales, so Malena offered her the chance to get back into sales—this time in insurance. "She was very knowledgeable about the brewing and distribution process, and it gave extra insight into everything we did," Malena says. "With her there we could have really intelligent conversations with owners about different varieties of hops, or what happens when there's a spoilage issue. It helped owners see that we understood what we were talking about, and what their needs were, so we could make sure they had the coverage they needed."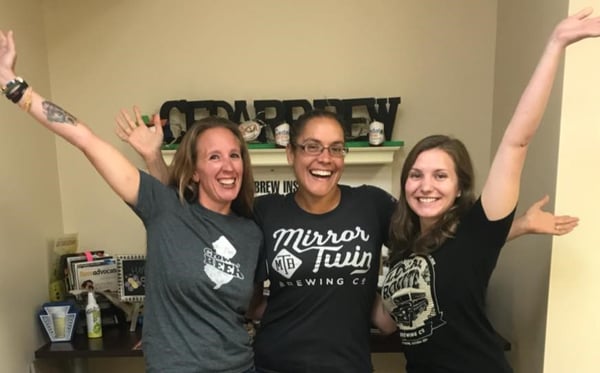 Malena (center) with Tanya Horst of Blueprint Brewing (left) and CedarBrew intern Leah Calabro (right)

After about five years of honing the brewery program and growing it organically as part of Cedar Risk, CedarBrew was officially spun off into its own business with dedicated employees, a website, and social media. "It took off in a huge way," Malena says. "We now cover around 500 breweries across the country, and we've expanded to distilleries, kombucha manufacturers, cideries, wineries, meaderies—pretty much anything that touches the alcohol manufacturing industry. I had no idea where things would go when I started, but it's fantastic. I love it!"
A peek inside a brewery package
Breweries have unique processes and risks that call for unique policies "There were a lot of little tricky niche things with breweries that we had to learn," Malena tells us. "There are a lot of differences from a regular commercial package. We needed to understand every step of the process so that we could make sure that the insurance policy reacted appropriately to it. We've created a specialty program, and we work with five different insurance companies that have a brewery program that we've either vetted or changed or came to us as a package account."

In addition to general liability and liquor liability coverages, which are the basis for any brewery package, there are a few specialized coverages and important considerations that Malena points out for breweries.
Spoilage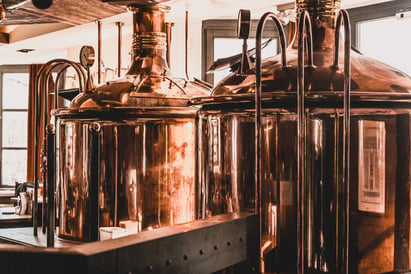 Many insurance policies have automatic exclusions for spoilage risks like mold, fungus, and yeast. However, because of the brewing process, which specifically requires yeast, these are some of the biggest risk factors for breweries, and they can be very costly if not covered. "We've had a lot of clients who purchased bad yeast that caused the entire production line to shut down because everything spoiled and they lost an entire batch," Malena explains.

CedarBrew works with underwriters to make sure these exclusions are removed from their policies so breweries are covered, and works with their carriers to make sure their clients' claims get paid. "We have to be comfortable going to a claims adjuster who might not necessarily know those things aren't excluded on their policy," she says, "and assure them the client has coverage for spoilage and they need to pay the claim."
Processing water endorsement
This is a lesser known coverage, even among breweries and manufacturing companies, that covers water that has been purchased as part of the brewing process. Breweries can use up to hundreds of thousands of gallons of water at a time, and if they encounter a problem during the brewing process that forces them to empty the water from their tanks, they'll have to purchase that water again. "Not everybody thinks about the fact that that's actually a payable claim," Malena points out, "because the water is technically raw material. We had a client who had $40,000 worth of water in his tanks that had to be flushed out of the system and he had to buy it back. And I could tell him, we thought of that. You've got coverage for it."


"We had a client who had $40,000 worth of water in his tanks that had to be flushed out of the system and he had to buy it back. And I could tell him, we thought of that. You've got coverage for it."
TTB Bond
The Federal Distillery License Bond is part of the federal licensing required by the Alcohol and Tobacco Tax and Trade Bureau (TTB) for operating a brewery. It's a bond that guarantees the government that excise taxes will be paid and that the brewery owner will comply with federal laws and regulations. At least one state bond is also required for state taxes.

The process of getting the license can take over a year, and the bond has to be submitted correctly before the brewery can begin the process, so CedarBrew lends their experience to help breweries get their submissions together. Malena says, "It's an exacting process to understand all the ins and outs of the TTB and what you have to do on the insurance side as well as the bonding side to get everything in place for the breweries. We can prepare everything for them so they don't have to worry about that part of it."
Adapting to the pandemic
The pandemic hit breweries just as hard as all other small businesses in 2020. "We had to help our clients navigate what changes they were going to make to their operations, and what effect that would have on their insurance," Malena says. One of the biggest challenges was that clients who were taproom-only (meaning they didn't bottle or distribute their products) had to quickly shift to distribution because customers could no longer come onsite.
"We had to help our clients navigate what changes they were going to make to their operations, and what effect that would have on their insurance."
CedarBrew helped these clients understand the ramifications of adding distribution, either on their own or through a distribution company, and how it affected their insurance. Malena explains, "We had to have conversations with clients and tell them, you can't just throw bottles in the back of your car to deliver them because they won't be covered. We had to help them understand that if they were changing their operations, they needed to change their policy too."

Malena is happy to report that the majority of CedarBrew's clients were able to make the changes they needed to stay in business. "Some of them even had their best year ever, which was fantastic," she says. In addition, CedarBrew continued to get new accounts as the pandemic enabled people who had lost jobs or started working from home to have the time they needed to start up a brewery business. "By the end of 2020 we had probably 50 new startups across the country," she says. "We're extremely lucky this niche has done so well during the pandemic."
Specializing at your agency
CedarBrew was Cedar Risk's first foray into specialization, but it wasn't their last. "Our experience with CedarBrew helped us understand how to create a program and how to learn about a niche," Malena says, "and it's given us the ability and the knowledge to do other ones." The agency has added Cedar Schools, which Malena says is about the same size as CedarBrew, and Cedar CPA, and has plans to start up Cedar Pets this year as well. Here's some advice Malena gives for agencies on how to start specializing in a specific niche.
Find people with passion
For Malena, finding someone with the passion and the right industry knowledge is even more important than their insurance experience. "I always say I can teach anybody insurance," she laughs. "I can't teach them the passion for a niche. So if there are people at the agency with a passion for a specific niche, we tell them to have at it. We've told all of our sales people and our large referral network that if they know someone who has a passion for an industry and wants to learn insurance, we can teach them insurance."
"Our people are where our niche programs come from. Someone has a passion for something and wants to build an insurance program behind it. We help them do that."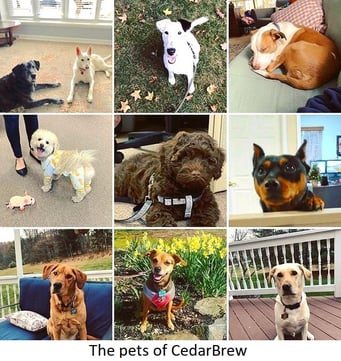 This system has served Cedar Risk well over the years, and not just for CedarBrew. A producer who had worked with a number of school systems was the impetus behind Cedar Schools, and a team member with 20 years of experience as an accountant took on Cedar CPA. Malena says proudly, "Our people are where our niche programs come from. Someone has a passion for something and wants to build an insurance program behind it. We help them do that."

Cedar Risk's next niche project is Cedar Pets, which holds a special place in Malena's heart because she loves dogs. "We have dogs in the office regularly, so I thought it would be perfect if we could have a pets niche. I've been looking for the right person who has that passion and can take it and run, and I think we've found the right person, so we hope to bring Cedar Pets on sometime this year."
Get the right tools for the job
When asked whether niche programs require anything extra in terms of technological tools, Malena recommends using a management system that can handle the needs of any type of policy. She says, "We love HawkSoft. We use it for everything! There's nothing extra that we need for any of our niches. They all work seamlessly within the HawkSoft management system."

The agency's favorite features, she says, are the ones that save them time on the small things that they perform frequently every day. "The biggest thing that my entire staff loves the most is drag and drop for emails in HawkSoft. That's a saving grace for all of them." They also appreciate the Virtual Printer, which allows them to quickly create PDFs from screenshots and save them to client files or email them out.
Create hands-on learning opportunities
Malena stresses the importance of making sure everyone on the team, from producer to CSR, has firsthand experience with what their clients do every day. "We have them take online courses and get certifications on brewing," she says. "We even brew beer in the office so that everyone can see the process. CedarBrew has its own brew!"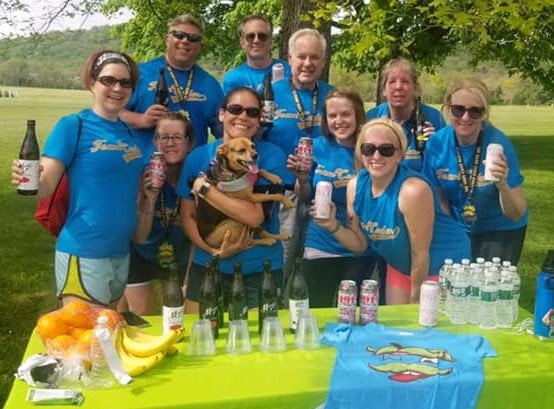 The CedarBrew team participating in a virtual 5k and tasting of local hard ciders to raise money for Doc's Hard Cider

She also helps her team get on-site experience at operations of different sizes and specializations, so they can see the processes at scale. "We have a standing offer for all of our clients within a 50 mile radius: if you need help with brewing or canning or bottling, let us know and we'll send some of our people down there, both to help and to learn more about the process. The best tool for us is just to really understand what our clients do so they know how an insurance policy can and should react to those things."
Find your agency's niche
Any agency can specialize in a niche, if they have the people and the passion. "Whatever niche you choose, just be passionate about it," Malena recommends. "Your clients will see right through you if you're not. They want to know that they can call you up anytime and say this just happened, or we have this potential claim, and you'll understand what they're talking about and know how to help them."
Want to share your agency's story with HawkSoft?
Does your agency have a great story, niche specialization, or expertise you'd like to share with other agents? We'd love to feature your agency in an article like this one! Email marketing@hawksoft.com to let us know you're interested.