Sean Hawkins (CPO) presents during a breakout session about HawkSoft 6
Everyone had an amazing time at the 2022 HawkSoft User Group (HUG) National Conference in Orlando this May! Hundreds of HUG members, partner exhibitors, and employees participated in the conference. It was HUG's first national conference on the East Coast, and over half of the attendees this year were attending their very first HUG National Conference, so we were excited to meet so many new faces in addition to reuniting with old friends.

From HUG's post-event survey, we learned what agents enjoyed most about the conference. Attendees rated the breakout sessions, solution circles, and networking opportunities as the most valuable elements of the conference, and around 60% said that the one thing they would never want to change about HUG National Conference is the friendly, family-like atmosphere between agents, HawkSoft employees, and vendors. In fact, 100% of those who submitted the survey said that they would recommend attending HUG to other HawkSoft customers, and over 80% are already planning on attending the 2023 HUG National Conference based on the value of this year's event.

We like to say that what we do at HawkSoft is bigger than software, and that feeling was certainly present at this year's HUG National Conference. We'd like to share an overview of what happened at the conference, as well as feedback from attendees and participants about what they liked about the event!
Watch our 2022 HUG National Conference video for highlights of the fun we had in Orlando!
2022 HUG National Conference Summary
Keynote session by Dr. Elia Gourgouris (day 1)
The opening general session on day 1 included the keynote address from Dr. Elia Gourgouris, the president of The Happiness Center and author of the #1 best-selling Amazon book, 7 Paths to Lasting Happiness. Dr. Gourgouris led an inspiring session on embracing change by navigating life's challenges while maintaining happiness.

Dr. Gourgouris shared 3 common ways people react to challenges: as a victim (worried, sad, woe-is-me), critic (frustrated, angry, complaining), or bystander (overwhelmed, paralyzed by fear). He pointed out that all three of these reactions are inward-focused and lead to inaction rather than action. While it's understandable to react to life's challenges in one of these ways initially, Dr. Gourgouris suggested that we put our focus on pivoting toward a fourth type of reaction: the navigator.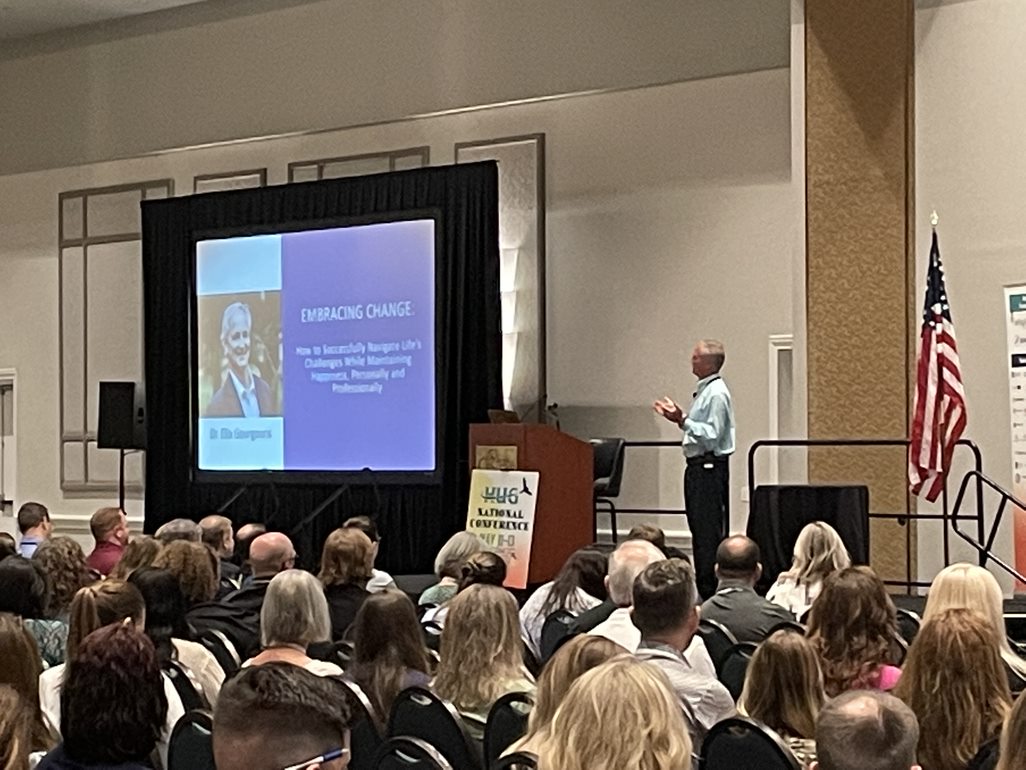 Dr. Elia Gourgouris delivers the keynote address on embracing change while maintaining happiness
Navigators are doers who focus on the problem rather than their reaction to it so that they can move forward toward a solution, rather than robbing themselves of happiness. They are flexible and adaptable when facing challenges, which Dr. Gourgouris compared to being like a palm tree instead of an oak tree. While oak trees are huge, strong-looking trees, in storms they tend to break and fall because they are inflexible. Palm trees, on the other hand, may look flimsy but they are able to weather huge storms because their flexible trunks allow them to bend without breaking.

Dr. Gourgouris also shared how agents can act as navigators for their clients, who are often in times of crisis, and can tailor their responses depending on which of the 4 types of reaction the client is experiencing. He also shared about using HOT communication (Honest, Open, and Transparent) with customers and staff to be more authentic, vulnerable, and positive in your relationships with others. We want to thank Dr. Gourgouris for his inspiring presentation, and we are looking for ways to implement his teachings at HawkSoft to help employees become navigators.
"I was impressed that HUG started the conference with a speaker that talked about the recent crises we've all been through, both in the world as a whole and individually as agencies and how we respond to our customers. I thought Dr. Elia's message was very profound, and I'm excited to bring what he shared back to my agency to help my staff navigate crises and adapt their communication to what customers are experiencing on a personal level."

- Becky Post (HUG Attendee)
HawkSoft general session (day 2)
The general session on day 2 was presented by HawkSoft leadership and employees. Paul Hawkins, HawkSoft CEO and co-founder, started the session by speaking about the early history of HawkSoft and sharing the origins of HawkSoft's Dick Fanazick Award, which is awarded to a person who made a significant impact on the life of a HawkSoft agent. Rushang Shah (Chief Marketing Officer) announced the 2022 Dick Fanazick Award recipient, and Paul Moyes (Vice President of Sales) announced the most recent HawkSoft Referral Race winners. The HawkSoft Referral Race program awarded a total of $33,315 in credits to HawkSoft customers in 2021.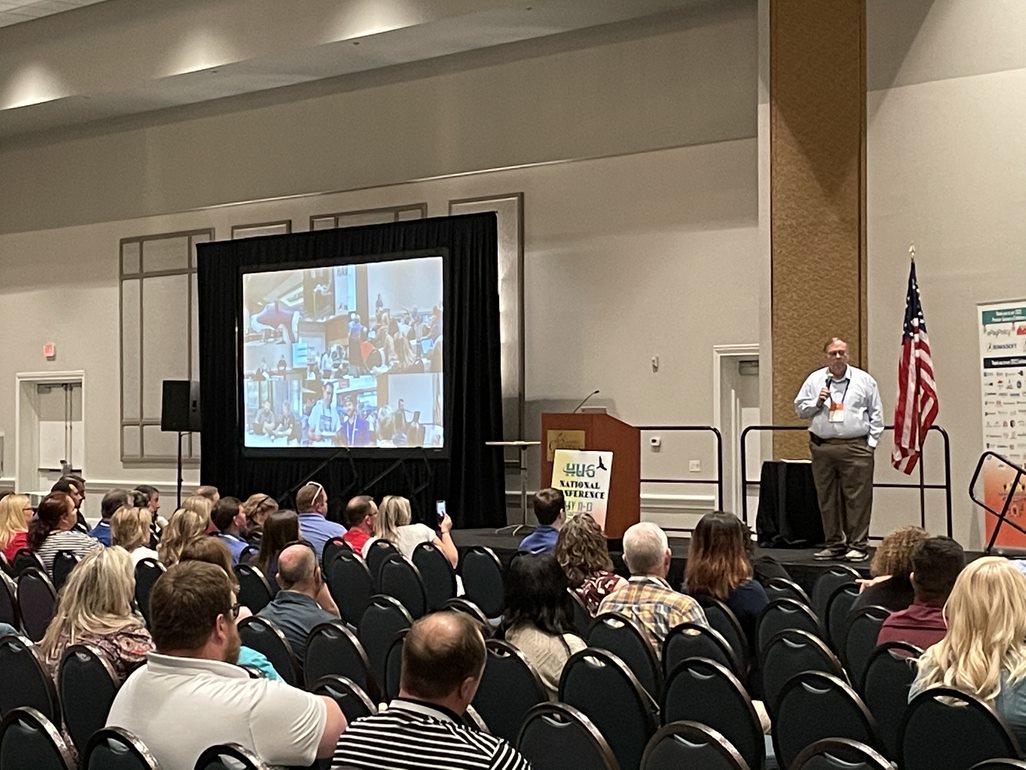 Paul Hawkins presents during the HawkSoft general session
2022 Dick Fanazick Award
The recipient of the 2022 Dick Fanazick Award is Robert Mackoul, nominated by Chris Paradiso. Robert not only served his country in the Navy during the Vietnam War, but has served the insurance industry for decades as the owner of multiple successful insurance agencies. He has served as President of the Tri-County New York Big I, and has been a member of numerous industry organizations. He has mentored hundreds of people within the insurance industry, whether they were new agents getting their start or veterans looking to grow their business. His employees consider him as a father figure and applaud the family-oriented atmosphere he has created at his office, as well as his incredible work ethic.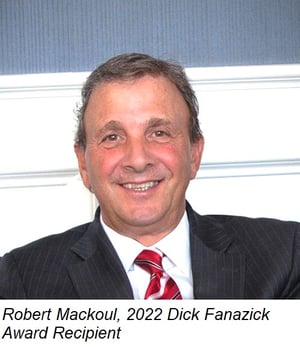 Robert is a well-known member of his community as well, being an active participant in Long Island youth athletic programs and tournament teams. He also puts on an annual Saints and Sinners Golf Classic charity fundraiser for his local church, St. Mary's of Brooklyn, tickets for which are known to sell out each year. Robert's family, friends, and associates know him as a dedicated, hardworking, but extremely humble man who has changed the lives of countless people.

His nominator, Chris Paradiso, says of him: "Considering the clout and reputation that this man has so rightfully earned within the insurance industry, you wouldn't expect him to be one of the most humble individuals you will ever meet. He is not one to reach for the spotlight, but gives the kudos to everyone else. He has always chosen the smallest office space as his own, even though he owns the entire building. Bob will, and does, drop everything to help someone in need, whether it be through charity or mentoring someone just getting started in insurance."

We are honored to award the 2022 Dick Fanazick Award to Robert. Both Robert and Chris will receive a $250 gift card, as well as a $1,000 donation from HawkSoft to the charity of their choice,
$1,000 Grand Prize Winner (top referring agency of 2021): Thomas Insurance Group Texas LLC (earned $1,100 in credit for agency)
$500 Gift Card Winner (drawing from top 3 referring agents each quarter): Charlie Brookins,

Variant Insurance Group

Top Quarterly Referral Winners:

view all here
HawkSoft Cloud: current and upcoming features
Kenny Hendricks (Direction of Partner Integrations) highlighted how agencies are using cloud features in the current iteration of HawkSoft, including HawkSoft Text Messaging, Data Sync, and API integrations. He shared that over 80% of customers currently have features enabled that utilize HawkSoft Cloud. Kenny also shared feedback from HawkSoft agencies about HawkSoft's Partner API program, including the newly available 2-way API integration, as well as what agents would like to see from the program in the future. Sean Hawkins and Matt Aman then shared a short progress update on our journey toward the upcoming HawkSoft 6 cloud platform.
Breakout sessions
The best part of every HUG National conference for many agents is the large number of breakout sessions taught by HUG members, HawkSoft employees, and business partners. This year, 36 breakout sessions were held on a variety of topics, from training on HawkSoft features to hot industry topics. Here were some of the breakout sessions that attendees rated the highest:
HawkSoft tips & tricks
ACORD Forms
Accounting in HawkSoft
Agency Intelligence
Database cleanup/advanced reporting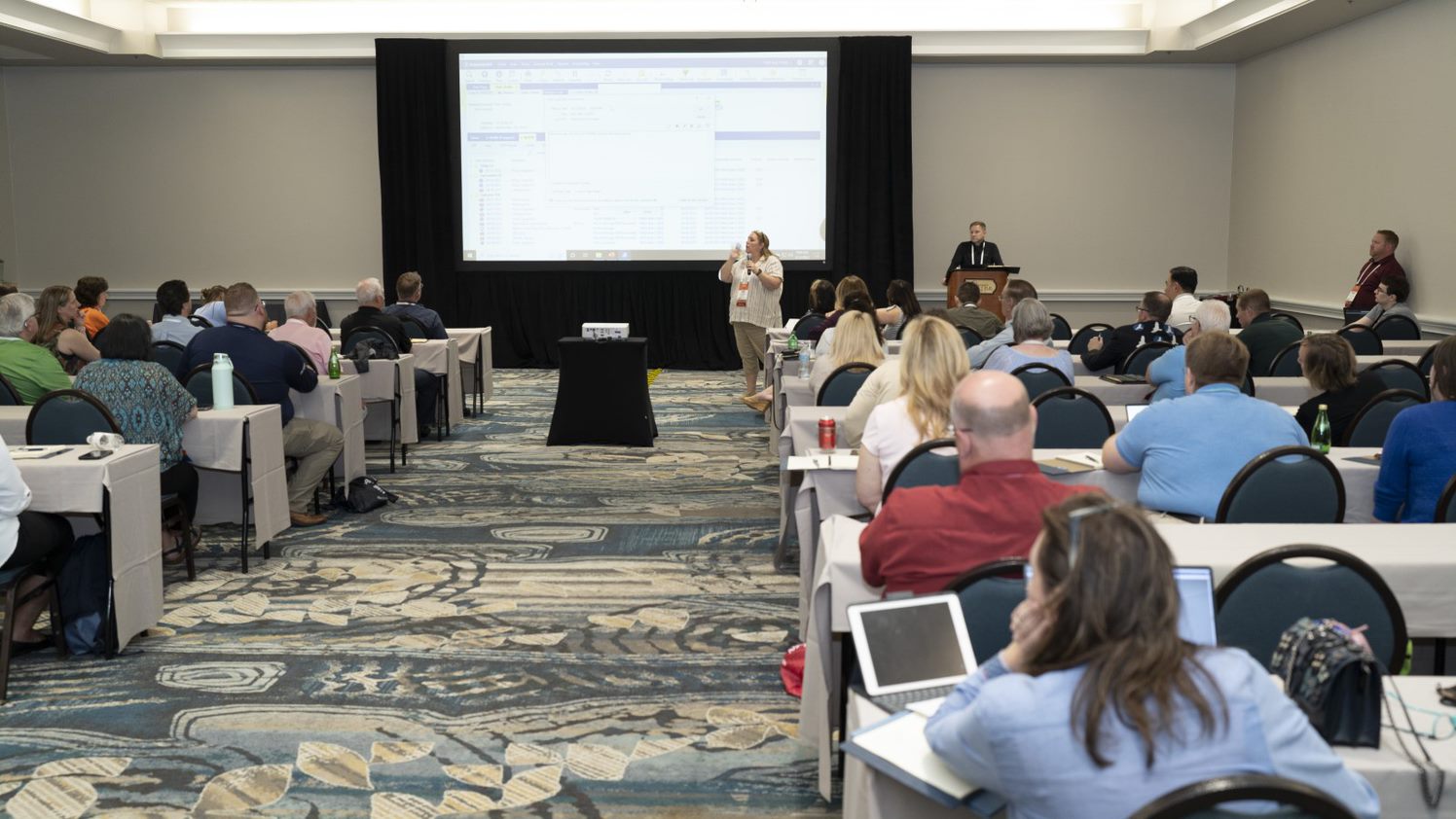 HUG members Kelly Endicott and George Patterson teach a breakout session
"The conference was awesome. Our agency has been with Hawksoft since 2017 and I thought we knew everything there was to know about HawkSoft until this conference. I learned so much from the presenters and am looking forward to sharing my experience with my staff. Thank you to everyone that played a part in putting this together to help us improve our knowledge."

- HUG attendee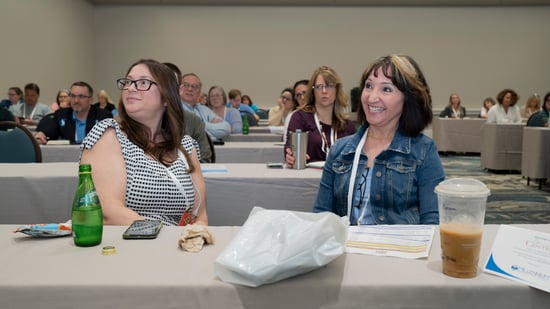 HUG Board Member Pat Lamb (right) and other agents learn during a breakout session.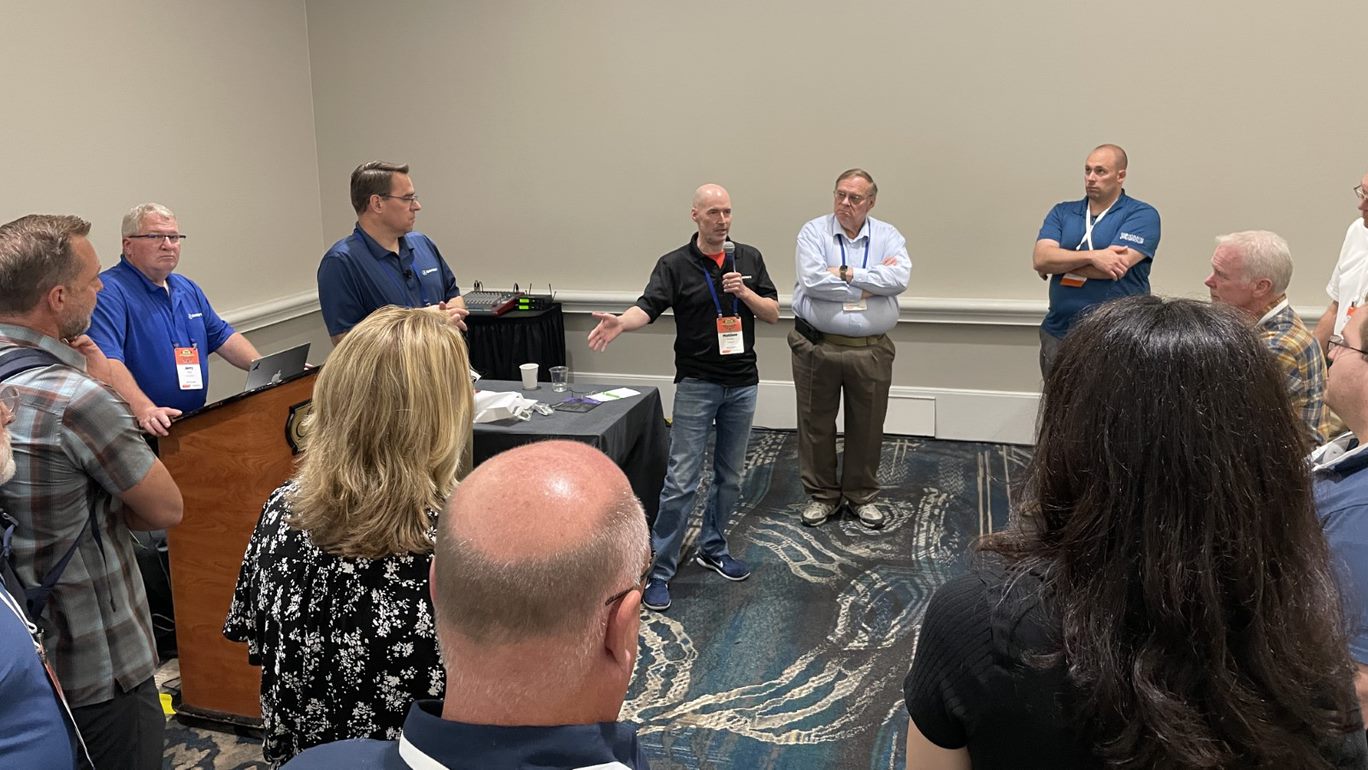 Matt Aman (HawkSoft Cloud Development Manager) answers questions from agents
after a breakout session on HawkSoft 6
The HUG Lab
Another part of the conference agents love is the HUG Lab, which is open during most of the conference for attendees to ask questions about HawkSoft to employees and get hands-on instruction or demos on workflows, features, and configuration for HawkSoft. A special thanks to this year's full-time lab techs (HawkSoft employees Michael and Keenan), as well as all the other HawkSoft employees and HUG members who helped out!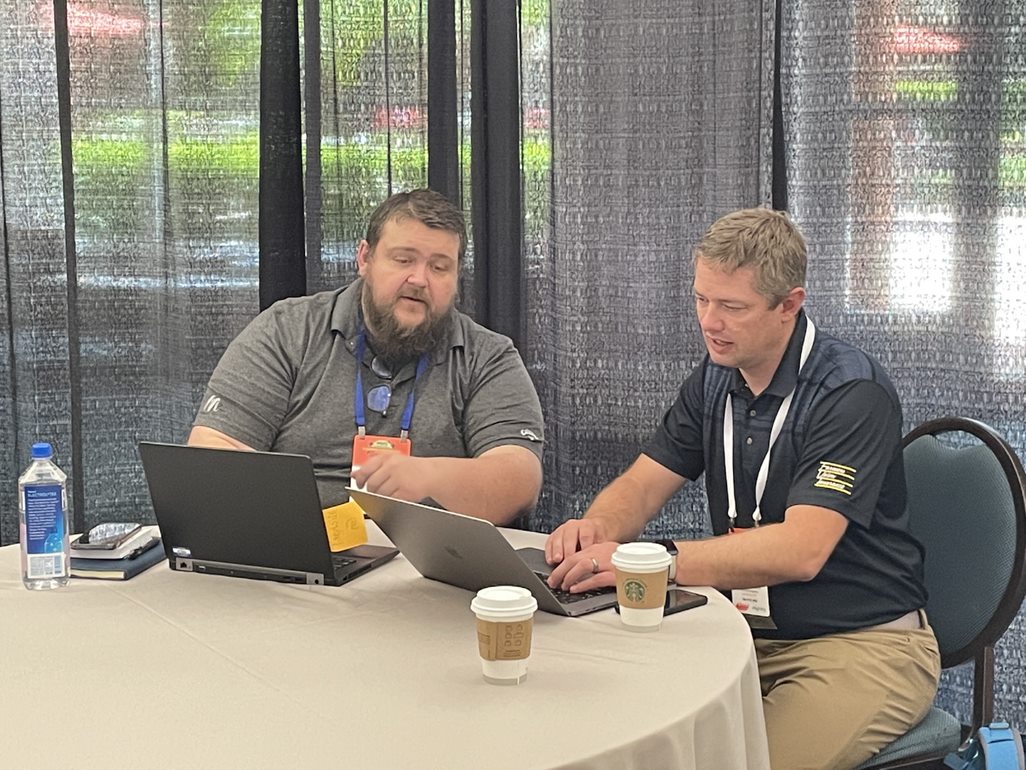 HawkSoft employee Michael helps agent Ryan Kuntz at the HUG Lab
Solution circles
After the success of solution circles last year, HUG held solution circle sessions on both days this year, with agent-led groups meeting roundtable based on agency role or area of interest. Attendees could network and learn from other agencies about what's working for them, and HawkSoft employees listened in to learn new ideas from agencies and get feedback on how to keep improving the platform.

This year, solution circles were held on the following topics:
CSRs
Owners
Marketing & Social Media
Office Managers
Accounting
Onboarding Staff & Remote Work
Virtual Assistants
Development Wishlist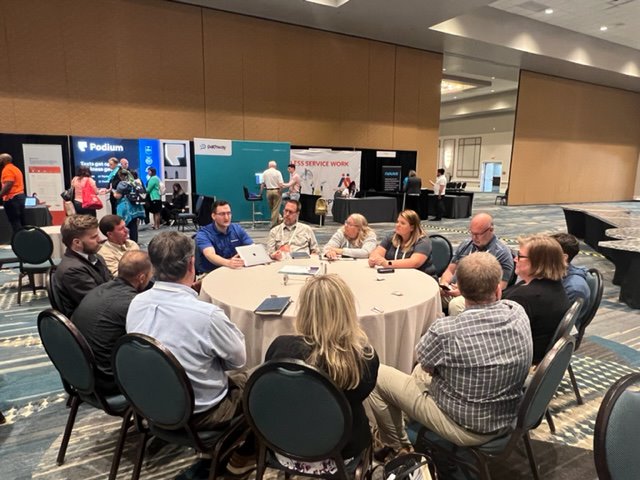 Agents meet up at solution circles to discuss agency topics
"I love the HUG conference! It is worth going to be around other people that use HawkSoft and are engaged and paying attention to how to get the most out of it. It is very helpful to understand how other people are using it to make their agencies more successful. Because it is a national conference people are willing to share what is working for their agencies not only with HawkSoft but in the marketplace as well. I wish I could send my entire staff!"

- Paul Covey, HUG attendee
Exhibit hall
At the exhibit hall, attendees could browse and chat with this year's 54 partner exhibitors and HUG sponsors. HawkSoft and HUG are grateful to all the wonderful partners and sponsors who attended and contributed this year. Agents loved the opportunity to speak with existing and potential integration partners, learn about the latest new tools for agencies, and pick up some swag. Plus, two of the breakout sessions even featured 5-minute partner presentations to help agents get a quick understanding of what a number of partners offer.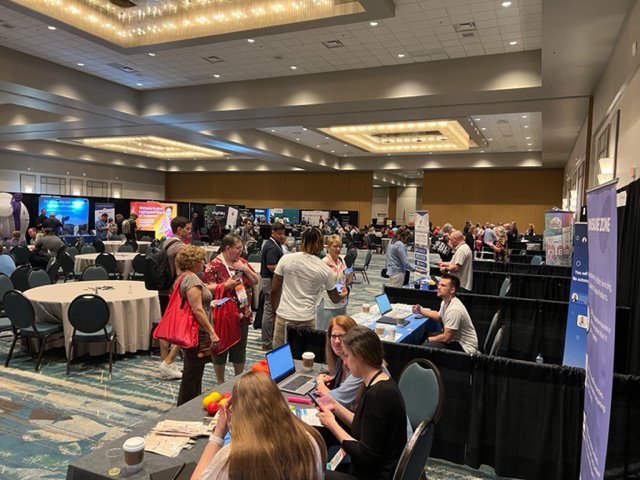 Attendees talk to vendors at the exhibit hall

A huge thanks to all the HUG partners who helped make the conference happen!
ePayPolicy (platinum sponsor)
Lightspeed Voice (platinum sponsor)
Agave
Agency Marketing Machine
Agency MVP
Agency Revolution
AgencyZoom
AgileCap
Alliance Group
Ascend
Aureus Analytics
BackNine Insurance
Blitz and Call Logic
Bold Penguin
Certificial
Cover Desk
Datalot by Centerfield
Double A Solutions
ePaymints
FIRST Insurance Funding
Forge3 - ActiveAgency
Formstack
General Agents Acceptance Corp
Glovebox
HawkSoft
Imperial PFS
Insurance Agency Network (IAN)
Insurance Agent Mobile App
InsuranceGIG
InsuredMine
InsureZone
IVANS
LEVITATE
Liberty Mutual Insurance / Safeco Insurance
Lift Local
Marble Box
Mivation
Mythos Technology Inc
Openly Insurance
Pathway
Pennsylvania Lumbermens Mutual Insurance Company
PMSI PROMOS
Podium
Producer's XL
QuoteWizard.com by LendingTree
Risk Revu
Rocket Referrals
Semsee
Talage Insurance
The Agency Collective
Bridge
Toffee to GO
Travelers
Wunderite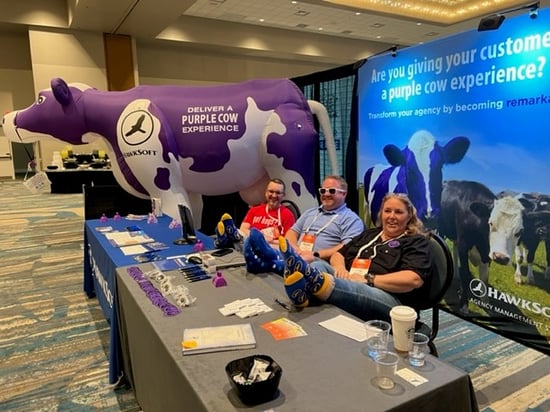 HUG Board President Dan Sage (left) and Board members Michael Ley and Kelly Endicott
take over the HawkSoft booth to show off their HawkSocks!
"The HUG National Conference was phenomenal. The show felt like one big family reunion. From a vendor perspective, I've never seen that kind of engagement at a show. I think it speaks wonders to how much clients respect and appreciate the technology suggestions of HawkSoft. Seriously, I've never heard the word 'love' used to describe a management system as many times as I did last week!"

- Zac Franz, ePayPolicy
"It is rarified air that you run into a culture and organization that cares as much about their clients and strategic partners as HawkSoft. Some say they care and will conduct business in the best interest of their constituents, but no organization we have worked with exceeds the moral compass and value system like Team HawkSoft. It is an honor to be working with HawkSoft and we are grateful for all you do to serve the industry."

- Mark Chibbaro, BackNine Insurance
Networking & fun
HUG National Conference isn't just about work—it also gives attendees a chance to get together, mix and mingle, network, and have fun! Attendees got to enjoy the Florida sunshine at the poolside welcome reception on Wednesday night, as well as enjoy dinner and rides on the ICON Wheel at ICON Park on Thursday evening!

Here are some of our favorite pictures from those events, with quotes shared by agents on social media and in the post-event survey about why they love HUG National Conference.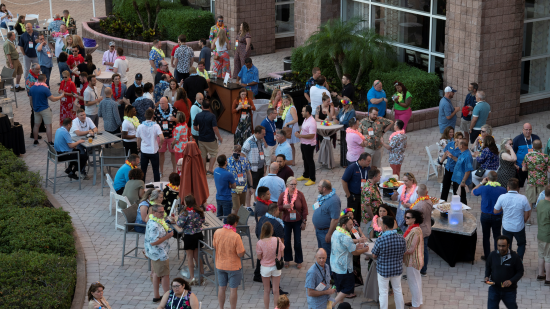 Attendees mingle at the poolside welcome reception on Sunday night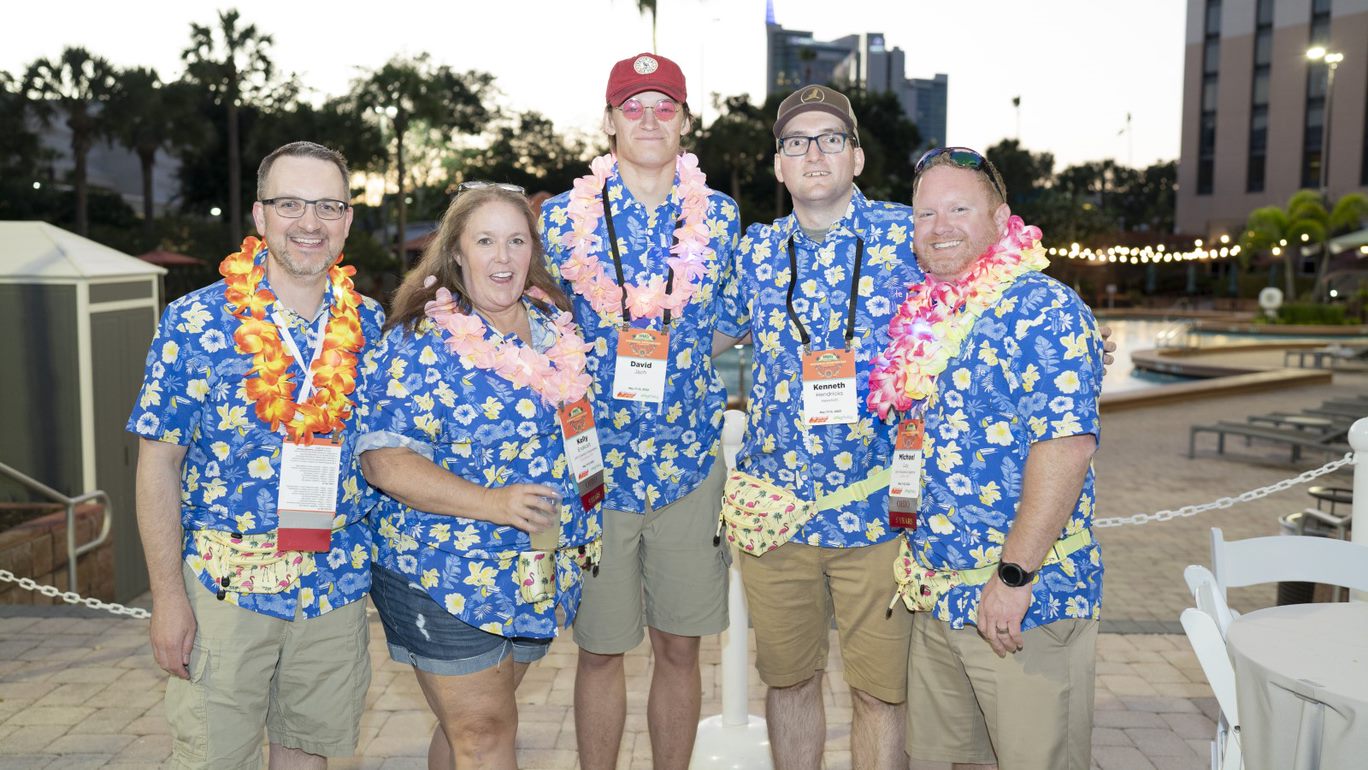 Kenny Hendricks (HawkSoft) and a few of the HUG Board members show off their
matching gear for the luau-themed welcome reception
"I came this week knowing that we weren't using HawkSoft to its full potential. The things that I learned are going to improve our everyday lives in the agency. Even if I knew all there was to know (don't think I ever will), the networking was invaluable. Learning more about the start of HawkSoft really made me love this company and the product even more. Knowing that we are valued as users and how helpful everyone is was an amazing takeaway. We all want each other to succeed and I love that!"

- Kylie Bartlett, HUG attendee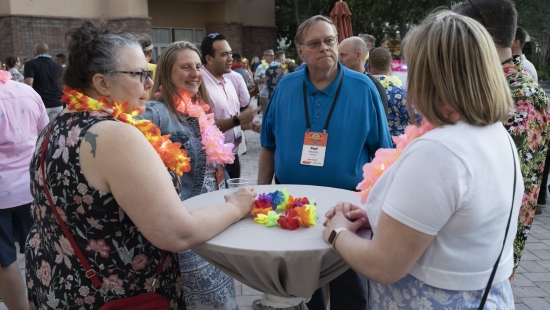 Paul Hawkins and his daughter and son-in-law (Heather and Jason Hansen)
speak with agents at the welcome reception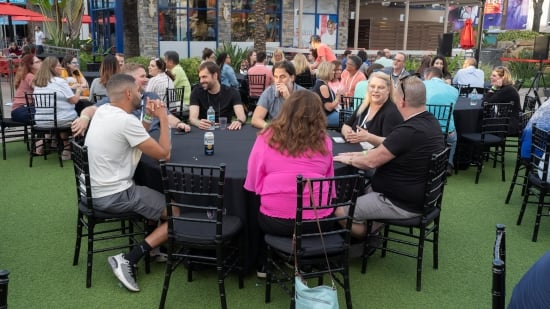 Agents and partner sponsors chat before dinner at ICON Park
"In a world of somewhat stale conferences, HUG is different. Everyone involved from the vendors, fellow attendees, and even the president of the company treat you as family with the goal of enriching our lives and the lives of our families. I'm walking away with better education about HawkSoft, ideas for additional solutions in the agency, and a stronger feeling of purpose for why we do what we do every day in the agency. It's about people."

- Brent Thurman, HUG attendee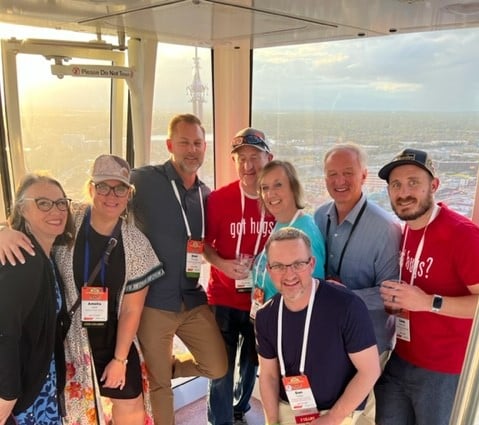 Jennifer Thompson and Amelia Jach (left) ride the ICON Wheel with agents
Agents mingle at ICON Park near the ICON Wheel

HawkSoft employees Greg and Crystal show off a
HawkSoft henna tattoo from ICON Park
"The convention was amazing. HawkSoft proved to me AGAIN that they really mean it when they say they care about their clients. That is not a soapbox or advertising claim. That is reality with this company. I challenge you to find any company in any field of business today that has clients that can make the same statement."
- Steve Hooper, HUG attendee (via social media)
Join us at future HUG events!
HawkSoft is honored to contribute to and participate in HUG events like this year's national conference. We want to extend a special thank you to HUG Executive Director Amelia Jach and Project Manager Jennifer Thompson, as well as the 2022 HUG National Planning Committee, the HUG Board, and HawkSoft employees for making this year's conference unforgettable.


Paul and Sean Hawkins with the HUG Board
The 2023 HUG National Conference will be in Round Rock, Texas, on April 26-28!
Save the date and watch for an email from HUG once registration is open. HUG is also holding six regional meetings in Fall 2022, so come meet other HawkSoft users in California, Ohio, Washington, Idaho, New York, and North Carolina this September and October!

If you haven't attended a HUG event yet, please join us! Membership in the HawkSoft User Group is free (register here), and you'll get access to tons of great resources like a template library and monthly webinars about HawkSoft. Plus, keep an eye on HUG's event page for information about upcoming regional meetings or virtual training sessions. HUG is a great way to learn from and interact with other agents who use HawkSoft!
Register for HawkSoft User Group
Registration is free, and gives you access to helpful resources from HawkSoft users like the HawkSoft template library and monthly webinars about HawkSoft features.