This article at a glance:
What are HawkSoft Uprate Alerts?
Renewal is a critical time for policy retention, and one of the biggest reasons a client will choose not to renew is because their premium went up. Does your agency know which policies are increasing before your clients get their renewal paperwork from insurance carriers? HawkSoft Uprate Alerts is an automation workflow that lets you set alerts if premiums increase by a specified amount. You will receive a notification every time the alert is triggered. This automates the process so you can spend more time shopping policies and communicating with affected customers, rather than hunting through policies to compare premiums.
HawkSoft Uprate Alerts allow you to:
Choose a percentage increase threshold to trigger automatic alerts for your agency
Automatically assign flagged renewals to a specific staff member and create a suspense task for follow-up
Identify clients to call before they receive notices from the insurance carriers of rate increases
Increase renewal rates by giving clients advance notice and explanation of premium increases
Proactively shop uprate policies to provide clients with options at renewal time
Show your clients that your agency is not only aware of their premium changes, but proactively working on their behalf to secure the best rates
"We use Uprate Alerts every day and it has eliminated our manual checking of renewal increases. We love how Uprate Alerts automatically notifies our staff of premium increases. We have HawkSoft set to notify the CSR if the increase is more than 10%. This helps us clearly communicate with our clients before they receive renewal notices—making us a trusted, proactive advisor."

Jack Greene, First Rate Insurance Plus
Getting started with Uprate Alerts
Uprate Alerts calculate the difference between the Current Premium and the Renewal Premium referenced in the carrier download. Remember, that means Uprate Alerts will only be triggered for renewal policies that receive carrier downloads. If you need help setting up carrier downloads, see our Carrier Download Setup help article for HawkSoft local install or HawkSoft Online. Here's how to set up the alert, and identify and review affected policies.
Set the download rule
Uprate Alerts are a download rule that can easily be turned on under Settings > Download Configuration > Download Rules. In the list of rules you will see % Uprate Alert and can select either Assign Document for Review or Suspend Log.

Once you select one of these options, you can choose the percentage increase that a policy must hit to trigger the alert, and select which staff member to assign them to. Suspend Log will create a log note and assign a suspense task (a reminder in HawkSoft), either immediately (Open Transaction) or at the time you choose (Suspend). You can also assign a priority and category to the log note, so you might want to create a category just for Uprate Alerts. See the "Configuring Uprate Alert" section of our Download Rules help article for more detail on configuring Uprate Alerts as a download rule.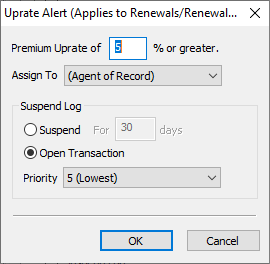 Process carrier downloads
The next time you process your carrier downloads, any policies with an uprate over your specified threshold will trigger the alert using your chosen method. You can process carrier downloads at any time by going to Tasks > Downloads (remember to run any third-party download management software besides IVANS Transfer Manager before you process downloads). See our Process CMS Downloads help article for more details on running downloads for HawkSoft local setup or HawkSoft online.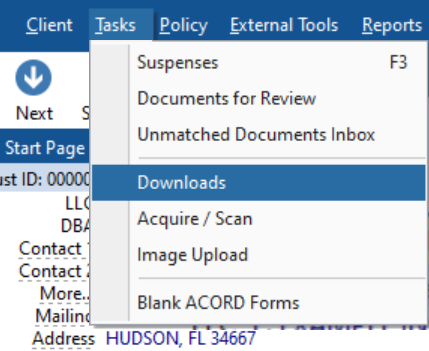 Review affected policies
Depending on which option you selected, any affected policies will appear in Suspenses or My Documents for Review under Common Tasks on the QuickLaunch Menu, for the staff member selected on the alert.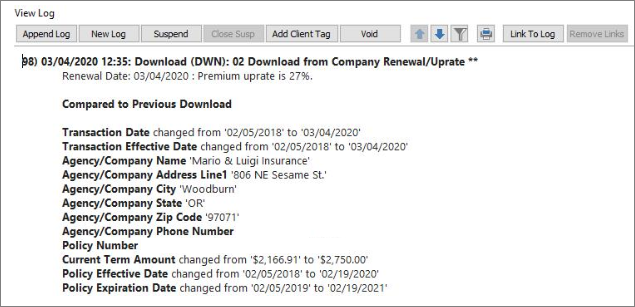 If you'd like to see a list of all policies that have increased by your specified threshold, you can do so with the Download Report. Go to Reports > Download Report and select New Advanced Report. Here you can select any download date range and add Uprate Rule Triggered is True as a filter. This will give you a list of all policies that increased by your threshold during that date range. Remember, the report will only show policies that triggered the alert after you set the Uprate Alerts download rule. For more details on configuring the Download Report, see our Download Report help article.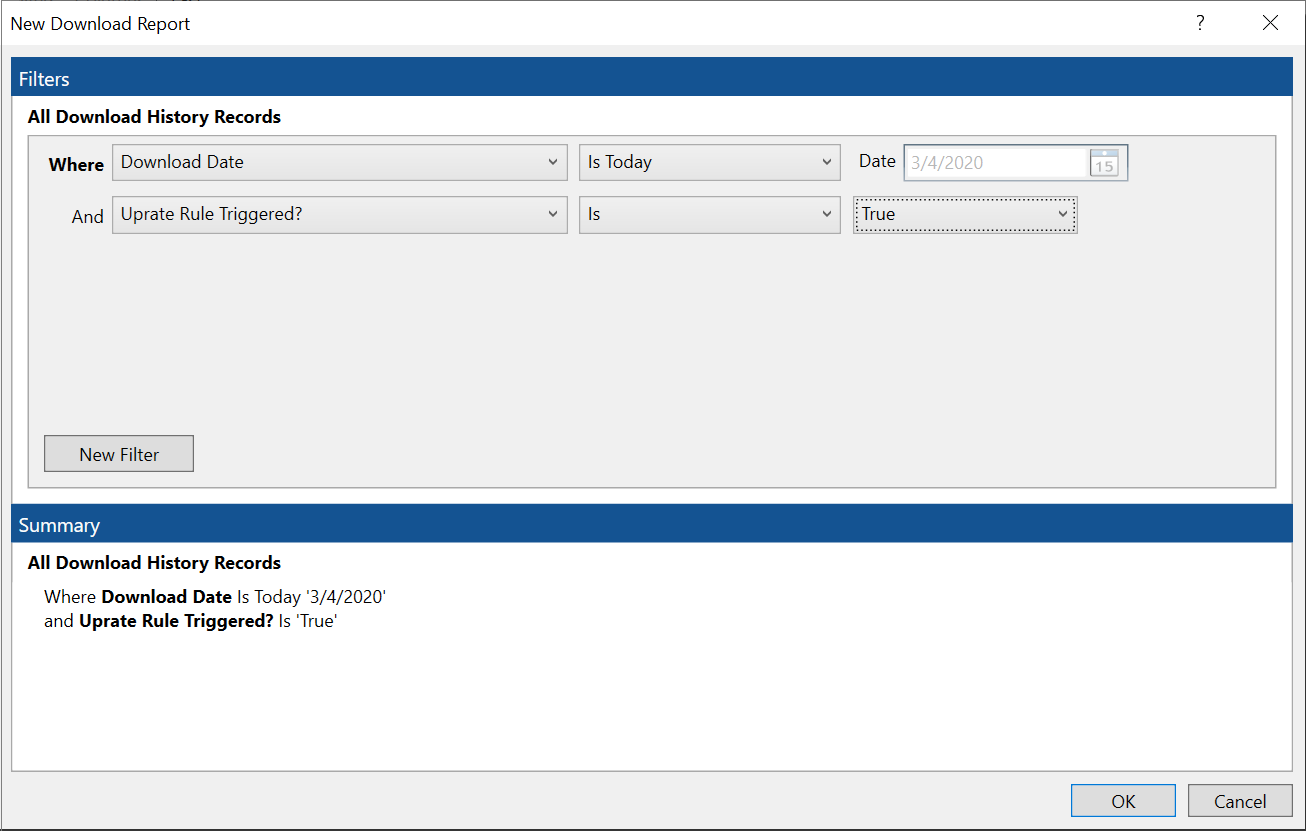 Increase retention, not manual labor
Uprate Alerts only take a minute to set up in HawkSoft, and they can save your agency hours of work and countless policy renewals that you might otherwise lose. If you don't have Uprate Alerts set up yet, configure them now and decide on a staff member to review triggered policies.
Increased premiums don't have to be a nightmare for your agency—with the help of Uprate Alerts, you can be prepared and proactive at renewal time.