Guest blog by Rachel Walter, Levitate
Guest blogs are written by contributors outside of HawkSoft. The author's views are entirely their own and may not reflect the views of HawkSoft.
As your business grows, personally staying in touch with clients and prospects becomes increasingly difficult—and more important than ever.

Why? Agencies who average two or more contacts per year with their policyholders are growing 55% more than their competitors. And when you're going to bat against both local and national competition—often times with much bigger budgets than you—nothing sets you apart better than taking a personal approach to everything you do as an agency.

Enter HawkSoft's newest technology partner, Levitate. Levitate is a keep-in-touch software platform that helps you use your existing email provider to send personal emails at scale, remember key facts about your contacts, customize reminders to reach out, and accomplish account rounding goals with a personalized approach. HawkSoft integration with Levitate will be available beginning in April 2020.

In this post we'll explain what keep-in-touch marketing is, and how a platform like Levitate can help you use it to grow your business with the help of your agency management system.
This article at a glance:
What is keep-in-touch marketing?
Ever since the concept of 1:1, or personalized, marketing burst into the CRM world, marketing automation software has sought to help business owners achieve the goal of messaging to a "segment of one." Why? Because the personalization of customer communication is proven to foster greater loyalty and better return on marketing investment.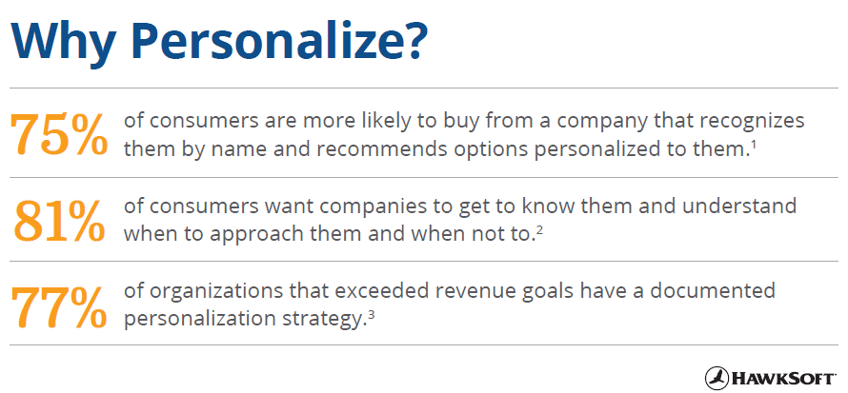 Sources: 1. Accenture 2. Accenture 3. Monetate
The problem with the trend toward "personalization" is that the marketing that results from it never seems to ultimately feel…personal. As businesses layer on more and more tools, marketing channels, and types of content, what results is a lot of marketing noise that makes it easy to overlook what put you in business in the first place: relationships.

Keep-in-touch marketing keeps it simple: When you focus on regularly—and personally—keeping in touch with clients and prospects, your business grows. Instead of inundating your contacts with mass blast emails and engineered social media content, keep-in-touch marketing suggests you send a simple birthday email from your regular inbox. Or perhaps, a personal thank you for choosing your agency for an auto policy, and a gentle reminder that you also provide homeowners policies. The key to keep-in-touch is that it looks and feels personal—because it is. Your emails should come from your regular email provider (not mass blast), and your phone calls from you (not a robo-caller).
The problem with the trend toward personalization is that the marketing that results from it never seems to ultimately feel personal.
Why your agency can't afford to ignore keep-in-touch marketing
It is more important than ever to take a personalized approach to growing your business. The rise of InsureTech investment and robo-advising will continue to put pressure on the independent channel to adapt technologically. As PropertyCasualty360 reports in their 2020 Insurance Industry Outlook report, however, "Despite all the talk and emphasis on emerging technologies, insurance is likely to remain a people business, both in terms of how it is sold and bought, as well as how insurers are managed."

It's not just older generations who want to purchase insurance from a "real person," either. While Millennials are more digitally engaged than previous generations—43% use online reviews when choosing an agent—data shows that they still value a personal touch when it comes to their ultimate purchases. Forty-nine percent stated "reputation for good service" as a purchasing factor behind why they chose one agency over another, and 50% are looking for an agent who "inspires trust."

And what about current customers? The only way to accomplish effective account rounding is to stay top of mind with your policyholders; to keep up with their lives and be there for them as their needs evolve. With 78% of independent agents citing account rounding as the key to their growth over the next five years, modern agencies seem to agree that the most promising prospects for new business are the clients they already have. The evidence supports the need: The average consumer has 5 policies, but the average independent agency only writes 1.3 policies per insured.
The only way to accomplish effective account rounding is to stay top of mind with your policyholders; to keep up with their lives and be there for them as their needs evolve.
Your customers and prospects expect personal contact from you. A keep-in-touch marketing platform helps you leverage automation technology to save time and effort without sacrificing the personal touch that sets you apart from the competition.
The next evolution of email marketing
Business owners today are inundated with advice on email marketing best practices and promotions from the dozens of email marketing providers on the market. We hear, over and over, that businesses should focus on growing their list size and sending a plethora of content out in order to stay top of mind.

The reality is that email remains an essential marketing channel, but it is increasingly difficult to do well. Consider these statistics:

Why do so few emails get opened these days? There are a few factors at play. First, as the number of messages to customers increases, engagement decreases. Between 2018 and 2019, the average monthly send rate from businesses using mass blast email providers grew from a median 7 emails per month to 8.3. In that same timeframe, average open rates (across all industries) dropped from 18% to 14.5%.

Other important factors influencing open rate include senders and subject lines—when recipients receive unsolicited emails from companies or brands they don't know, that contain content that isn't personalized or that they're uninterested in, they are less likely to engage. When valuable content is coming from senders they know and trust, however, recipients welcome far more frequent content. According to Twilio's 2019 Email Engagement and Benchmarks study, 37% of people like to receive daily emails if they are interested in the sender or brand or want the product or service offered; 32% like to receive them weekly.

Keep-in-touch marketing bucks the "more is more" trend happening in the traditional email marketing space by focusing on quality over quantity. It's not list size or send count that matters, it's engagement—how effective you are at using email as a tool to nurture meaningful customer relationships. In fact, pummeling a bloated contact list full of people you don't know—with content they may or may not care about—hurts rather than helps your efforts to establish meaningful relationships with clients and prospects. This is especially true for small businesses looking to differentiate against national competitors.
Keep-in-touch marketing focuses on quality over quantity. It's not list size or send count that matters, it's engagement—how effective you are at using email as a tool to nurture meaningful customer relationships.
Here's the good news: with keep-in-touch marketing, the best email marketing tool is the email service provider you're already using every day. By using key facts about your contacts and deploying reminders for yourself to reach out to them individually, you can use your existing email provider to achieve open rates of 45% and higher—more than double what you'll get out of a mass blast tool.
HawkSoft +Levitate: an all-in-one tool to keep in touch
So how can today's independent agent leverage technology—including email marketing—to keep in touch?

With HawkSoft and Levitate, it starts with personalizing policyholder and prospect profiles to create a more human, holistic look at each and every contact. Levitate syncs contacts from within HawkSoft, then augments their profiles with publicly available Facebook and LinkedIn information. Contacts are automatically tagged in key groups based on how they are structured in HawkSoft, as Clients, Prospects, and even by what lines are carried. You'll also see their birthday and renewal dates in Levitate, so you can set up automatic reminders to reach out when the big day arrives or when renewal is approaching. Want to remember that Mike's wife's name is Julie, and that she went to the same college as you? Add this as a key fact, and see it every time you go to send an email or pick up the phone.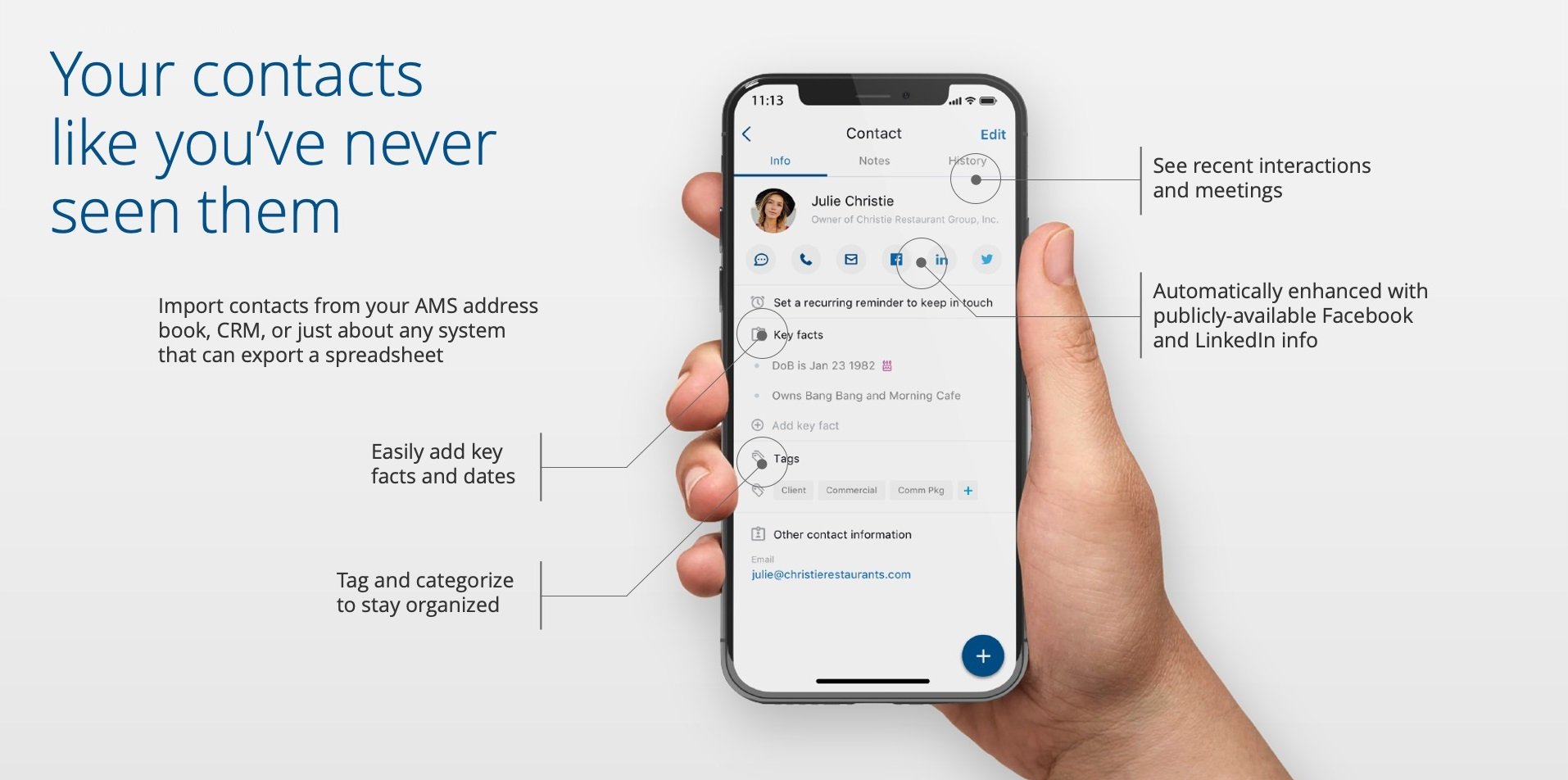 Image source: Levitate


Once your contact groups are set up, you're able to establish unique triggers to remind you to reach out. For example, perhaps you want to send quick check-in notes with your personal lines clients once every two months, and commercial lines clients every three; reminders are completely customizable by group.

By thoughtfully structuring your contacts and establishing a "keep-in-touch cadence," you'll take the stress out of remembering to reach out to hundreds of individuals, and gain the ability to systematize the way in which you nurture clients and prospects.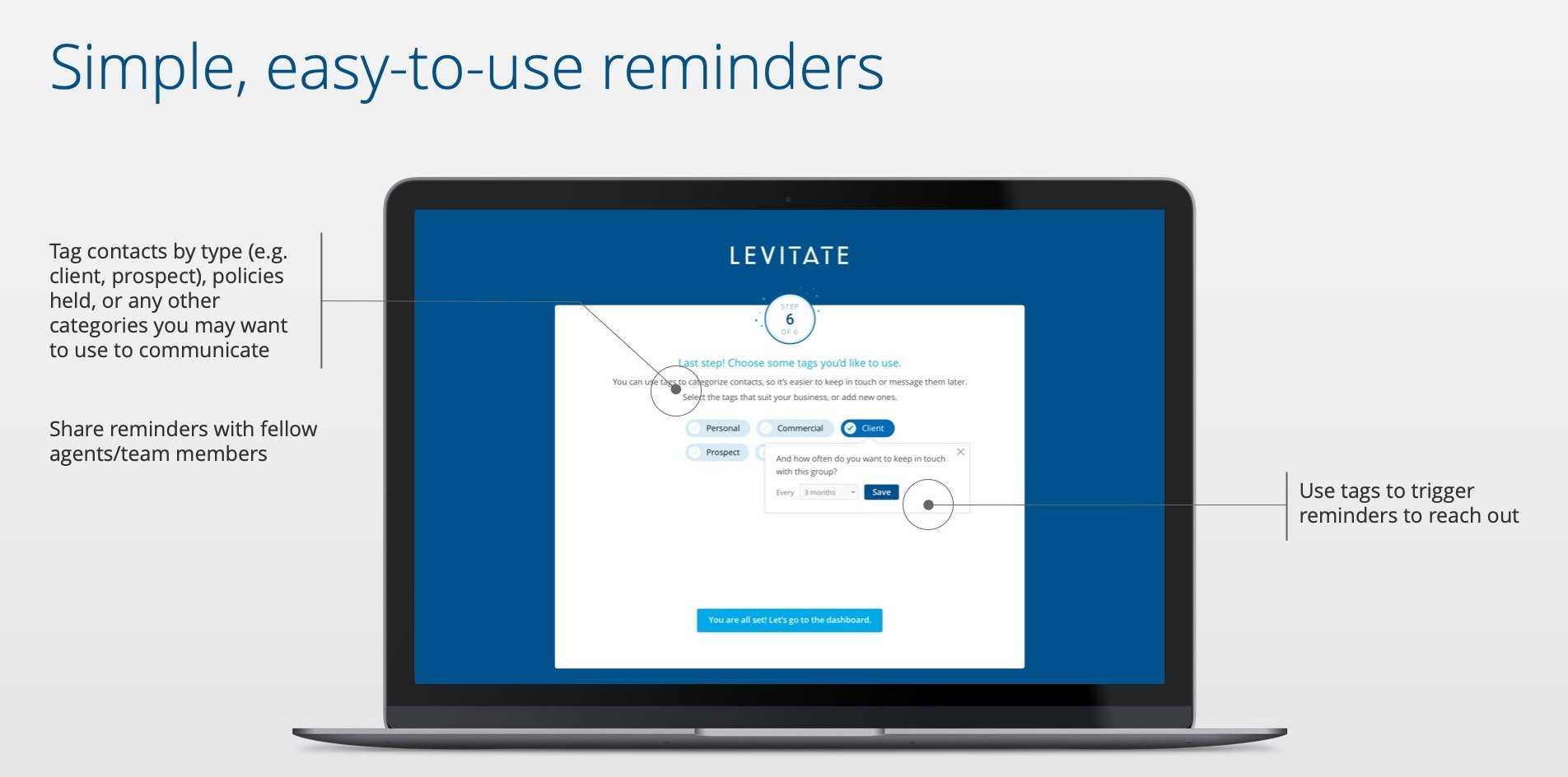 Image source: Levitate


Many Levitate clients also use keep-in-touch techniques to share educational content around various types of policies; this is particularly important considering 80% of millennials who purchased their insurance through an agent want their agent to help them understand insurance.

The best part? When you send an email through Levitate, it shows up in recipient inboxes as a personal email. So although you've used the tool to schedule a send to dozens or hundreds of people, it is sent through your regular email provider (Gmail, Outlook, or whatever service you may be using) and shows up in your Sent emails folder just like any other personal email would.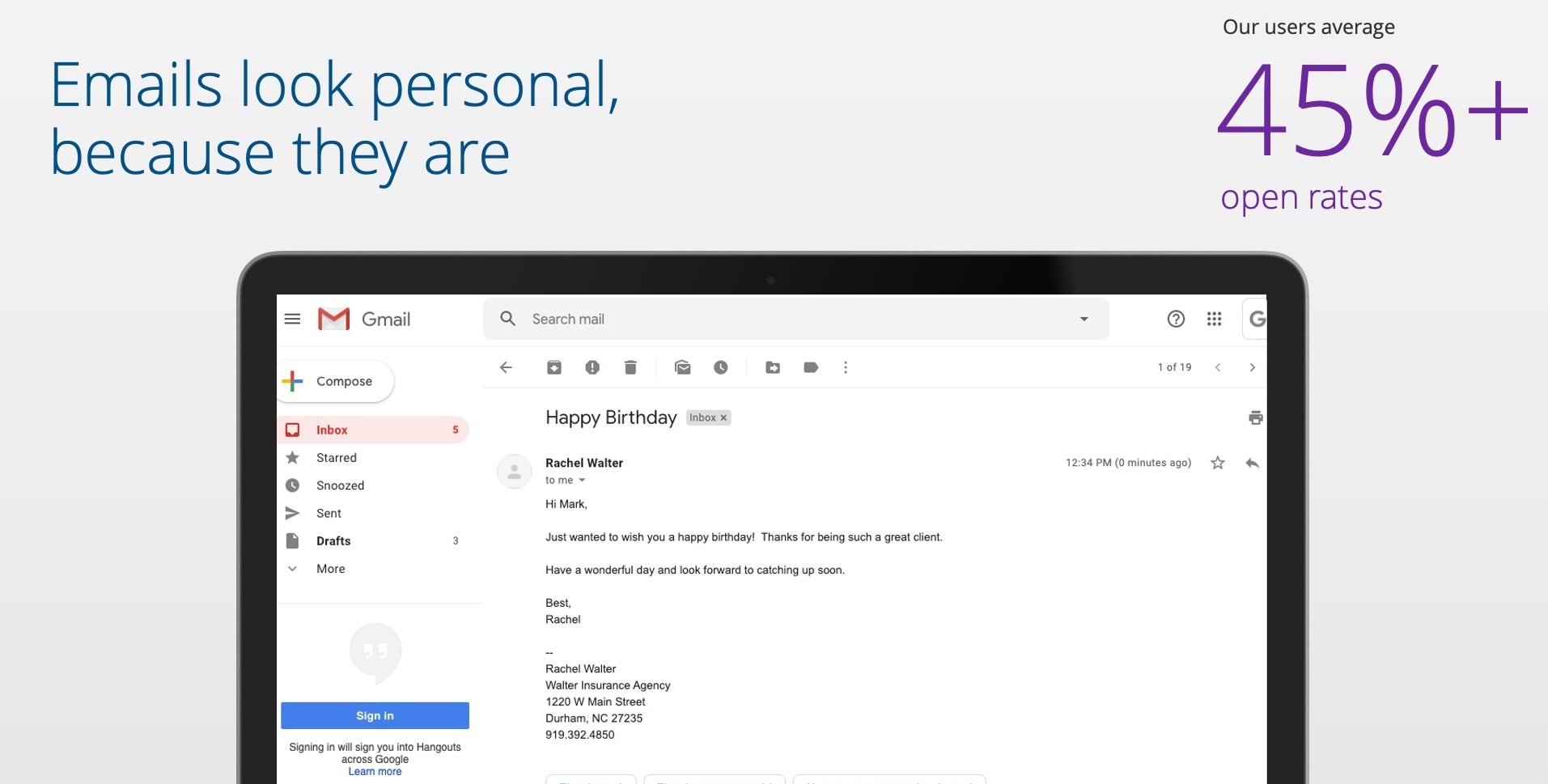 Image source: Levitate


You'll also be able to see and know when every contact has opened your email, and view reply statistics for every send—so you can see what kind of content has performed best for you over time.


Hear it from a HawkSoft agency
Gina Nelson of Kincaid Insurance Agency uses HawkSoft paired with Levitate. For her, the greatest benefit of using Levitate is ensuring that all of their clients are regularly touched. "We have some clients that renew their policy, pay their bill, and go on about their business. Before Levitate, we weren't engaging with them on a regular basis. We want to make sure that they know we're here for them and that they can always reach out with questions. Levitate helps us keep our customer communication consistent and fresh, so no one ever falls through the cracks."
"Levitate helps us keep our customer communication consistent and fresh, so no one ever falls through the cracks."

Gina Nelson, Kincaid Insurance Agency

Kincaid has historically used Levitate to personalize mass emails regarding insurance information or news such as weather updates, in addition to sending personal happy birthday emails to all of their clients. With the move to real-time updates and tagging, Levitate users will no longer have to manually export their HawkSoft contact lists to keep policies held and client status up to date.

Gina is now looking forward to using the HawkSoft integration to go further with the tool: "We will absolutely be using the auto-tagging now available to hone in on targeted messages to homeowners, or reach out to clients who aren't life insurance customers yet but may have other policies with us. This integration will make Levitate even more valuable than it already was to our business."
Personalized relationships, at scale
It's never been more important to have a personal relationship with your clients. As an independent agent, you're already great at that. With the help of a keep-in-touch marketing tool that integrates with your agency management system, you can reach out to every client in a more personal and consistent way, no matter how big your book of business.
Or email demo@levitateapp.com to see a live demo