Do you like to update your HawkSoft system as soon as a new version is available so you can check out new features right away, or do you tend to ignore those notifications for as long as possible? As we move toward HawkSoft Cloud, it will become increasingly important to keep your HawkSoft system—and your computer's operating system (OS)—up to date. We'd like to explain why HawkSoft and OS updates are a vital part of your agency's digital ecosystem and how to update your system in a few simple steps.
This article at a glance:
Why keep your HawkSoft system updated to the most recent version?
Our recommendation is to always use the most recent version of HawkSoft. If you use HawkSoft Online, you'll always be automatically updated to the most recent version. If you host your data locally in your office, you'll need to update your HawkSoft system manually when new versions are available. Here are a few reasons why keeping HawkSoft updated is so important.
Best possible HawkSoft experience
The newest version of HawkSoft will always include the most recent improvements and new features. We're constantly enhancing the system, whether it be improving workflows, applying fixes to reported bugs, or adding features that were requested in the HawkSoft Community. System updates are part of your core HawkSoft service, and most new features are available at no additional cost. If you don't update, you are essentially not taking advantage of free new features that improve your agency's productivity.
In addition, the HawkSoft Help System and other materials are constantly updated to refer to the newest version of HawkSoft, and our Product Support team works in the newest version as well. Older versions of HawkSoft will have fewer support options as newer versions become available, so you'll have the best support experience when you're using the latest version of HawkSoft.
Strongest security for your data
Protecting your agency's data is our top priority. We keep the latest version of HawkSoft in compliance with any legislation changes regarding data security. In addition, as improvements are made in the world of data security, malware protection, and file encryption, our developers build them into the HawkSoft system to ensure your data is as safe as possible--but you can't take advantage of it unless you update. HawkSoft will notify agencies when a new version contains a critical update related to the security of our software. These updates should not be ignored, as doing so may put your agency's data at risk.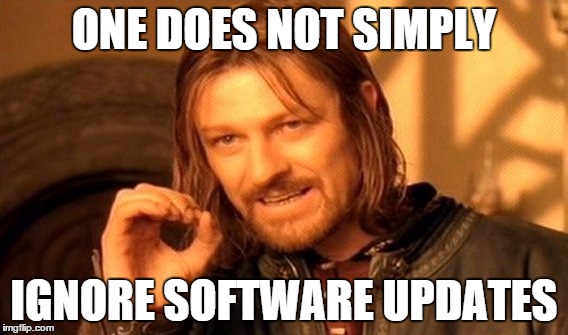 Luckily, updating HawkSoft is a lot easier than taking the ring to Mordor.


Risk mitigation is a familiar term in the insurance industry. You constantly ask your clients to mitigate risk by having adequate protection to cover their assets. As an agent, performing system updates is an important way to mitigate risk to one of your most valuable assets--your client's data.
Maintains functionality with third-party applications
Outside applications that are integrated within HawkSoft (like Outlook mail or Google calendar) are constantly being updated as well, which means they may not function well with older versions of HawkSoft that weren't built for it. Newer versions of HawkSoft are developed to work well with the latest versions of these applications so your integrations will be seamless.
For example, Google recently announced that starting in February 2021 they will no longer allow integration with applications unless they use a more modern and secure access method called OAuth. This means HawkSoft will need to implement OAuth updates to meet Google's requirements, and users will then need to update HawkSoft in order to maintain integration with Google applications.
Minimum version is required for some HawkSoft features
HawkSoft Data Sync and any features that utilize it (like HawkSoft Text Messaging) require communication between your HawkSoft database and our encrypted cloud servers. Your agency's server remains the source of truth, whether it's hosted locally in your office or by one of HawkSoft's online hosting partners, and that data is mirrored to the cloud via Data Sync. This allows your agency to benefit from HawkSoft Cloud without a persistent or powerful internet connection.
Because our cloud servers are automatically updated to work with the most recent version of HawkSoft, you will sometimes be required to update your database to a specific version of HawkSoft or higher (called a minimum required version) in order to maintain the highest level of security and data consistency.
As HawkSoft continues to move closer to a fully cloud-based platform, new features will increasingly rely on Data Sync, meaning that if you use those features you will need to keep HawkSoft updated to the minimum required version in order to use them. In the future, HawkSoft Cloud will also allow us to release features on their own once they're ready, rather than waiting until the next version is released. This will mean smaller, more frequent feature releases, and as long as your system is using the minimum required version or higher, you'll be able to make use of them without updating HawkSoft.
We recommend putting processes into place now to regularly update HawkSoft as soon as a new version is available.
"As we move toward HawkSoft Cloud, we continue looking for ways to make HawkSoft version updates more frequent and automatic."

Sean Hawkins
Co-founder & VP of Development
HawkSoft
How to update HawkSoft
In order to update HawkSoft, the user who has permissions to "Check for Updates/Accept License Agreements" will need to run the update. After this, any additional users will be able to access the updated version the next time they log in (or if they're currently logged in, they'll be prompted to log out and back in). You can install updates in a few simple steps:


Click the Utilities icon in the menu bar and select Check for Updates
Click Run Compatibility Checker to verify system compatibility
Click Install and follow the on-screen prompts to complete the installation


See our help article on HawkSoft CMS Software Updates for more detailed information on performing updates.
Why keep your computer's operating system (OS) up to date?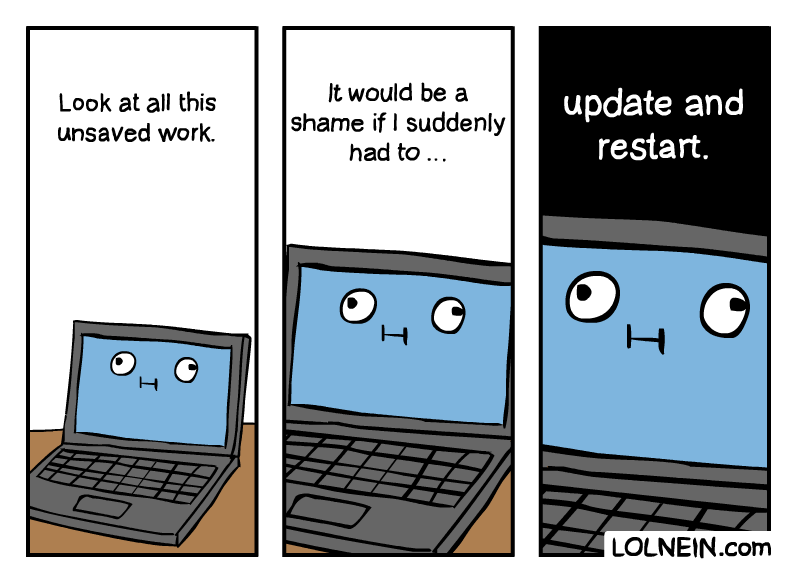 OS updates might be annoying sometimes, but they're vital to your system.

Your computer's operating system (e.g. Windows or Mac) also requires updates in order to run as effectively as possible. Your OS may be set to update automatically (which sometimes seems to happen at the most inconvenient times, like in the comic above), or you may have it set to ask you when there are updates to install. All jokes aside, it's important to keep your OS as updated as possible—not only for running HawkSoft, but to keep your entire computer system safe and functioning smoothly. Here are several reasons to keep your operating system up to date:
An outdated OS is more vulnerable to malware
Malicious software (called malware) like viruses, worms, spyware, and ransomware can harm your system or even hold your data hostage for money. Viruses are often built to exploit weaknesses in older OS versions, so operating systems will include patches and other protection against the newest malware threats in their updates. Read our blog on Protecting Your Data from Malware for more tips on keeping your data safe from these threats.
"I hear reports of devastating outages from neighboring businesses all the time, which makes me thankful that keeping my OS updated protects my system and keeps me out of the news."

Greg Fish
IT manager
HawkSoft
Older versions have less support available
Operating systems eventually end support and stop updating their oldest versions—for example, Microsoft ended support for Windows 7 in January 2020. If you are using an unsupported OS, it's in the best interest of your agency—and your clients—to upgrade to a newer system that provides the support and security updates you need to keep your system functioning safely and efficiently.
New HawkSoft features may require an updated OS
New HawkSoft features are built using the operating system as a framework, so sometimes in order to install HawkSoft updates with the newest features, you may first need to update your OS. We recommend always making sure you have all pending OS updates installed before updating HawkSoft. It's also best practice to create a backup of HawkSoft before updating your OS, which will protect against the possibility of a bad update or viruses designed to activate during an update. Learn more about backups here.
You can see the minimum OS requirements for HawkSoft on our System Requirements page. To see if your OS has all the necessary components to update to the newest version of HawkSoft, you can run the HawkSoft CMS Compatibility Checker and install any needed components.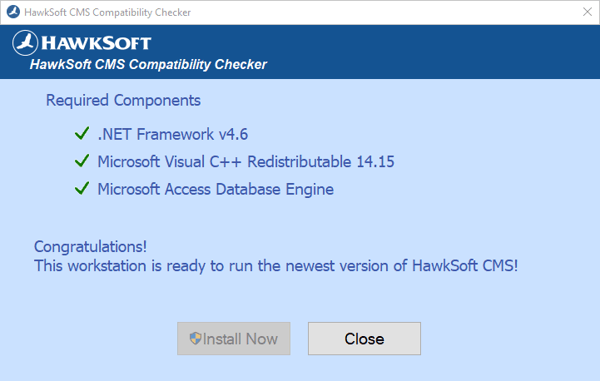 How to update your operating system
The directions for updating your OS will differ depending on which system you have and what version you're using. While OS updates fall beyond the scope of HawkSoft product support, here are some help links from outside sources for updating different operating systems:


Desktop & laptop computers:
Phones & tablets:
Help your agency soar
HawkSoft is an incredibly powerful tool to manage your agency's operations. Using it to its fullest extent requires regularly updating both CMS and your operating system. We're committed to continue developing exciting new features for HawkSoft, but we need your discipline to update both HawkSoft and your operating system so your agency can benefit from the latest features, security protections, and experience.