This article at a glance:
An unstoppable agency
How often do you get inspired to start a new project, but when it comes down to it you never take the first step toward completing it? It's one thing to have a great idea, but it's another to actually put it into action. This was the impetus behind the Implementer of the Year Award that Mike Stromsoe, an independent agent and the creator of the Unstoppable Profit Producer Program, has given out for the last several years at his BeUnstoppable Bootcamp for insurance professionals.

"Each year we ask our members to provide a submission on why they should be chosen as the Implementer of the Year," Mike explains, "based on the people, process, and promotion breakthroughs they've had since becoming a coaching member. The purpose of the award is to recognize an agency that truly has implemented what we teach so they can experience growth, security, and freedom."

Mike selects three finalists to present at the event, and the audience votes on who will receive the final award. HawkSoft customer Claudia McClain and her team at McClain Insurance Services won the 2019 award for their innovative "Power of 9" initiative. When asked about her achievement, Mike told us, "Claudia held nothing back in sharing the amazing work and results that she and her team have had so far through implementing, executing, and taking action. She exemplifies every facet of the award at its highest level. We are grateful for and honored to learn with Claudia McClain and her team!"

We talked to Claudia to learn more about how she empowered her team to successfully implement 9 different projects at her agency, and to get tips on what any agency can do to become an "incredible implementer."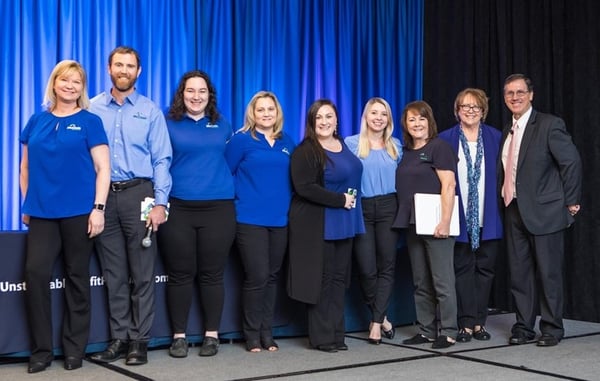 Mike Stromsoe with Claudia's team at BeUnstoppable Bootcamp 2019


"Claudia exemplifies every facet of the award at its highest level. We are grateful for and honored to learn with her and her team!"

Mike Stromsoe
Embracing empowerment
Claudia has always hated the word delegate, which she says "stems from my perception that when I delegate I feel like I'm asking people I truly care about to do my work." But with only so many hours in a day, she simply didn't have the bandwidth to do it all. When she heard Mike Stromsoe talk about empowerment at his 2018 bootcamp, something clicked. In her introduction to the initiative on her website, she says, "Empowerment isn't just dumping work on someone else. It's helping someone to expand their own skills, which then provides increased responsibility and opportunity. By failing to empower my team, I was failing to provide them with the professional growth and challenge they so rightly deserved."

So Claudia decided to shed the word delegate in 2019 and instead embrace empowerment by putting her 9-person team of "incredible implementers" to work. The team identified 9 important projects, and each person took the lead on one, depending on where their skills lay. "The idea was to empower each person to take on a project and make it their own," Claudia says. "Rather than me telling everyone what to do, we got to see what happened when we had 9 leaders, each working on their own project that played to their strengths. All of us together are able to achieve more."
"Empowerment isn't just dumping work on someone else. It's helping someone to expand their own skills, which then provides increased responsibility and opportunity."

Claudia McClain
The power of 9
Claudia's team structured their initiative around Mike Stromsoe's ideology of the 3 P's agencies should focus on: people, processes, and promotion, in that order. "You need all three," she says, "but a lot of times the agencies go for the promotion first because it seems like the easiest or most fun. But if you don't have the people and processes in place first, the promotion will fail." The agency focused on 3 projects within each of the 3 P's. They started with internal plans to maximize the efforts of the agency team members, then focused on processes to put in place, and finally used that infrastructure to support promotions to bring in new business.

The team created a roadmap for each project that included the "why" behind it, a case study to serve as an example, and documentation of the project and any necessary guidelines, scripts, and templates to make it easily reproducible. We've included a short summary of each project, but you can see the roadmaps and more details on the agency's Incredible Implementers page (use password UPP). You can download HawkSoft's project roadmap template to create your own implementation plan for a project at your agency.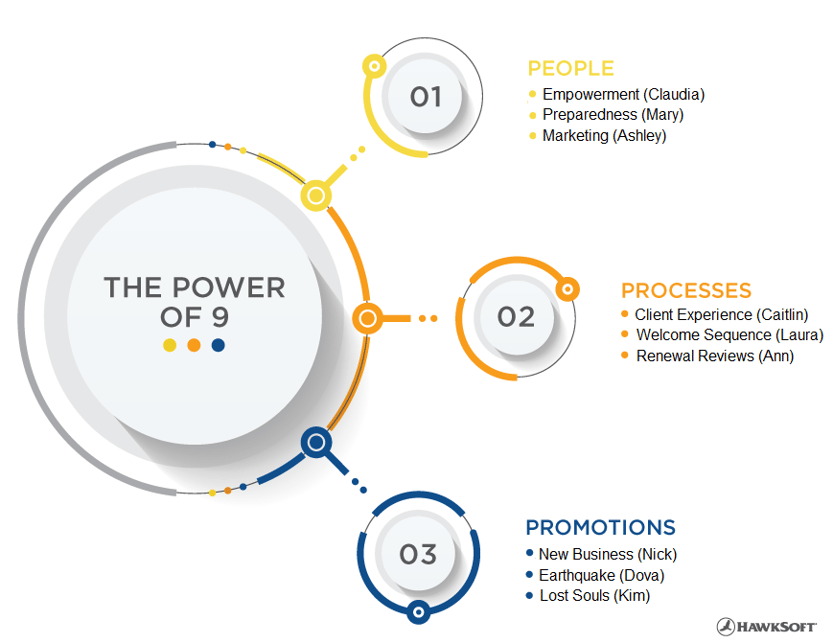 People


Empowerment (Claudia)
Claudia based the entire initiative on the idea of empowerment, allowing each of her 9 team members to head an important project, make it their own, and have opportunities for professional growth and development.
Preparedness (Mary)
Mary focused on preparing the McClain Insurance team, clients, and community for the unexpected. She led the creation of a crisis development procedure, distribution of tech bags enabling remote operation for the team and 72-hour go-bags for survival situations, and the compilation of an emergency contact list.
Marketing (Ashley)
Ashley approached marketing as a way to connect coworkers and clients with the community by shining a spotlight on the local impact of the agency. She focused on client communications to tell these stories, including postcard newsletters, welcome kits, email campaigns, social posts, and blogs. She also zeroed in on client education and community events, which the agency participates in nearly 30 of each year.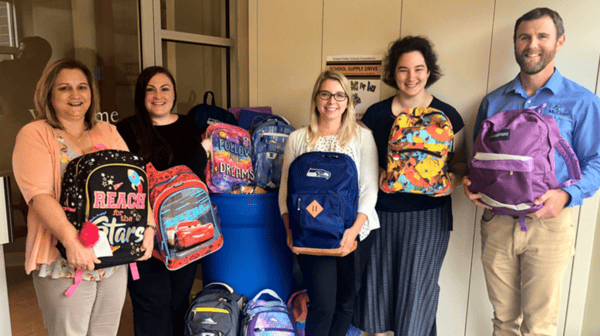 The team with backpacks for Everett Public Schools Foundation's Stuff the Bus drive
Processes

Client Experience (Caitlin)
Caitlin was tasked with defining and enhancing the McClain client experience, which means "delivering a WOW experience to prospects and clients." She defined set standards of tone to use in all forms of communication with clients and prospects, created call scripts to maximize every client interaction, and developed strategies for situations like setting expectations with clients and delivering difficult news.
Welcome Sequence (Laura)
Laura's project focused on exceeding every client's after-sale expectations by creating a standardized communication plan for new clients over their first 60 days. The sequence utilizes several different forms of outreach, including an initial text message, a handwritten card, a welcome gift, an email sequence, and a phone call.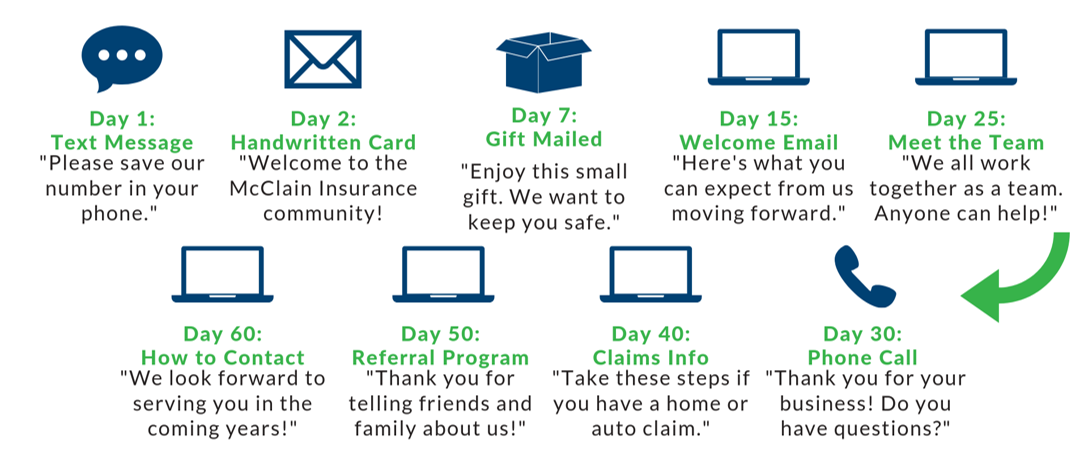 A synopsis of the agency's standardized welcome sequence
Renewal Reviews (Ann)
Ann looked at the renewal process, implementing proactive account reviews before renewal. She created a standard process for reviews that includes reviewing coverage to identify possible savings and contacting the client to discuss their options before renewal. The project also covered identifying and distributing the accounts, compiling a pre-call checklist for account review, and producing scripts for calls and emails with clients.
Promotions


New Business (Nick)
Nick headed a project to increase new business by implementing a repeatable process for closing sales. He developed a standard sequence for lead follow-up within the first three weeks of contact. This included calling online leads that came in within five minutes of receiving them, as well as creating communication templates for the calls, emails, and texts in the sequence.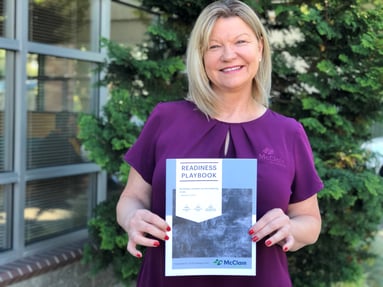 Earthquake (Dova)
Dova worked on promoting the agency's standalone residential earthquake niche, QuakeQuotes. She focused on standardizing the entire lead lifecycle for the program, including the process to submit a request online, as well as scripts and guides for quoting and following up over the first 30 days. Leads then flow into either the welcome sequence or into an earthquake-specific drip campaign, depending on whether they purchase.
Lost Souls (Kim)
Kim's area of focus was clients who left the agency. She headed a project to create a sequence to nurture clients for nearly a year after cancellation and encourage them to return. The sequence includes a letter and survey upon cancellation, emails to solicit feedback and offer another quote, and inclusion in select informational email campaigns and postcard newsletters throughout the year.
Implementing the incredible
Claudia's team kept focused and accountable on their projects by including them in their regular weekly staff meetings, where they use HawkSoft reports to track key metrics like renewals and new business. "The management system is the most critical tool an agency has," Claudia says. "Without it, nothing can get done. If we didn't have HawkSoft, we wouldn't have the ability to be as efficient or as responsive to the customer. HawkSoft has become so much a part of our agency's DNA that I can't imagine functioning without it."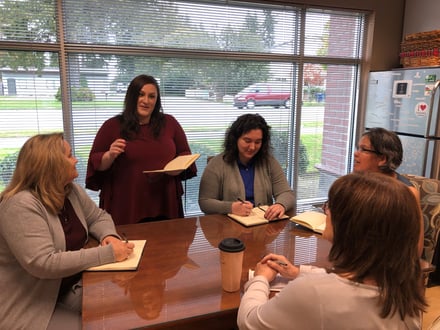 They also held separate meetings dedicated to each project. While every project had a dedicated owner, many of them overlapped and required collaboration with other team members, such as the client experience and welcome sequence projects. The team also tracked stats on a large whiteboard in the office to keep their goals in sight and in mind.

Some of the projects focused on things the agency was already used to doing, such as renewal reviews or new business, but "having a roadmap with guidelines and timing and communication templates improved productivity," Claudia says. "We didn't have to reinvent the wheel every time we sent a proposal or did a review." She reports that having a focused, standardized approach improved the agency's close ratio as well.

Other projects, such as the preparedness effort, were completely new and had to be built from the ground up. Claudia talks about it in terms of what she calls marketing muscle. "The first time you do a new campaign is always really hard. But the next time it's a little bit easier, and by the fourth or fifth time you can do it on autopilot." The marketing muscle the team built up working on these projects enabled them to apply for and receive two different grants from Safeco for local nonprofits they support.
An incredible outcome
McClain Insurance Services was named a Safeco Change Agent in July and awarded a $2,000 donation to the Everett Public Schools Foundation, where Claudia sits on the board--and the agency matched this donation with another $2,000 of their own. They also won the Safeco 2019 Agent for the Future Award for the Northwest region, which included a $5,000 donation that the agency matched as well. This one went to Big Brothers Big Sisters of Snohomish County, where the agency's vice president Nick Pembroke has volunteered for eight years.

Claudia explains that offering matches on donations and grants awarded to the agency's non-profit partners "is my small way of saying thank you to our companies for their commitment to our team's success and our community's health." She attributes the agency's ability to receive these awards to the work they'd already put in through their Power of 9 initiative: "Because of all the work and documentation our team had been doing individually and collectively, it was easy to package it with a bow to submit to awards like these."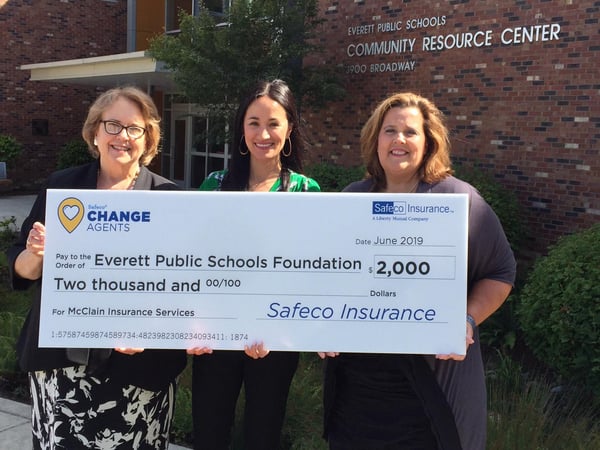 Claudia receiving the grant from Safeco for the Everett Public Schools Foundation

The benefits of their Power of 9 efforts were visible on a more individual basis as well. Claudia notes that giving each person a project to lead and be accountable for "made it very clear where some of our strengths and weaknesses are. There were strengths that we didn't even know were there until people had the opportunity to use them." She also points out that by allowing her team to carry more of the load, she has more time to lead the agency: "Their professional growth has freed me to focus on advocacy for our clients and the independent agency distribution channel. I feel so blessed to work with such talented, flexible, and diligent professionals."
The power of 9 in 2020
Even after all they accomplished in 2019, Claudia's team isn't planning on resting on their laurels in 2020. They're structuring things a little differently this year, while keeping the same emphasis on empowerment. This year the whole team will focus on a different project each month, with one person leading the charge. In January, for example, their project was to do more proactive requests for reviews by sending the requests by text, with Ashley taking the lead. In February the focus is on expanding their template library, and Nick will be the point person.

Claudia sums up her team's philosophy: "No matter how many processes and efficiencies we've put in place, we're never done. There's always something you can make a little more user friendly or customer friendly."
Empower your agency
Want to implement something like this at your own agency, but feeling overwhelmed by the prospect? Claudia's advice is to start small. "Don't worry about trying to do it all at once. Maybe start by choosing just one thing a quarter to tackle. Decide on a process and document it. And then that one thing will be much easier the next time you do it."

Her second recommendation is not to be afraid to ask for help. "You're not out there on your own," she says. "Make use of the people and resources around you. Everything we do today has been inspired by other agents and mentors, like Mike Stromsoe, who have kindly shared their processes and experiences over our 43 years in business."

This is why Claudia has shared all her team's materials from the initiative on the agency's website, including their project roadmaps, templates and scripts, examples of specific promotions, and more. "If something that helped my agency can make other agents stronger and more successful, it will make the whole independent agent distribution channel stronger and ultimately bring more value to the customer," she says. "And that makes things better for all of us. As long as independent agents keep growing together, improving on each other's ideas, and helping each other, our distribution channel will continue to thrive for generations to come."
Get started on your own Incredible Implementer project!
Download our template for help defining your project and creating an implementation plan