HawkSoft Version 5.3 implemented some exciting enhancements to the Certificate Wizard to make it easier and more efficient to create Certificates of Insurance (COIs) and manage the certificate holders and documents for each holder. These updates are especially helpful for those who may need to add and create COIs for large groups of holders at once, since they allow you to create COIs in bulk for similar holders.

Have you checked out the changes yet? Here's 4 ways the updates will help you save time and stay organized when creating and managing COIs in HawkSoft.
1. Keep track of relevant COI documents with the Document Library
We've added a new Document Library tab to the Certificate window that displays a list of all PDF documents from the client file that are relevant to the certificate, making it easier and faster to select which documents to include with each holder's certificate. The Document Library is specific to the client, so the same group of documents will be available for any COI being created for that client.

Documents need to be added to the Document Library before they can be included with a certificate. To add documents to the Document Library you can search files that are already attached to the client file, or filter by a specific policy. If you need to add a document that isn't in the client file yet, you can add it by dragging and dropping the PDF to the library (which will also add it to the client file).

The Document Library displays important information like the document name, type, attached policy, date attached, and effective date. You can also delete documents from the library if they're no longer needed.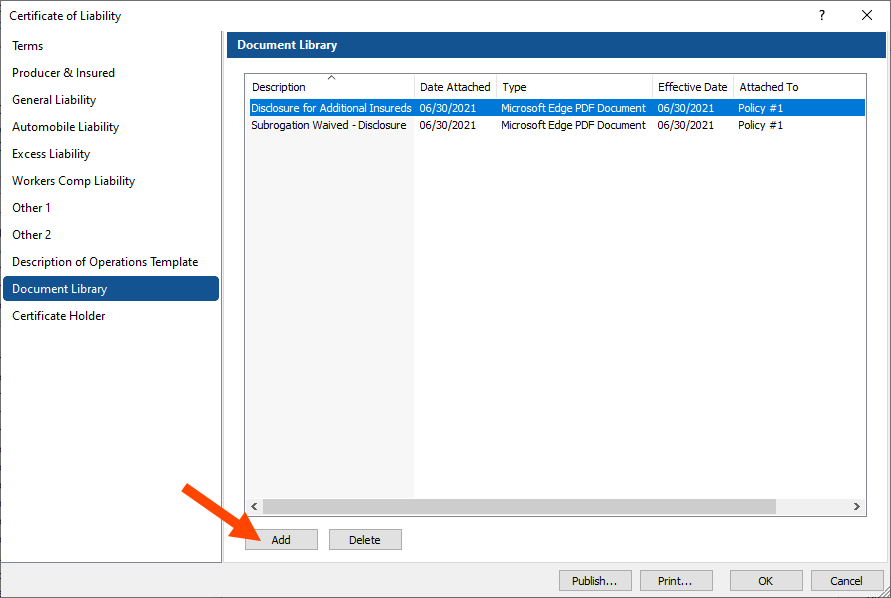 Document Library within a Certificate of Liability
"I am extremely happy with the changes made in 5.3. Typically renewing certificates takes me 1-2 months. I know this will help out tremendously."

Cait (HawkSoft customer)
2. View more details for holders and create COIs in bulk from the Certificate Holder tab
We've also made it easier to manage your list of holders for each certificate. The Certificate Holder tab on the COI now shows more details for each holder, like included sections (liabilities listed), sections where the holder is listed as an additional insured, liabilities for which the holder has waived subrogation, and the description of operations. If you have a large number of holders, you can even use the search bar to find the holder you're looking for by name or description of operations.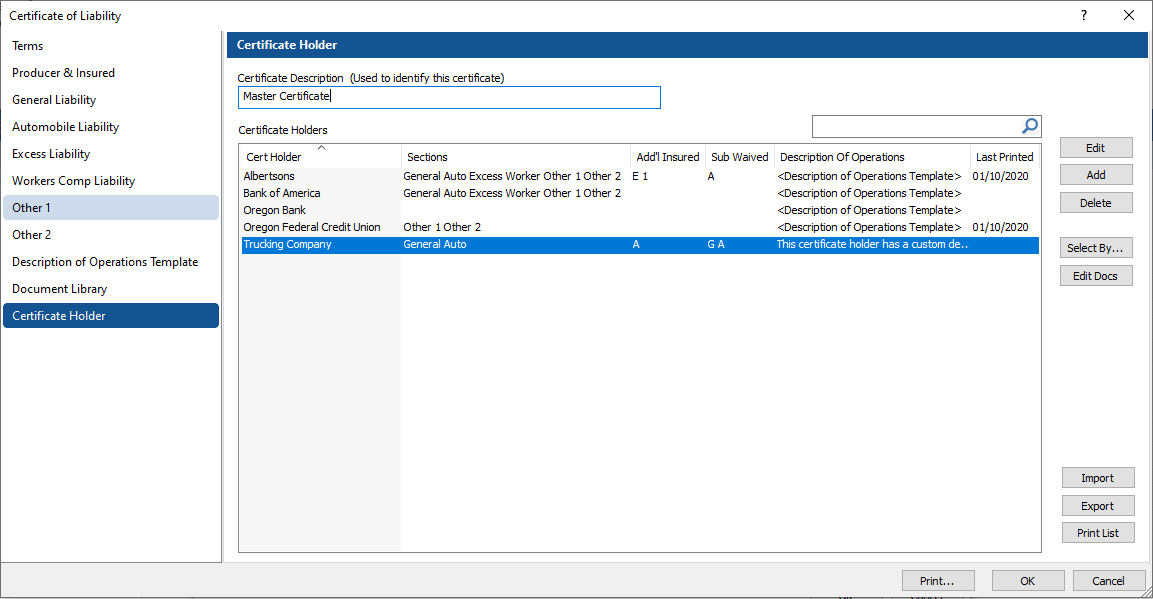 Certificate Holder tab within a Certificate of Liability
In this tab you can select one or more holders, or use the Select By button to filter holders by Sections Applied, Additional Insureds, or Sub Waived. Once you've selected the holder or holders you want, the new Edit Docs button lets you select which documents from the Document Library to include with the certificate . A checkbox next to each document in the Document Library shows whether all, some, or none of the holders for the COI have that document included.

These updates help you see more information about all cert holders at a glance, and save a huge amount of time by letting you create certificates for groups of holders, rather than creating each certificate individually. For agencies servicing commercial lines, there might be hundreds or even thousands of holders on a certificate, so creating certificates in groups can drastically reduce the time and effort involved.
"IMHO this was the biggest change to helping commercial agents HawkSoft has made. We have one account that requires approximately 1,500 certs at the end of the year. This update is a game changer."

Robert (HawkSoft customer)
3. See included sections & documents and add vehicles or locations when editing a holder
When editing an individual certificate holder, there are several new tabs that allow you to see and add more information for that cert holder. The Sections/Documents tab shows the Sections, Additional Insured, and Subrogation Waived options for the holder, as well as the list of documents from the Document Library that will be included with the COI. Here you can edit the settings and included documents for a specific holder.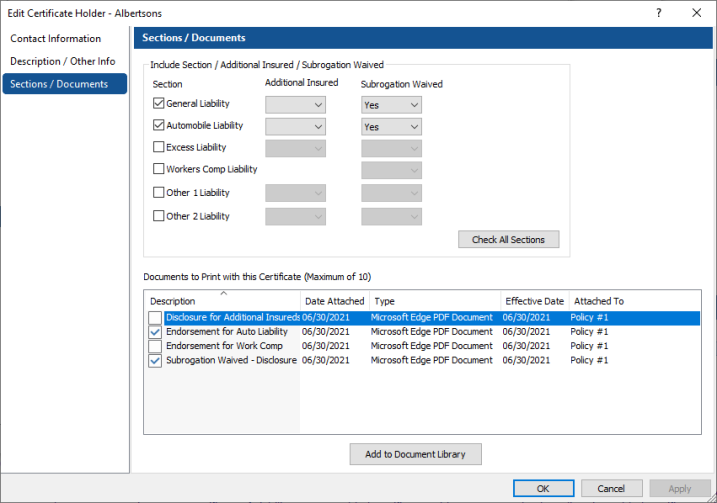 Sections/Documents tab when editing a Certificate Holder
The Description / Other Info tab lets you include additional policy details on the COI for that holder, including vehicles, locations, or buildings for holders that have requested specific details. You can use the Add Vehicle or Add Location buttons to see all items from the policy you select, and choose some or all items to include. These items are then flooded to the Description of Operations field. If you select the checkbox to "Include Vehicle Schedule/Location List on ACORD 101", it will appear on the list of included documents for the COI as "ACORD 101 – Additional Remarks."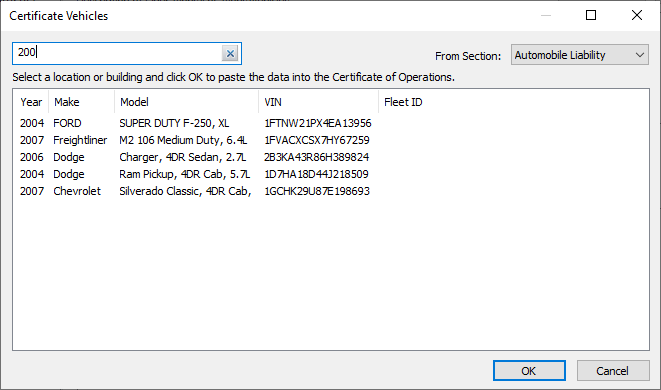 Adding vehicles to a certificate's Description of Operations (Description/Other Info tab)
"As a trucking specialist we issue certs in the thousands all the time. The vehicle schedule addition is superb!"

Jennifer (HawkSoft customer)
4. See sections & documents included for each holder when printing the COI
When printing/sending a certificate from the Certificate Holders tab, you can select all holders you want to print the COI for. Like on the Certificate Holders tab, you can search for a holder or use Select By to filter different groups of holders. The holders you've selected will display along with important information including Sections, Additional Insured and Sub Waived, and Description of Operations.

In the window beneath the list of holders, you'll see a list of the additional documents that will be printed for each holder according to your selections. This helps you confirm at a glance that you have all the right holders and additional documents selected before you print the certificate.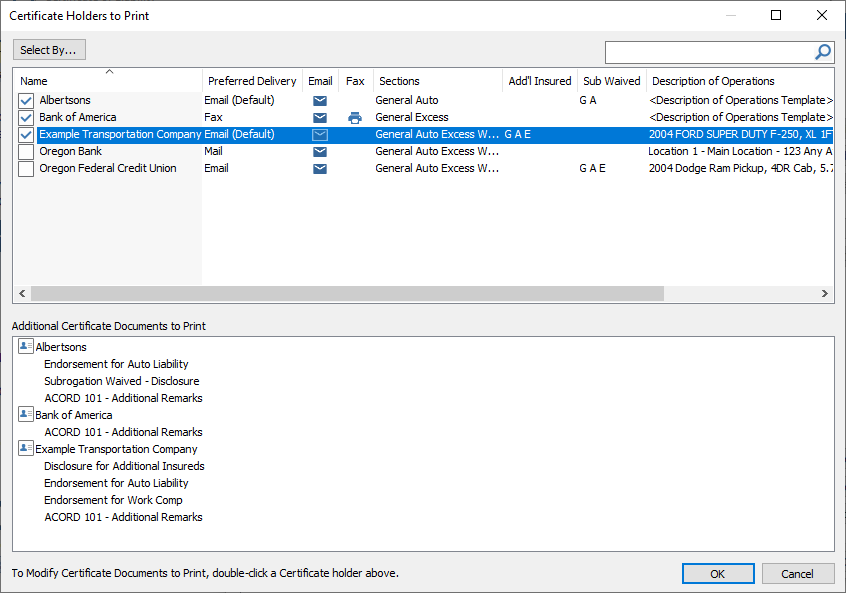 Printing a Certificate: Certificate Holders and Additional Documents
"Extremely happy with the changes to certificates, it is helping us tremendously. Like the way I can view certs before we send (with attachments)."

Chris (HawkSoft customer)
Manage certificates & holders easier than ever
These updates to certificates in HawkSoft will help your agency manage certificates quickly and efficiently, no matter how many holders are on the certificate. To get more details on these COI enhancements, see the Certificates of Liability Insurance Wizard section of the What's New in HawkSoft 5.3 page, and watch the included video. For more basic information about certificates, see our Certificate of Liability Insurance Overview in the Help Portal.
Learn more about Certificates in HawkSoft
Dive into the Help Portal to learn about setting up master certificates, managing certificate holders, printing & sending certificates, and more.