We want to congratulate HawkSoft agency YMI Insurance in Pennsylvania for recently receiving the 2023 Excellence in Technology and Social Media Award from PIA National! We sat down with Jimi Honochick, agency principal at YMI, to discuss what his agency is doing to distinguish itself on social media and get tips on how agencies can set themselves up for social media success.
In this article:
YMI's story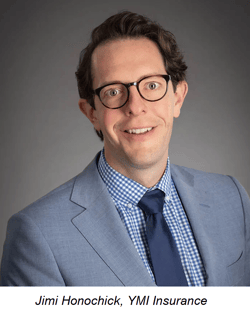 Insurance is a family affair for Jimi. His agency was started back in 1955, and Jimi's grandfather, father, and several uncles are insurance agents. After originally working in television production in LA and New York, Jimi got an MBA and worked as an equity analyst for several years. Ultimately he realized that his father's agency offered the opportunity for him to bring together his love of business and his passion for community involvement, and he is now Vice President of the agency's multiple offices in Bethlehem, Stroudsburg, and Allentown PA.

"In terms of who we are and what we specialize in, it's education and community that's really important to us," Jimi shares regarding YMI's vision. "The way I describe it is that we can only do as well as the communities that we serve, so why wouldn't we try to make them the best that we can? So that's a big part of our DNA. We are very involved in the community, we try to volunteer, we try to sponsor things, and just be out there and help."

One major focus of Jimi's since joining the agency has been creating a strong social media presence for the agency, something a background in TV production has positioned him well for. "For us, technology and social media are for us to educate and advocate for clients, and these are the pillars of the PIA," Jimi said to PIA upon receiving the award. "It's not just about creating funny content, it's about creating something that informs and engages at the same time. We use social media and technology as an extension of our agency, and being recognized for that is such an honor."
"It's not just about creating funny content, it's about creating something that informs and engages at the same time.
Connect and educate through social media
Jimi shares that the agency's social media goals are twofold: first, to connect with community, and secondly to educate. Rather than solely posting their own content, the agency also works to engage and start conversations on content posted by members of their community. This helps establish the agency as a presence and knowledgeable advisor in the community, while also allowing them to meet and connect with members of the community.

On the education front, the agency strives to find entertaining ways to provide education to their audience. "If I'm just out there reading off a policy jacket, no one's going to watch that video," Jimi says. "But if I can find a way to talk about coverages in a more exciting way, it will get views and it will get the message across." He mentions an example where he posted a video of his children driving their toy car into him, which he used to talk about uninsured motorist coverage.
Jimi discusses YMI Insurance's social media strategy
An omni-channel approach
With Jimi's background in TV production, the agency produces a good amount of video content that they post across their different channels. The agency focuses largely on Facebook and Instagram for their content, but posts slightly different content on LinkedIn and TikTok as well. "LinkedIn is a little more professional content," he says, "and we try to have a little more fun on Facebook and Instagram which is where the bulk of our content goes, and TikTok gets the videos." While he calls himself a "dabbler" in TikTok, he encourages agencies to try out different platforms and see where they get the most engagement.

Jimi has also recently started a podcast, YMI Talking, where he has conversations with business leaders in the community. "I didn't have a huge network when I came to the area," Jimi says. "So for me, it was really about building these relationships with people who are influential in the area. Everyone wants to come on and talk about themselves. So now I have a reason to engage with these people." While the podcast isn't focused on insurance, it's helped the agency network with other businesses in the area, which has led to leads and referrals.
Tips on managing social media
We asked Jimi for his advice for agencies who need help with social media or don't know where to start. He gave us some tips on how to get a social media strategy off the ground quickly and successfully at an independent agency.
Keep it simple
Jimi recommends finding ways to cut down the time it takes to spend managing social media and video content, either by finding the right tools or outsourcing some of the work. "Try to make it as simple as you can," he says. "As an agency owner you've got enough pulls on your time. Don't try to become an expert, just try to get content out as quickly and easily as possible. Don't spend too much time on it."

His agency uses Brightfire to organize and schedule content across platforms, as well as Riverside for their podcast. He mentions that he outsources the video editing for his podcast episodes. "I'm spending maybe $40 per episode. If I think about the time it would take doing it myself, it wouldn't be worth the ROI."

He points out that you don't need anything more than your phone to get started creating video content. Modern consumers are used to seeing raw, self-made videos and view it as authentic. "Just put it out there," he says of video content. "People spend so much time on their phones. You've got to find a way to be there."
"Don't be generic. People like you because you're you. I think a lot of people are scared to put themselves out there, but you do have something to say and people do want to hear it."
Make it a group effort
Jimi admits that it can be tough to get the entire agency involved in the agency's social media, but it helps to have more people to generate ideas. He suggests that it helps to have one person to spearhead efforts and get others at the agency to participate. "I go around and prod the staff and get them excited," he says. "And truthfully, they've come to me with ideas. I love when staff participates."
Be yourself
Ultimately, Jimi's recommendation to agencies on creating social media content is to be your authentic self. "Don't be generic," he cautions. "Don't just use the boilerplate stock photos of a family and say, have you thought about your life insurance? Everyone tunes that out. People like you because you're you. I think a lot of people are scared to put themselves out there, but you do have something to say and people do want to hear it."