Guest blog by Justin Jaksha, ePayPolicy
Guest blogs are written by contributors outside of HawkSoft. The author's views are entirely their own and may not reflect the views of HawkSoft.

At ePayPolicy our focus is on payment processing, but we know that's only one piece of the digital solutions puzzle for independent insurance agencies. Another area where agencies often need help going digital is with their marketing efforts. Modern marketing can be overwhelming, especially for those who manage a strict budget and don't want to take risks on marketing tactics that are either hard to prove a return on, or less familiar to them. Too many professionals have been dazzled by marketing "consultants" who managed to drive up certain metrics that never led to an increase in revenue.

For any agency looking to start, restart, or critically evaluate their current digital marketing efforts, here are some areas where a big impact can be made without massive spending.
In this article:
Clarify your story on your website & materials
Cost: Free, or work with your website/asset design team

First things first. Before launching significant marketing spending, many businesses don't take the time to fully develop their story. It seems so obvious, and yet many websites are full of vague copy like "protecting what matters" or "the team you trust." Phrases like this are generic, rampant, and not compelling. We have seen so much of it that it barely registers in our mind.

And it's an easy mistake to make. As the business, we are so familiar with our story and service that we take for granted both how little the customer may actually know, and how little time and attention they will actually devote to figure it out. Or, we have outsourced our website and other digital assets to an agency who doesn't fully understand our product or industry.

So how should you tell your story, then? How about this simple framework: treat your customer like the hero of the story. That's how they think of themselves (and how we all think of ourselves, too). What do they want? What do they need?

Now, your agency. You're the guide who understands their problem, has experienced it, and can articulate a solution. Lead with that solution, and then demonstrate across the website that you have the experience to solve the problem.

Be direct. Being clear is more important than being clever. How do you know if you're being clear? Ask yourself these questions when reviewing your website or other materials:
Is my product / service clear and easy to understand within the first 5 seconds of looking at this website, flyer, brochure, etc?
Is it full of phrases like "locally owned," "customer service," or "award-winning" that are common, non-specific, and not compelling? How can you make the language more specific to your agency?
Does the site take the customer's problem (what you're trying to help solve) for granted, or is it there?
Do you demonstrate clearly that your agency solves that problem?


Remember, the customer has found you because they have a problem that needs solving. Make sure you show the solution in clear, easy to understand language and make it easy for them to contact you.
Set up Google My Business
Cost: Free to set up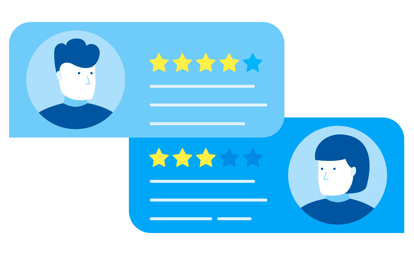 167 billion. That's how many searches are performed on Google each month. And for businesses looking to be found in searches like "best insurance in ____," Google has provided an effective platform aptly named Google My Business. Surprisingly, most companies rarely take full advantage of the opportunity.

Wordstream has an excellent post outlining a thorough (and free) approach to optimizing your GMB page, but here's the 3 most important things you can do.


Claim your business profile and fill out as many attributes as possible
HawkSoft's blog on setting up a Google My Business page gives some pointers on this process. Note that sometimes there's a slight delay here in claiming the business, as Google has to verify ownership, which (to date) involves a postcard in the mail with a verification code.

Politely ask your best (or all) your customers to leave a review
Google gives priority to higher-ranking businesses, and/or those with a consistent stream of reviews. A straightforward email asking them for help often gets a surprisingly high response rate.

Keep the page updated
Update the page occasionally with photos and posts, and respond to questions as they come in.

It should be no surprise, but Google will prioritize search visibility for those that take advantage of the tools they offer. The more thorough your setup and the more frequently reviews or updates show up on your page, the higher you'll show up in searches. This is critically important, as most studies show that 75%+ of searches never scroll past first page results.
Add your business to directory listings
Cost: Free, or monthly fee for services that streamline this for you

Google isn't the only source for showing up locally. Facebook, Yelp, Instagram, and others also create digital pins on the map that will help people find your agency online. HubSpot has a good article outlining the top 50 online directories, and you could go about the tedious, but mostly one-time, process of listing your business on each.
Or, you could consider trying a service like BrightLocal ($29 per month) for a period of time. BrightLocal will set up and monitor the listings, as well as detect duplicate or incorrect listings.
If you're going the route of doing it yourself, we recommend you prioritize Facebook, Yelp, Bing, and Yellowbook.com, to start.
Solicit referrals
Cost: Free, or monthly fee for services that automate this for you

Every study on referral marketing agrees: word-of-mouth and peer referrals are some of the best leads you can get. Built on existing trust, they often close faster and remain loyal customers.

But it's not always natural to ask for a referral at the close of a sale, so many companies have resorted to things like automated emails or texts soliciting the referral. If you'd like to try a software solution, ReferralHero is one of the better affordable solutions at $49 per month, without a contract.

If you don't want to commit to a software, you could set up emails or texts through your management system or CRM, and create a simple Google Form with the following copy:

We're so grateful you've trusted us to take care of your insurance needs. As a local business, we rely on word-of-mouth referrals, and would love to share our services with someone you know who might be a good fit. Do you know anyone looking for (services you specialize in)?

You could set up a reminder to send this email at a certain point after the sale, or assign to a specific team member. It doesn't have to be complex - just on time, and completed.

Note: Some companies offer referral incentives when a referred client becomes a customer. This may be a compliance issue on a state-by-state basis, and should be researched.
Craft engaging emails
Cost: Free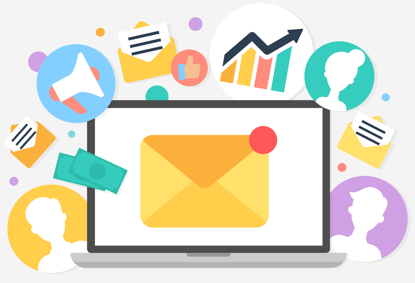 Many businesses are far more cautious in regards to sending emails to their list of clients and prospects than they need to be. The important thing to consider is how much value an email creates for the reader.

In fact, businesses that take the time to craft emails that add value to the reader often find email is their most successful outlet for new business and upsells. Email newsletters like The Hustle have earned literally millions of newsletter subscribers just because of the quality content they pull together.

But where to start? Well, what are you an expert on? Could you turn that expertise into a series of tips or learnings? Do you have new products for a particular segment of your customers, and can you articulate their value? Do you have any promotions, or seasonal considerations for your product?

Start there. It doesn't have to be beautiful or overly designed. In fact, many of the best B2B emails are simple, plain text emails that get to the point. Gong offers a great guide on effective email crafting.

Tip: Be sure to segment out your existing customers, and prospects. You can send more frequently, and say more, to customers.
Write posts for local blogs
Cost: Free, or one-time fees for copywriting assistance

Speaking of expertise, it's not uncommon to find other local blogs or business associations who would be happy to let you guest write a topic related to your expertise. You then get the benefit of them sharing your expertise with their network, linking back to your contact info. This once again helps your SEO and improves your chances of being discovered online.

Not a confident writer? That's ok! You can often hire one inexpensively on services like UpWork for a low hourly fee. They can interview you and pull out the copy, or even refine rough drafts or bullets you produce.

What types of blogs might make sense? After checking with local and specialty business groups, look for entrepreneurial blogs or accounts, or even small business-focused blogs. Many of these rely on a steady stream of fresh content to keep their audiences engaged, and take no offense when receiving a sample offer for original content.
Make the digital experience work for you
We've seen firsthand how a digital solution can revolutionize payment processing for agencies. These tips will help you do the same with your marketing efforts, resulting in significant rewards for relatively small investments of money or time.
Manage payments with ePayPolicy
Our passion at ePayPolicy is making your payments simpler, faster, and more modern so that you spend less time managing cash flow and more time growing your business and delighting your customers.