Guest blog by Paul Moody, Bluejay Reviews
Guest blogs are written by contributors outside of HawkSoft. The author's views are entirely their own and may not reflect the views of HawkSoft.
Word-of-mouth referrals are a vital part of gaining new clients in any agency. In today's digital world, your agency's word of mouth is happening online. 90% of consumers read online reviews before making any buying decisions, and 85% of millennials trust online reviews as much as a personal recommendation (BrightLocal). Reviews on sites like Google, Facebook, Yelp, and many others not only impact your potential to obtain future clients, but can also have a significant effect on your bottom line. A recent study has shown that a one-star increase in ratings can mean an increase in revenue by 5–9%.

As an agency you strive for all positive reviews, but that is not always the reality of the clients' feedback. While you work hard to provide a great experience for your clients, sometimes the experience might not be great on their end. An occasional negative review is bound to happen, but if you don't have many reviews to begin with, it can take a major toll. In this article we'll explain how to handle negative reviews, as well as improve your agency's overall ratings by getting more reviews.


This article at a glance:
Acknowledge the situation
Move the conversation offline
Learn from the experience

Solicit reviews after pre-defined touchpoints
Direct clients to review sites where your reputation needs improvement
Leverage your positive reviews to gain more clients
Turn a negative review into a positive experience
One problem all businesses face is the fact that they can't control their online reputation. Anyone can go online and say anything about a company with very few consequences. While we may wish we could simply erase negative reviews, most review sites make this impossible. The best way to minimize the effects of those unfortunate negative reviews is to outshine them with more positive reviews (more on that later).
When you do receive a negative review, it is important to view it as an opportunity for your potential future clients to see how you handle a situation when something does go wrong. No one expects you to be perfect. Consumers understand that things happen, but they want to see how you responded to previous issues so they know what to expect if they encounter issues during their interaction with your agency.
Here are three steps that will help your agency put its best foot forward when responding to a negative review.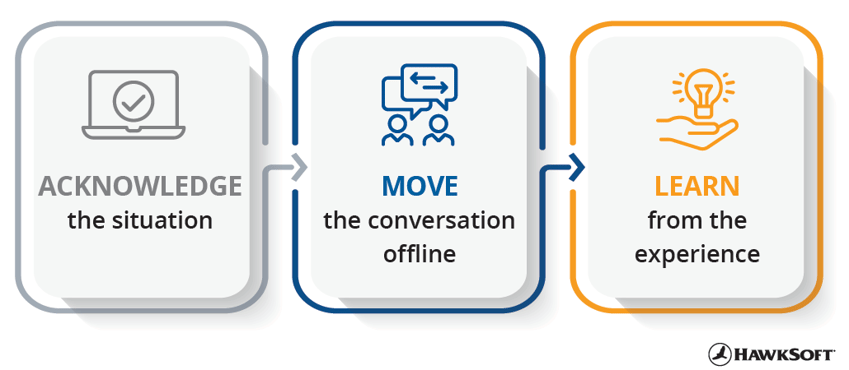 1. Acknowledge the situation
It's important to remember the 3 Ps, especially on negative reviews: respond promptly, professionally, and publicly. Doing this will show the client who's had a bad experience (and all the other potential clients reading the review) that your agency cares. When you promptly respond to a bad review and apologize or explain why a mistake or unsatisfactory experience happened, the gesture goes a long way.
2. Move the conversation offline
Sometimes a negative review can get out of hand if you keep replying back and forth with a disgruntled client. Publicly invite the upset client to contact you or a member of your team directly to help rectify the situation, and reach out to them privately if you don't hear from them. This can prevent a bad review from getting worse, and will give you the chance to retain an unhappy client by resolving the problem. In fact, calling an upset client and addressing their issue within 48 hours of receiving their feedback more than doubles an agency's chances of retaining them over the next two years. Once you have resolved the issue to the customer's satisfaction, you may want to ask the customer to make an update to their review. Use your best judgement and handle this on a case-by-case basis, as every situation and customer is different.
3. Learn from the experience
A business that has many reviews stating the same complaints or issues may raise some red flags for potential clients. Once you've had a bad review written about a certain aspect of your agency, strive to make improvements immediately. Use your reviews as a learning tool for yourself, your agents, and all employees to help offer a better overall experience for your client. Make sure to publicly comment on the aforementioned review with the changes you've implemented to solve the problem.
Improve your agency's overall rating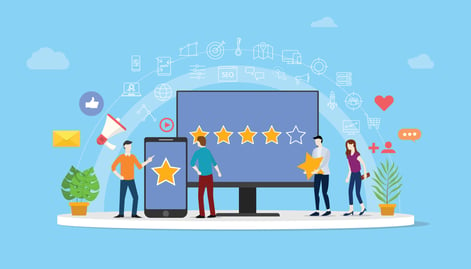 A company's star rating has been shown to be the #1 factor in consumers choosing a business. In addition, Google prioritizes review sites for SEO, so the more positive reviews your company has, the more visibility you'll get on Google and other search engines. But if your agency doesn't have many reviews, even one or two negative reviews can have a major impact on your rating.
While negative reviews tend to happen organically (when someone has a bad experience they need little motivation to go online and vent about it), the majority of clients who interact with your agency are probably very satisfied but haven't thought to leave a review. 70% of happy and satisfied clients will only go online to speak positively about your agency if you ask them to and make it simple for them to do so (BrightLocal).
The best way to improve and maintain your agency's overall rating is by getting more positive reviews. Here are a few tips on how to do it.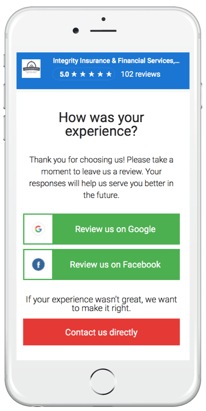 Solicit reviews after pre-defined touch points
Soliciting a review at the right moment is critical for getting the best feedback from your clients. Some great opportunities for requesting reviews could be after adding a new client, writing a new policy, or settling a claim. By integrating your review and reputation management into Hawksoft, you can automatically solicit those reviews via text and email, but you can also always just ask your clients via email or on the phone while you have their attention. Make sure to include a hyperlink within your email to the specific review website where you'd like them to write it.
Direct clients to review sites where your reputation needs improvement
There are over 180 review sites across the web. Not all sites are applicable to your industry, so pay attention to which sites your agency is listed on: Google, Facebook, Yelp, Better Business Bureau, Yellow Pages, etc. When a client is searching for reviews on your business they will be directed to many different sites. If you notice that your agency is thriving on one site but not on another, then make sure to begin soliciting your reviews on the sites that may need help. This will begin to boost your overall star rating across the web and can ultimately increase SEO, helping potential new clients find and choose your agency over your competitors.
Leverage your positive reviews to gain more clients
Once you are receiving more and more positive reviews by soliciting them from your happy clients, you can leverage that positive sentiment to attract potential new clients, which will in turn generate more reviews. One great way to do this is by sharing your best reviews on your social media pages and websites.
Automate the review process
If your agency doesn't have time to constantly manage reviews on top of everything else, you might want to consider using an automated review management platform, like Bluejay Reviews. This will help you solicit, manage, respond to, and promote reviews from any site in one location with minimal effort. For example, Bluejay Reviews will allow your agency to:
Send personalized texts or emails to every client automatically
Automatically send clients to review sites such as Google, Facebook, Yelp, etc.
Monitor and respond to new reviews from all review sites in one easy-to-use dashboard
Increase your overall star ratings
Receive text and email alerts whenever your agency receives a new review on any site
Promote your best reviews by having them automatically posted across your social media pages and website, ultimately increasing your SEO rankings
Get other enhanced capabilities such as Surveys, Competitive Benchmarking, Net Promoter Scores, Keyword Insights and Review Data Analytics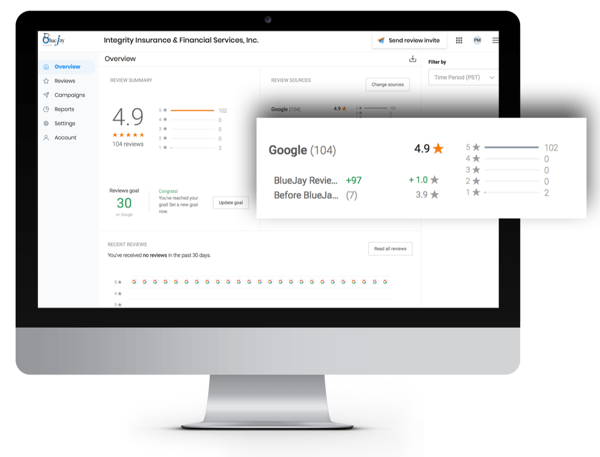 The Bluejay Reviews platform
Your agency's digital lifeblood
Reviews are a vital part of your agency's online presence. With the right strategies and tools in place to gather reviews and address negative ones, you can boost your agency's referrals, new prospects, and client retention.
Take control of your agency's reputation with Bluejay Reviews

See how our review and reputation management service can help your agency thrive online