HawkSoft New Bern Open House - May 2, 2019

Spring is a time for new beginnings. Gardens begin to bloom, animals' young open their eyes for the very first time, and the rest of the earth awakens with life after a long winter slumber. It's a season of exciting and amazing transformations.
At HawkSoft, we celebrated spring with the grand opening of a second office location. Nestled in the coastal town of New Bern, North Carolina, is the home of our newest offering to independent agents, HawkSoft Managed Accounting Services. The new service is managed by Crystal Erlitz, a native of New Bern. HawkSoft welcomed the New Bern community to its open house on May 2, 2019.

Investing in the community, people, and their future
HawkSoft understands that great partnerships are hard to come by. It requires a trifecta alignment of culture, vision, and expectations. We are blessed to have found a match with Crystal Erlitz and the great community of New Bern, North Carolina.
Crystal Erlitz, born and raised in New Bern, is the founder of C.M. Temple & Associates, a provider of small business insurance bookkeeping solutions. HawkSoft and Crystal have successfully serviced common clients since 2015. HawkSoft saw a growing demand in providing comprehensive insurance accounting and bookkeeping services to independent agencies. C.M. Temple & Associates' culture and core values align so closely with HawkSoft that we knew a partnership was imminent. The relationship allows two organizations that understand the insurance space to offer unprecedented accounting services to independent agents. It was the beginning of HawkSoft Managed Accounting Services.

Why New Bern
The final decision to acquire C.M. Temple & Associates came after a trip to New Bern in September, 2018. The trip coincided with clean-up efforts from Hurricane Florence. The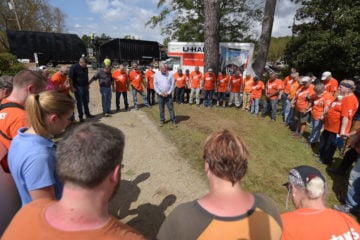 HawkSoft team was deeply moved by the community's resilience in the aftermath of the natural disaster. HawkSoft knew then that this was more than a business partnership; it was an investment in a community and its future. New Bern felt like our home in Canby, Oregon — similar size, deep family roots, and hospitable people who cared about each other and their community. HawkSoft wanted to be a part of this place, these people. Merging our talents and communities is a natural fit and embodies one of our core values, Sense of Community.
"Each day we come to work, and we are all proud to be a part of something new…something bigger than ourselves. We are all thankful that place is HawkSoft. We are even more thankful to be a part of this amazing New Bern community that supports business growth and cares for and about each other!"

— Crystal Erlitz
Manager, HawkSoft Managed Accounting Services
The establishment of the New Bern office also opened the door to provide these additional benefits to HawkSoft's customers:
Local Customer Support Team offering better service hours to our east coast customers
Increased security by having an additional location for backups and disaster recovery solution


Honorary guests
HawkSoft was proud to host staff and their families, local leaders, and fellow small business owners at the open house. Crystal Erlitz and HawkSoft would like to extend a special thank you to Kevin Roberts (President, New Bern Area Chamber of Commerce), Dan Roberts (Financial Advisor, past chair New Bern Area Chamber of Commerce), David Stroud (VP of BB&T, treasurer of the Craven 100 Alliance), Sabrina Bengel (City of New Bern Alderman), Bob Van Ells (New Bern Area Chamber of Commerce board member), and the staff of the New Bern Area Chamber of Commerce.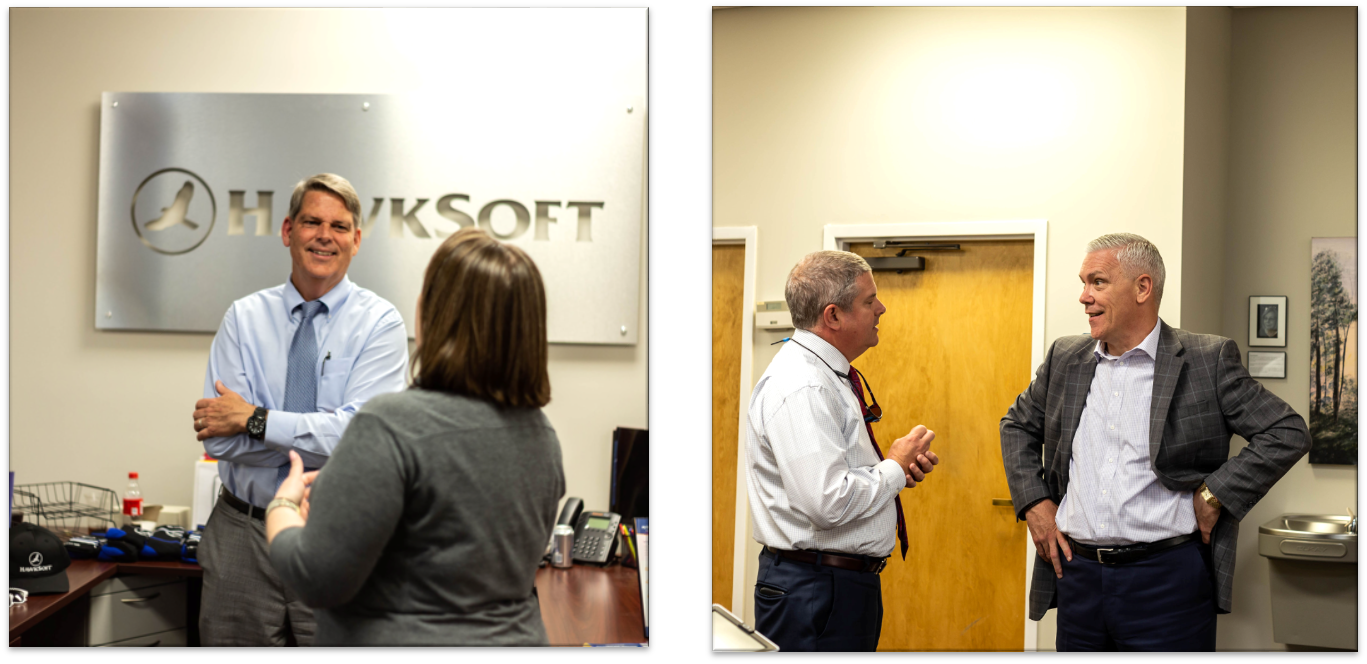 David Stroud Dan Roberts (l), Kevin Roberts (r)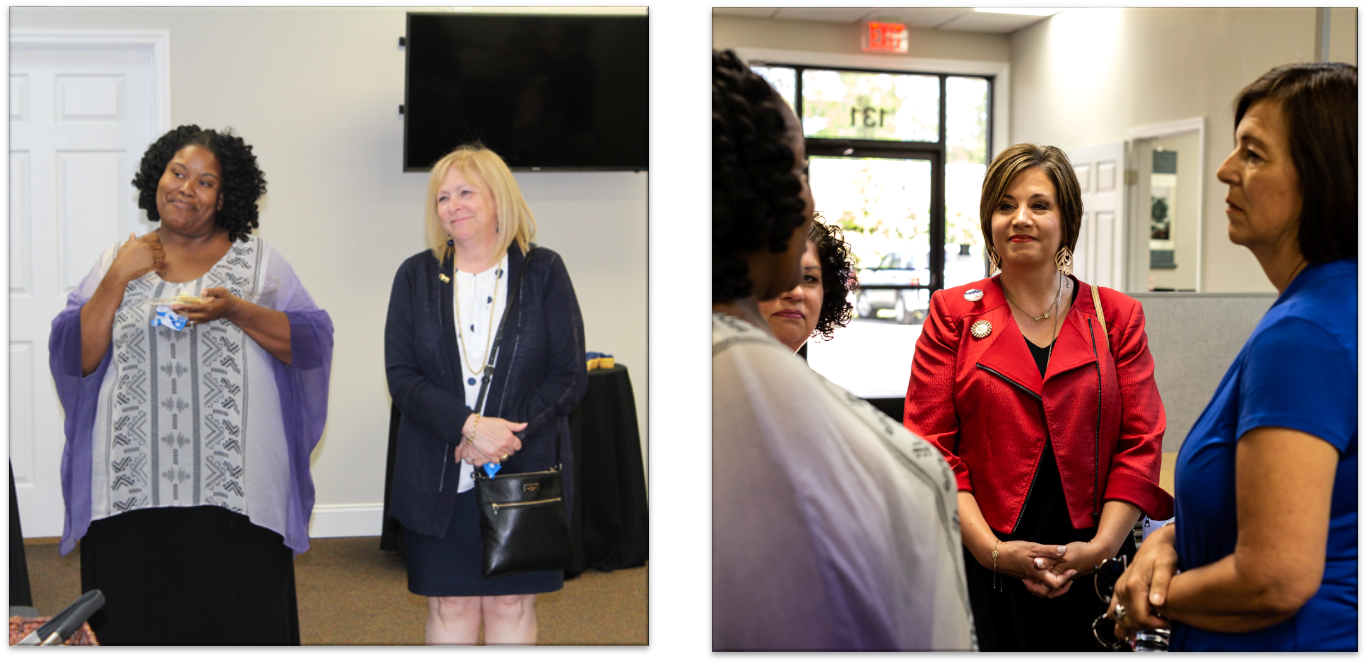 Sabrina Bengel (r) Mary Ann LeRay -

The Filling Station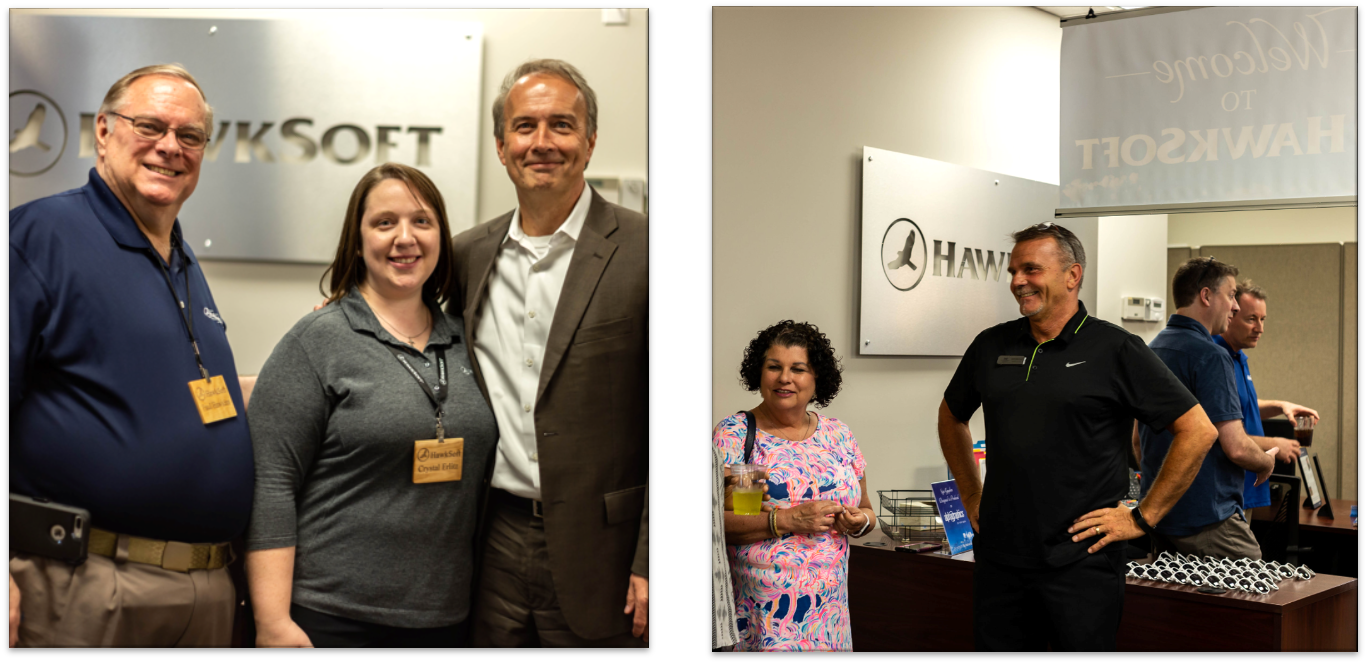 George Robertson - Robertson Consulting Bob Van Ells
"Even more exciting," says Crystal, "is we had the privilege of spending time with Paul and Carol Hawkins, Sean and MyLiege Hawkins, and Jason Hansen. What an honor to have the co-founders of HawkSoft in our new work home! Heather Hansen was missed, but we know she was there in spirit."
It also gave HawkSoft co-founders much pleasure to watch Crystal interact with our guests of New Bern, most of whom she knew on a first-name basis. Her relationships run deep with the community of New Bern.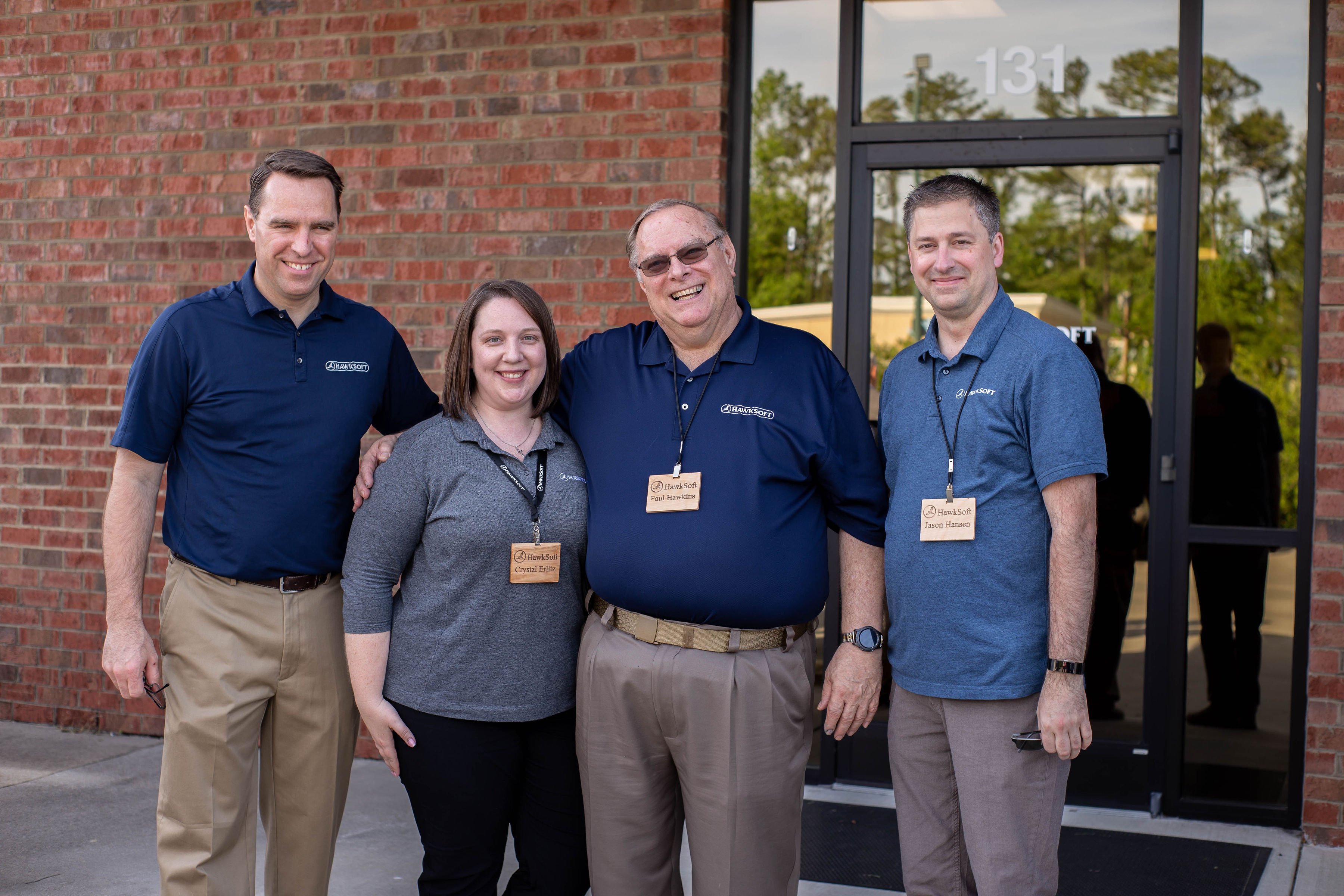 Pictured left to right: Sean Hawkins, Crystal Erlitz, Paul Hawkins, Jason Hansen
"We really enjoyed meeting with community leaders and to see their excitement for bringing business into New Bern. It is a great community with a lot of potential for growth. We look forward to investing our time and resources to positively impact the people of New Bern, while building lasting friendships along the way."

— Sean Hawkins
VP of Development
Crystal and her staff also had a few surprises up their sleeve for the Hawkins family. Upon arrival, they were greeted with a beautiful engraved HawkSoft metal sign, along with eight matching plaques that proudly display the company's eight core values. Crystal and her team had pictures that MyLiege Hawkins had taken of Oregon printed and hung in the office as a surprise. Jason Hansen also joined the festivities by secretly reproducing a painting that hangs in Paul Hawkin's office. This is extra special to Carol as she is the artist of the painting.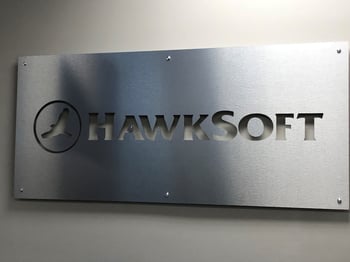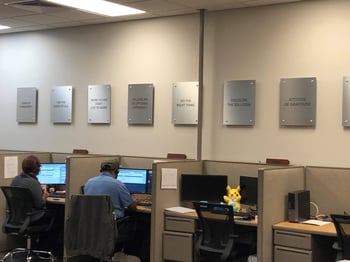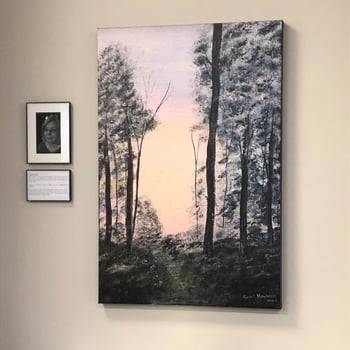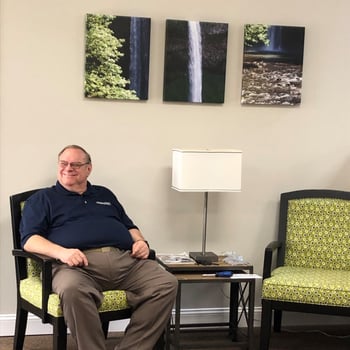 See more photos from the Open House
Fun facts about New Bern
New Bern is more than just HawkSoft's newest office location. It has an interesting history. Founded in 1710 by a Swiss Baron, it was named after Switzerland's capital, Bern. "Bern" is the old Germanic word for bear.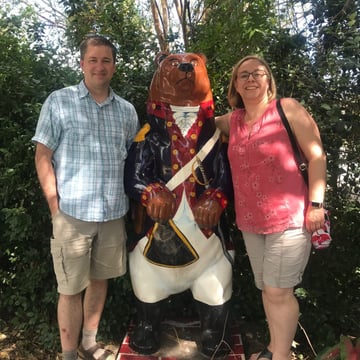 The animal became the mascot and symbol of both Bern, Switzerland and its sister city New Bern, North Carolina. There are plenty of unique photo opportunities next to one of the many bear statues featured throughout the town.
After the Revolutionary War, the city bore the honor of being the state capital until the early 1780s.
New Bern might also be the only town in the U.S. where you can't easily find a bottle of Coca Cola! As the birthplace of Pepsi (originally called Brad's Drink), first time visitors should be careful not to ask for a Coke among loyal Pepsi patrons. Pepsi lovers can pay homage to the cola's roots at "
The Pepsi Store," a favorite New Bern attraction
that is located at the exact
Jason and Heather Hansen
"Birthplace of Pepsi" in Bradham's original downtown drug store.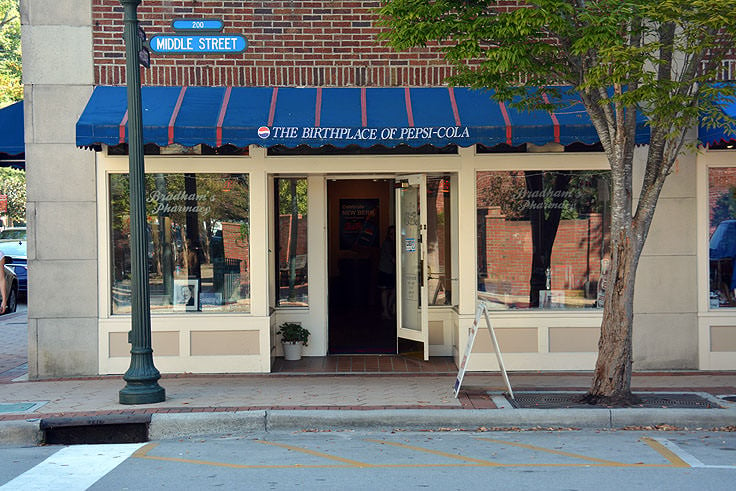 Source: Crystal Coast VisitorsGuide