Guest blog by Scott Silliman & Kat Ternes, AgencyZoom
Guest blogs are written by contributors outside of HawkSoft. The author's views are entirely their own and may not reflect the views of HawkSoft.
Recently, I stumbled upon a study from LeadSimple showing that the perfect time to respond to digital leads is a mere 5 minutes after form submission. According to LeadSimple, a prompt response can result in calls that are nearly 21 times more effective. This got me wondering, with leads being the lifeblood of the insurance industry, how well are agencies across the United States meeting that 5-minute goal?
In this article: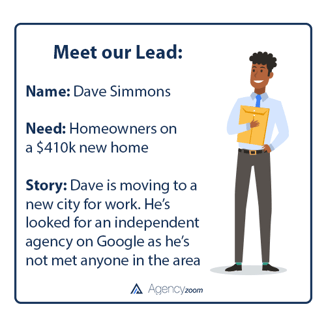 The test
Let's start by looking at statistics beyond our world of insurance. Harvard Business Review found that only 37% of businesses responded to leads within the first hour and a mere 26% hit that all-important 5 minute goal. That's not good news for nearly two thirds of businesses who took far too long to respond. Surely, insurance agencies must be better than this. While competing against direct to consumer brands like Root, Lemonade, and many others, we must be faster… right? Now that I had a bar for success, it was time to see how the insurance world reacted.

To begin my test, I created a uniform lead that was appealing across the country. Meet Dave Simmons, new to your city. He's just signed on a $410k home and has stumbled upon your independent agency through Google. As Dave, we submitted requests to 150 independent agencies across the United States. So, how did we all fare?
The results
Before we launch into the details, take a look at this infographic summarizing our findings.

The good
Let's start with the good news. Our top nine performing agencies absolutely killed it. These teams were responding in just 3 minutes and making five to ten points of contact by the end of our 48 hour deadline. They took advantage of automation, but incorporated human interaction swiftly and efficiently to win Dave over. It's also worth mentioning that the state of Kentucky sported an impressive 10 minute average response time across all agencies. Though there were only a handful of agencies who met the five-minute mark (6% of agencies surveyed), these guys left an impression that lasted and proved that the future of insurance is indeed bright.
The bad
On the other hand, 6% is hardly the 26% Harvard Business Review found across industries. In an industry where customers mean everything, it surprised us just how slow many agencies were to respond. Only 30% of agencies surveyed responded within the first hour, as opposed to the 37% metric that Harvard reported across industries. This is a much closer gap than agencies responding in less than 5 minutes, but it shows there's still work to be done.
The ugly
Most shocking is that an astounding 34% of agencies never responded to our submission, whether it be due to broken webforms, confirmations they sent out but never followed up on, or never attempting a call or sending an emailing at all. In fact, not a single agency we surveyed in the state of Georgia reached back out. We've seen agents spend huge sums of money to attract great customers, so as the total in lost premium surpassed $121,879.00 across these agencies it felt more like oversight than willful neglect.
Response methods
Looking beyond performance, I wanted to break down some of the more popular modes of reaching out to leads. Of the 99 initial responses we received, 60% responded via phone call, 38% checked in with an email, and 2% took advantage of text to reach Dave.
Those in our top 9 stood out, not just in their swiftness to respond, but in their leveraging of all three of these technologies throughout the first 48 hours. After looking through hundreds of agency and producer names, it's these 9 that were in a class of their own.
What your agency can do today
How can you count yourself among the agencies working towards a stronger tomorrow?
Put processes in place to reach out within an hour of receiving a lead (reaching out in under 5 minutes will put you in the top 6% of agencies per our data)
Contact leads through multiple methods (only 2% of agencies in our study used texting, so this might set your agency apart)
Test your forms and any automated processes to make sure leads aren't being missed and forms and other processes are working as expected
Explore automation opportunities such as

AgencyZoom

, which can ensure engagement with leads is swift and consistent
Conclusions
In the end, our industry fell short of the wider world of sales in all key metrics measured. It's clear there is still a lot of work to do for agencies across the United States to start reaching customers in a more timely and consistent manner. However, this experience has also helped show us just how powerful the marriage of sales teams and technology can be. Those agents who leverage these technologies truly shine above their peers in response time, consistency, and persistence to show their dedication to their customers and close a sale. They recognize a future that is barreling towards us—the only question remaining is how your agency will embrace the changes necessary to succeed.
Learn how AgencyZoom's integration with HawkSoft can help you automate the lead response process