HawkSoft held a virtual Town Hall & Product Roadmap meeting on July 9th for those who had registered to attend the 2020 HUG National Conference in Orlando, which was cancelled due to COVID-19. This meeting gave an overview of what HawkSoft has accomplished over the last year and where we're heading in the future. We also announced the winners of the inaugural Dick Fanazick Award and Referral Race awards.
We'd like to share the recording of the meeting with you and a summary of what was discussed.

2020 Town Hall webinar recording
Click here for presentation slides
Table of Contents:
Upcoming HUG Events
Mike Skeele
President, HawkSoft User Group Board of Directors
Watch Now
Mike was sad not to have the chance to see everyone in Orlando, but is looking forward to the 2021 HUG National Conference in San Diego at the Town & Country Hotel on April 7-9, 2021 (register here). He's also excited for the regional HUG meetings being held virtually this fall. There will be around 6 regional meetings, which will cover a range of topics and user levels. Limited seating will be available in the live sessions, but recordings will be made available after the fact. Registration for these events will become available in September, so stay tuned for more details! If you're not yet a member of HUG (HawkSoft User Group), you can register for free here.
Awards
Paul Hawkins
CEO and Co-founder, HawkSoft
Watch Now
Paul announced this year's winners of the Dick Fanazick Award and the Referral Race Awards.


Dick Fanazick Award
Paul was excited to announce the first-ever winner of the Dick Fanazick Award, which was created to recognize mentors who have changed the lives of HawkSoft customers, just as elementary school teacher Dick Fanazick encouraged Sean's love of programming. HawkSoft customers submitted nominations for the award, and a committee made up of HawkSoft employees, customers, and third-party members voted on the winner.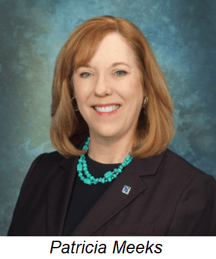 The winner of this year's award is Patricia (Pat) Meeks, nominated by Michael Ley of Ley Insurance. Pat was Michael's middle and high school band teacher in Lima, Ohio. She taught him valuable lessons of determination and leadership. Learn more about Pat and Michael's story in our blog article Lessons from Patricia Meeks.
Pat and Michael will each receive a $250 gift card, as well as a $1,000 donation from HawkSoft to the charity of their choice. Pat has chosen to donate to the Ohio Foundation for Music Education and the American Cancer Society, and Michael has chosen the National Brain Tumor Society. Thank you to Michael for your inspiring nomination. Thank you to Pat for everything you've done for the countless children you teach, who will become our next generation of leaders!


Referral Race Awards
Paul also gave out the first awards for the HawkSoft Referral Race program that was started in 2019 to reward customers for spreading the word about HawkSoft's people and services. Paul noted that over 50% of HawkSoft's new customers are referrals, either from customers or carriers, and that the referral program is HawkSoft's way of thanking customers. To that end, in 2019 HawkSoft awarded a total of $27,833 in credits to referring agents! The Referral Race helps agencies receive HawkSoft credit, and agents earn cash prizes, for referring customers. Learn more about the HawkSoft Referral Program here, and see the top 12 referring agents of 2019.
The top referring agent of 2019 and winner of the $1,000 grand prize is Chris Paradiso of Paradiso Insurance, who earned nearly $4,000 of credit for his agency! Paul also drew a winner for the annual $500 gift card drawing from a pool of the top 3 referring agents for each quarter. This prize went to Malik Bhagat of Legacy Insurance Partners. Congratulations to Chris and Malik!
Year in Review
Sean Hawkins
VP of Development, HawkSoft
Watch Now
Sean shared a summary of everything HawkSoft has completed over the last 15 months, including huge strides made toward HawkSoft Cloud with the release of exciting new cloud features. See all new features below. He also highlighted HawkSoft Text Messaging, which is now in use by over 30% of HawkSoft agencies, has been used in over 120,000 unique text conversations with insureds, and has sent and received over half a million texts. Sean and HawkSoft Product Owner Ryan Reese also did a demo of the new Self-service Certificates add-on to illustrate the process for both the agent and the insured (watch here).
Cloud Features Launched
Data Sync

,

freeing agency data for use with web-based and cloud-based features, services, and integrations.

API integrations with third party vendors

. As of this writing, we have 8 live integrations, another 14 working to go live for the next few months, and around another 40 in review for future integration.

HawkSoft Text Messaging

, federally-compliant messaging available within HawkSoft at no additional cost.

Self-service Certificates

, an add-on that lets agencies give insureds the ability to produce on-demand COIs for cert holders.

Seat Management Portal,

a tool in HawkSoft Marketplace to simplify the management of your HawkSoft licenses.



HawkSoft's Self-service Certificates portal for the insured, accessible via mobile
Other Features Launched
Major Features
Locations in HawkSoft can launch Google Maps

Workers' Comp policies enhanced to

track Hazards information

Ability to import and export lists for Scheduled/Unscheduled Property,

Drivers/Vehicles

, and Certificate Holders

Submission Tracking

for documents sent to carriers

Policy History tracking, the first step toward historical reporting

Significant improvements to Certificate of Insurance workflows, including better tools for sending out certificates
Incremental Improvements
New Merge Fields for Correspondence and Text Message templates

Commission Override workflows for Remarketed policies

Additional options for a User's default web browser and the ability to set a default browser per carrier

Ability to update NAIC Codes using Data Replace and the addition of carrier-specific NAIC Codes in Policy/ Carrier Setup

See our 2020 Product Roadmap for the full list of HawkSoft features released in 2020.
Partner API Integrations
Kenny Hendricks
Business Development Coordinator, HawkSoft
Watch Now
Kenny explained HawkSoft's advances in adding integration partners through the Partner API. This allows agents the freedom to sync HawkSoft data with third party services like CRM platforms, marketing automation, insured app support, reputation management, AI and business intelligence, and much more. He reminded agents of the 8 partner integrations that are currently available in the HawkSoft Marketplace, as well as 4 integration partners that will soon have integration and another 40 who are currently in talks with HawkSoft. Agents can email opportunities@hawksoft.com with suggestions of vendors they'd like to see HawkSoft integrate with.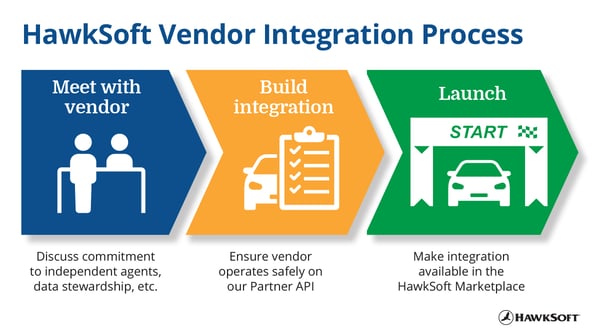 Integrations Available as of July 2020

See the most current list of all available API integrations on our Partners page.
What's Coming to HawkSoft
Sean Hawkins
VP of Development, HawkSoft
Watch Now
While HawkSoft has accomplished a lot in the last year, we're just scratching the surface of what's possible in the future with HawkSoft Cloud. We continue to work toward creating a fully web-based system with data hosted in the cloud by HawkSoft, rather than on an agent's local server or through a third party online provider. This will allow agencies freedom of data, where they can access their data from any device and connect it to other platforms if they choose.


HawkSoft Cloud Progress


Moving from a robust desktop-based system to a browser-based one, while retaining all of the current desktop features and functionality, is a major undertaking. Instead of stopping all work on new features to completely rebuild HawkSoft in the cloud, Sean affirmed HawkSoft's plan to allow users to continue using their desktop platform while incrementally transitioning desktop features to the cloud and browser. He used the analogy of rebuilding an airplane in flight; we'd take the metaphor a step further to compare it to performing maintenance on the International Space Station. It's impractical to bring the entire station back to earth once it's launched, so maintenance is performed gradually, piece by piece, while it's in orbit. Sean noted that this is not the first time HawkSoft has reinvented itself: the program originally ran on DOS and was migrated to Microsoft. The move to cloud will be a similar transition, moving HawkSoft onto the newest platform for technology. Learn more about how HawkSoft Cloud will be different than the current iteration of HawkSoft in our blog Answering Questions about HawkSoft Cloud.
HawkSoft 5, the upcoming version of HawkSoft, is the first step toward this migration of data to the cloud, with 3 exciting new cloud features: strong authentication, enhanced search features, and Agent Portal.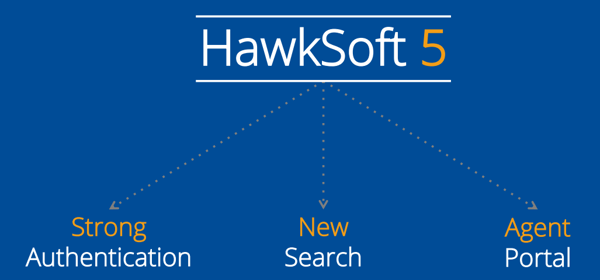 Strong Authentication
Javier Torres
Product Manager, HawkSoft
Watch Now
Requiring strong authentication is vital for cloud features that access agency data. Strong passwords will be required to secure access to data available through the browser starting with HawkSoft 5. Admins will have control over whether users can access cloud-based features, as well as creating new passwords for users. After HawkSoft 5, Javier noted that the next addition to strong authentication will be to add multi-factor authentication (MFA), which includes validating logins through email. In the future, some states may require MFA from companies (such as independent agencies) that offer financial services.


New Cloud Search Features Demo
Ryan Reese
Product Owner, HawkSoft
Watch Now
Ryan demonstrated the new search experience that will be available in HawkSoft 5, which was entirely rebuilt for the cloud. Where previously the search function only looked at names and addresses on the main contact, new features will allow agents to search a name or address anywhere within a client file - for example a profile under a client, or a driver. Ryan was happy to report that this will satisfy a top request on the HawkSoft Community, which is searching by a risk address or property location.


Agent Portal Demo
Ryan Reese
Product Owner, HawkSoft
Watch Now
Ryan also demonstrated the most significant addition in HawkSoft 5, Agent Portal. This browser-based portal makes client and policy data accessible on your phone, laptop, or any device through a browser instead of CMS. This is a great tool for agents to look up information from their phone while in the field, providing GPI at a glance while still allowing agents to drill deep into policies and coverages. Watch the Town Hall recording to see the demo of Agent Portal and its features.
What's Coming after HawkSoft 5
Sean Hawkins
VP of Development, HawkSoft
Watch Now
Sean gave agents a preview of more features that HawkSoft is working on in the coming year, including the next focus for cloud-based features: accounting and reporting. He also gave a demo of a new Google Chrome extension for HawkLink, which allows agents to map data prefills to fields on carrier sites (watch demo here). In addition to being more comprehensive and easier to use, the new extension will include a crowdsourcing element so that once any HawkSoft user maps a site, it will be mapped for all agents.


Future Features
More Partner API integrated vendors

Cloud-based Accounting

, with enhanced features and ease of use

Cloud-based Reporting

, a hybrid of browser and desktop elements that will drastically enhance report speed and functionality

Cloud-based Task Management

, which will reimagine Suspenses as Tasks
Deeper direct integration with insurance carriers

Tools for submitting commercial applications

Google Chrome HawkLink extension
Town Hall Q&A
Sean & Paul Hawkins
Moderated by Kenny Hendricks
Watch Now
Sean and Paul took the last half hour of the meeting to answer questions submitted by agents for the meeting, moderated by Kenny. They answered a wide range of questions about the move to cloud as well as other upcoming and requested features. Further questions were also collected throughout the meeting, and all the questions and answers are available on our Town Hall Q&A.
Thank You, Agents!
Sean and Paul closed the meeting by thanking agents for being a part of HawkSoft. "We are so thankful for our HawkSoft family," Paul said. "Without your suggestions and referrals, we can't grow." Sean added, "We are grateful for our relationship with you. I wish we could shake your hands and give you hugs and talk to you about the challenges of your agency. We live for providing solutions that help your agency be successful."
Not a member of HawkSoft User Group (HUG)?
Register now—it's free!