Guest blog by Tolga Tezel & Robert Boerrigter, Canopy Connect
Guest blogs are written by contributors outside of HawkSoft. The author's views are entirely their own and may not reflect the views of HawkSoft.

I read this research by Big I that got me thinking: their research amongst 1,437 independent agencies showed all top marketing strategies for agents in 2020 were digital: digital marketing (58%), creating and maintaining the agency website (49%), portal technology on the agency site (30%), search engine optimization (30%), and e-marketing activities (20%).

Yet in my conversations with agents, I hear a lot more about referral partners, cross-sells, x-date campaigns and automation than I do about online, digital ads, or social media. So how does this add up: what are agencies doing to go digital right now? And what can you do to improve your online presence and related revenue?

Canopy Connect did our own research to understand how independent agents currently drive revenue from their online presence and what you can do today to generate more revenue from online channels (including social media). We surveyed 128 independent agencies and performed expert interviews with agencies that get over 20 leads/month from their website or have over 50% of revenue from social media. In this blog we summarize our key findings from the survey and expert interviews, and give you actionable insights to start driving more revenue today!
In this article:
Key findings
We focused our research on 3 main aspects: What do agencies have on their website? Do they get any visitors and conversion from their online presence? And what are agencies doing for social media? Here's what we found.
Everyone has a website
The overwhelming majority of agencies (98%) have a website. No surprise. That's table stakes these days. At a minimum, it's your online business card. What matters now is what else your website has to offer.
---
98%

have a website

67%

have a quote form on their website

36%

offer appointment booking on their website

23%

offer to show clients the quote after submitting personal information
---
Source: Canopy Connect poll of 128 agencies
Forms and appointment booking solutions
Your website is like your online store: people visit and browse around. Two questions are important here. First, are they actually visiting your store, or is your store empty? And second, is there a way for them to ask questions in real time? I'll dive into point 1 later, but let's start with when prospects visit the website:
Only 67% of agents have a quote form on the site. That means that in one third of cases as a prospective client, I can't even leave my details for a quote or to be contacted, even if I wanted to. And only 23% show quotes after submitting information.
And worse: only 36% allow the prospect to book a meeting. This is especially important after hours. You're probably available for calls 8-9 hours a day, but what about the evening, or early morning, when your prospect realizes they are ready to shop?
Low website leads & conversion
Of the surveyed agents, 57% use ads. Out of those, Facebook is by far the most popular (89%) and Google is second (47%). But even with the help of ads, overall agencies get a relatively low amount of leads on their websites: only 9% of agencies get over 20 leads/month, and the majority (82%) get under 10/month. Instead, agencies are relying heavily on referrals for leads, with 91% saying it's their top lead source. That leaves plenty of room for improvement in the online arena (keep reading for suggestions on driving more online revenue).
---
57%

run ads to drive traffic to their website

89%

of those using ads do so through Facebook Ads. Google is second at 47%.

82%

get 10 or fewer leads per month from their website

9%

get over 20 leads per month from their website.
---
Source: Canopy Connect poll of 128 agencies
Facebook dominates social media, with Google Reviews a surprising second
Agencies are using social media, and Facebook is still king: 97% of agents use Facebook, 75% of agencies use it the most, and 64% indicate they drive most revenue from Facebook. This makes sense because this is where your prospects are. Google is a surprising second here: Reviews / Maps is the top revenue source for only 18% of agencies, followed by LinkedIn (7%).

Unfortunately, these activities aren't driving much revenue: only 4% of agencies manage to get over 50% of revenue from social media, and only 15% get over 25%. This means the majority of agencies (81%) barely get any revenue from social. How do we change that?
---
64%

get the most revenue from Facebook.

18%

get the most revenue from Google Maps/Reviews.

7%

get the most revenue from LinkedIn.

15%

get over 25% of revenue from social media. Only 4% drive more than 50% from social media.
---
Source: Canopy Connect poll of 128 agencies
Actions you can take today to drive more revenue from your social media & website
Clearly agencies could be driving more revenue from their online presence, including websites and social media. So how do you get ahead of the pack?

Analyzing our survey results and looking at the top agencies, combined with expert interviews with agencies doing over 20 leads/month or over 50% of revenue from social media, we collected these 6 actions you can take today to start driving more revenue for your agency from digital & social media. We've broken this down into 3 topics: driving more traffic to your website, converting more traffic on your website, and implementing successful social media strategies.
1. Driving more traffic to your website

Google My Business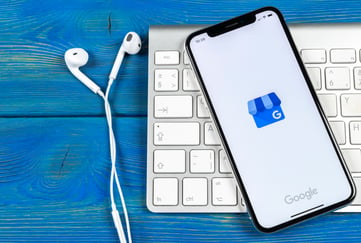 Looking at strategies to drive traffic to the site, we're seeing a lot of agencies leverage organic tactics like search engine optimization (SEO). This will help you drive traffic organically, without paying for ads. A key way to do this is by setting up a Google My Business page that shows reviews to customers, which will help in social proof. That's why Google was one of the top two revenue sources for the agencies we surveyed. A few best practices from top users:
Set up a Google My Business page if you don't have one yet (

see instructions here

).
Get as many reviews as you can. This helps your credibility & likelihood of prospects reaching out.
Make sure reviews will be positive. Only ask your best and most happy customers. They'll be glad to help out & will leave a glowing review.
Always reply to your reviews. This will show that you care & will also help you rank better.
Mention the specific product you helped with in your comment to the review (e.g. "Glad I could help you with your auto insurance!"). This will help your products show up in Google search results.
Add Products, like "Home Insurance" etc, to your Google My Business page (

learn how here

). This will help you get found more.
Post your Facebook & blog posts to Google My Business (

learn how here

). This will make them searchable through Google, which will help your ranking.
Digital Ads (Google / Facebook)
Another way to get more traffic to your site is paying for ads. Talking to one of our experts that uses Google Ads, the advice here is: if you're new to ads, read up or outsource. It will take at least a $1,000 a month budget and a couple weeks to get initial results. And that's if the copy is right. A few best practices here:
Read up before starting. Books like Facebook Advertising For Dummies and Google AdWords For Dummies are a great start, and both Facebook and Google offer certifications and online classes.
Hire a professional copywriter that has experience in writing ad copy for insurance. Crap copy = no results, no matter how long you wait. This will significantly increase your chances.
You have to pay to play. Be willing to spend at least $1,000/month. If you don't have this budget, you're probably better off purchasing internet leads to start.
Be patient. You'll need at least 2-3 weeks to get enough data for the ad engines to train themselves and to start seeing results.
2. Converting more traffic on your website

Create a way for prospects to reach out for a quote
Putting a form on your website allows visitors to your website to engage with you and act on their intent to work with you. Almost a third of agencies surveyed don't have a quote form on their website. This means they have no way for a prospective customer to submit information when visiting the website, and no way to engage them later. Putting a quote form on your website enables you to start collecting leads who are interested in working with you now, or in the future. You can connect the form to a CRM or AMS, and your CRM can automatically follow up with the prospect.

Canopy Connect is a great way to collect all insurance information you need, including dec pages, from prospects. You can embed Canopy Connect on your agency's website to allow prospects to securely share their current insurance information in under 20 seconds. You get all their policies across all their personal lines (P&C and life), right after submitting.

The end-to-end completion rate of Canopy Connect is over 40%, which means that over 40% of people that click the link, actually fill it out successfully, and send their dec pages to you on the first try. That's 10x higher conversion compared to the typical 3-5% conversion rate of online forms.
Allow prospects to book an appointment after hours
Of the agencies offering online appointment scheduling, by far the most popular solution is Calendly: over 60% of agencies that allow for online scheduling use it. Calendly offers a free version and setting it up is easy: you connect your online calendar for Google or Microsoft and set your availability. You can even round robin this for your team. Other booking solutions include Facebook's Book Now, Microsoft Bookings and YouCanBook.me.
3. Implementing successful social media strategies

Social media best practices
When talking to agencies getting most of their revenue from social media, a couple best practices stood out:
Be consistent: post a couple times a week and do this consistently. Build the muscle here; do reps & sets.
Be everywhere: don't just post on Facebook. Use Google My Business, Yelp, LinkedIn, Instagram - we even see some agents on TikTok regularly.
Engage: don't just post, but also reply, comment, and engage in local community groups. This will help you stand out and you'll start seeing others tag you in posts.
LinkTree
One of our experts mentioned LinkTree, a great way to provide a single link on social media that branches off to as many different links as you'd like to provide. Sounds confusing right? But it's pretty easy. On your social media pages like Instagram that only allow a single link, you can use your LinkTree, which will show options like: "Get a Quote," "Testimonials," "Send Dec Pages," etc.
Make things easy with Canopy Connect
If you're looking for ways to boost your online presence and drive conversion on your website, Canopy Connect can help. It's the easiest way to get personal lines insurance information from your prospects. This includes DLs, DOBs, VINs, dec pages, and claims history. And the best part? It only takes the prospect 10 seconds to fill out: they just select their carrier & login, that's it! Check it out at usecanopy.com. You can also include your Canopy Connect link in emails, over text message, and on social media.


Client & agent view of sharing policy documents using Canopy Connect

The benefit, on top of the ease of use, is that you get the full picture of the insured. You get all policies across all personal lines and dec pages straight from the carrier. No more xing out premiums, or missing dec pages.
Building a better online experience
We've covered quite a few ways to start driving more revenue from your agency's online activities. Feeling a little overwhelmed? Just pick one item to start with: maybe setting up your Google My Business page, or adding a contact form to your website. Once you've tackled that one, move on to the next. Even a few small changes to your website and social media activities can help more prospects find and engage with you online.
Contact Canopy Connect today!
Any questions about our research or about Canopy Connect? Book a meeting or email us at hello@usecanopy.com. We'd love to chat with you!