Guest blog by Alan Ringvald, Relativity6
Guest blogs are written by contributors outside of HawkSoft. The author's views are entirely their own and may not reflect the views of HawkSoft.


"In the midst of every crisis, lies great opportunity."
Albert Einstein
COVID-19 has created a staggering number of new small commercial businesses. Between June and September of 2020, nearly 1.4 million new businesses were founded. That's the single biggest increase in any quarter in U.S. history! The IMF says the US economy is growing at its fastest pace since 1984.

Whether it's $5,000 or $50,000 in premium, all agencies have a slightly different interpretation of what falls under "small" commercial accounts. But what most agencies have in common is the frustration around servicing their small commercial books of business. And the frustration makes sense. Small commercial has some huge opportunities, but also some really serious challenges.

This article will overview the small commercial dilemma, give tips for successfully managing your small commercial book, and point out key areas where technology can maximize the time you spend on these accounts.
This article at a glance:
Opportunities and challenges of small commercial
Let's take a closer look at the top opportunities and challenges of servicing small commercial accounts.


Opportunities
It's a block of revenue that almost never churns.


That customer persistence makes small commercial business a great way to create partnerships with your best carriers and build a real foundation for your entire agency.


The next Starbucks or regional powerhouse could definitely be sitting in that small commercial book.
Challenges
Each individual account doesn't represent much revenue.


Given that individual revenue challenge, if you spend too much time on any given small account, that account will most likely be unprofitable.


Small commercial accounts generally renew their one basic coverage and rarely, if ever, purchase anything more.

Small commercial accounts can be a great addition to your book of business, if you can balance the opportunities with the limitations. Keeping these things in mind, what are some tips for managing this type of account?
Manage and grow your small commercial accounts
Here are three things I recommend for those who want to focus on small commercial accounts, based on what Relativity6 has seen from agencies with profitable and growing small commercial books of business.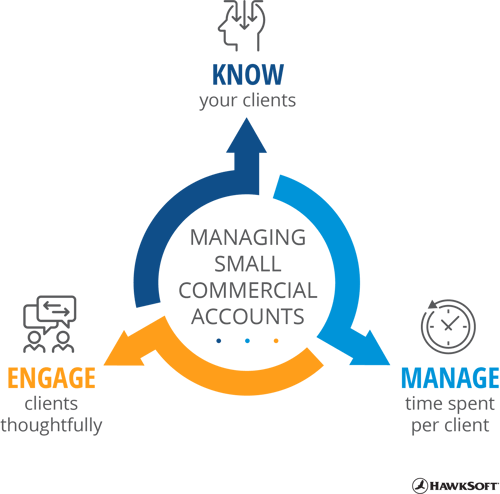 1. Know your clients
There may be certain industries within your small commercial book that are more profitable and persistent. Knowing which industries your customers are in and being smart about market segmentation can make or break your profitability in that segment.


2. Manage time spent per client
As noted above, in most cases, if you touch a small commercial account more than three times in a year, it's hard to make that account profitable. It's crucial to prioritize the time you do spend on any individual small commercial account to make sure it's as impactful as possible.


3. Engage clients thoughtfully
An agency Relativity6 spoke with recently lost a restaurant client because the restaurant owner was upset about not hearing from the agency when a devastating storm passed through town. Engaging with an account solely at renewal time can make the client feel they aren't a priority. Finding ways to add touchpoints throughout the year not only helps maintain a relationship, but also might give you valuable information for upselling opportunities. The challenge is to do this without spending too much time on each account, as mentioned in #2.
Easier said than done, right? You're busy running an agency, how could you possibly have the time, energy, and resources to not only have a better understanding of your customers, but also find ways to engage in a time efficient way?

Here's the big reveal...technology can really help!
Harness technology to maximize the value of your small commercial book
Here are three major ways technology can take on the more time-consuming parts of managing small commercial accounts.

1. Automation

There are several tasks that can and should be automated when it comes to small commercial accounts. Automate away the 'non-value added' activities like renewal emails, follow ups, and scheduled email campaigns throughout the year. This drastically reduces the time spent per account, as you can set the activity or communication to run automatically when clients meet specified requirements, rather than performing it manually for every individual client.

2. Third-party external data
While you don't have the time to personally research every single small commercial account, there are many data providers who can give you property data, industry data, and lots of additional context about your smaller clients to help you better service and sell to these accounts.

3. Artificial intelligence (AI)
Artificial Intelligence (AI) is often talked about, but rarely in the context of solving real-world, on the ground problems. The agencies that harness the power of this technology are setting themselves up to scale and truly take advantage of their small commercial accounts. AI can instantly detect industries, prioritize accounts to engage with, predict lifetime value, and even automate a majority of the heavy lifting associated with servicing an account.
Get a piece of the small commercial pie
With the boom of small commercial businesses cropping up in the US recently, your agency needs to decide whether you want to take advantage of this opportunity or maintain your status quo. If you want your piece of this growing pie, working in tandem with new technology like AI presents an exciting opportunity to retain and grow small commercial account business without sacrificing valuable time and resources that could be spent on larger, more strategic accounts.
Get more out of your small commercial book with Relativity6
Let automation and AI do the heavy lifting on small commercial accounts.